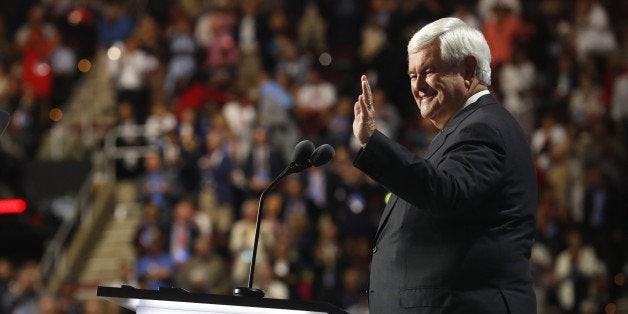 It is troubling to watch the Republican National Convention, and hear the 'great lie' around K-12 education repeated, over and over again.
In his eloquent and powerful speech in support of his father, Donald Trump Jr. said it. Governor Mike Pence (R-IN) said it. Former Speaker of the U.S. House of Representatives Newt Gingrich echoed it. That 'great lie' is the ruse of school "choice."
There is great appeal in the word itself -- but when it comes to education, it is a misnomer. What "choice" really means for K-12 education takes school funding, resources and services away from high-poverty students. How? By reducing the allocation of Title I funding -- federal funding to schools and school districts with a high percentage of students from low-income families -- by as much as 30 percent. And that's not all.
The myth of "choice" must be debunked. Dig beneath the surface, and what you learn about "choice" is that it dismantles our nation's ability to provide every child -- regardless of zip code -- with a high-quality public education, while lining the pockets of private (and often unregulated) enterprise. "Choice" is the commercialization of education -- good, bad and indifferent.
What is perhaps most astonishing is that by cherry-picking select stories of schools' failure, we completely obscure the data-driven fact that graduation rates for America's high school students stand at a record high, 82 percent. It's been several decades since graduation rates rose to this level, with the National Center for Education Statistics citing rates at 75 percent or below from the mid 1970s until 2008. Yet this strong and significant sign of progress is often widely unreported.

"Choice" is the commercialization of education -- good, bad and indifferent.

What goes untold hurts the general public -- and that's why I urge watchdog groups and education advocates alike to publicly deconstruct the myth of "choice." Consider the following excerpts from "Top 10 Reasons School Choice is No Choice":
Vouchers fall short. In cases where students receive vouchers, there is often a monetary gap, since "voucher programs almost never provide students with full tuition." The great equalizer is lost, since this discounts private education for wealthy individuals, and continues to put it out of reach for "poor folks [who] just can't afford it." All the while, siphoning public tax dollars away from the primary system of education -- public education -- and putting restricted taxpayer dollars in the coffers of private companies. The consequence? Belt-tightening across public school districts with no room for further cuts, eroding infrastructure and constraining already restricted resources.
Charter and voucher schools often "cherry pick" students. Public education is open to all students -- of every type -- and is designed to have the specialized instruction (and equipment) required, for example, for students with disabilities, as provided under the federal Individuals with Disabilities Education Act (IDEA). Absent the appropriate teaching personnel and resources, schools that operate under charters and vouchers often reject such students, making "choice" for some students an in-name-only proposition.
Charter and voucher schools create equity issues. In light of selection factors often at play, charter and voucher schools often wind up "increase[ing] segregation...either aid[ing] in white flight or leach[ing] away minority students...mak[ing] it easier to give some kids a leg up while keeping others down." In contrast, public schools mirror the "real world," serving all students, regardless of race, class, religion, or ability.
Alternate schools do not outperform traditional public schools. While "some charter schools do exceptionally well...most charters and almost all cyber charters do worse than their public school counterparts." In fact, with data controlled for socioeconomic status, race, and other demographic differences, a recent scholarly analysis, The Public School Advantage: Why Public Schools Outperform Private Schools, found that "public school math achievement equaled or outstripped math achievement at every type of private school in grades 4 and 8 on NAEP."
Political grandstanding around public education overlooks the "real world" needs of the more than 50 million public schoolchildren who rely on universal access to high-quality education. Undercutting a central tenet of our nation's grassroots democracy -- a world-class public education that serves all students, regardless of zip code -- carries a host of adverse "real world" consequences, only some of which this brief article touches upon.
It is unwise -- and restricts innovation and improvement -- to stand as apologists for public education. The Every Student Succeeds Act, the long-awaited reauthorization of national education law, gives states the authority -- and responsibility -- to deliver quality public education that meets a world-class standard, and states must reasonably be held accountable. But it is foolhardy -- and grossly deceptive -- to claim that "choice" is the magic wand that will cure what ails us, which many economic and education experts view as a condition of poverty. According to the Food and Research Action Center, today more than 30.7 million children in more than 98,433 schools and residential child care institutions participate in free and reduced meals programs, an indicator of poverty, on a typical day (2012-13 data).
Americans have the right to expect more from their politicians than glib, ill-considered rhetoric. Transparency and truth demand more than superficial sound bites.
When we become pawns in the ruse of "choice" we lose sight of the issue that truly demands our attention -- opportunity, for all. When it comes to educating our nation's youth, it's vital -- for our nation's competitiveness, economic prosperity, and the safety and national security dependent on a well-educated citizenry -- to hold America's politicians accountable. Let's get to know the facts around K-12 public education and debunk the "myth" of choice.
Popular in the Community