Growing up, I was the kid who lived in the world of my books, they were my escape from a reality that wasn't always flowers and sunshine. I've fallen down the rabbit hole after Alice and walked the yellow brick road with Dorothy more times than I can count, but one of my most favorite places to visit in all of literature is a little town at the edge of Canada's Prince Edward Island called Avonlea. Created by L.M. Montgomery, the first person I met in Avonlea was a lovable little orphan named Anne Shirley. We became bosom friends and every time I go to visit her little Maritime province town at the start of the 20th century, it's like going home. I loved the world of Avonlea so much that when the Disney Channel announced they would be airing a new television a series based on Montgomery's works, my mother purchased the channel specifically so I could watch it.
Called "Road to Avonlea" it was produced by Sullivan Entertainment who had, at that time, already given me two wonderful "Anne of Green Gables" films starring Megan Follows. I fell in love with series and it's beautiful cast of characters and from the moment I was introduced to Sara Stanley (played by Sarah Polley), I knew we were going to be kindred spirits. Not only were we close in age, but like her, I had just been uprooted from my life to live in the country surrounded by a plethora of interesting (read: crazy) family members I really hadn't gotten the chance to know before. Her aunt, Hetty (Jackie Burroughs) not only resembled my grandmother in looks, but also in quirks and personality. Her cousins, Felicity and Felix (Gema Zamprogna and Zachary Bennett) were eerily similar to my own, and our two families even shared in similar adventures.

It was like looking into a gender-bending mirror set a hundred years in the past and throughout seven seasons I followed the King family through their ups and downs, and was lucky enough to not only see them on television, but read about them in several books based on the series. Basically I could escape to PEI with them whenever I wanted - and I did. I found a kind of solace with the King family that I didn't in my own. It was wonderful.

When the series ended, I was just on the cusp of growing up and figuring out the path of my own adventures. Time became a precious commodity I didn't seem to have enough of and it only got more scarce after I moved to Los Angeles to pursue music and writing. The Kings became a distant memory and Avonlea, like my own hometown, a place I was only able to visit in my dreams.

Then tragedy hit. My grandmother, the one who reminded me so much of Hetty King, passed away. After the whirlwind of going home for the funeral and returning back to Los Angeles, I started to drift back towards the things that brought me comfort as a child. I'd already done a review for Sullivan Entertainment's bluray release of their first Anne film so I reached out to see if there was anything for Avonlea coming down the pike. While a bluray for the series is projected, it won't be available anytime soon, but, they were kind enough to send me the HI-Def, digital restorations of the complete series of "Road to Avonlea".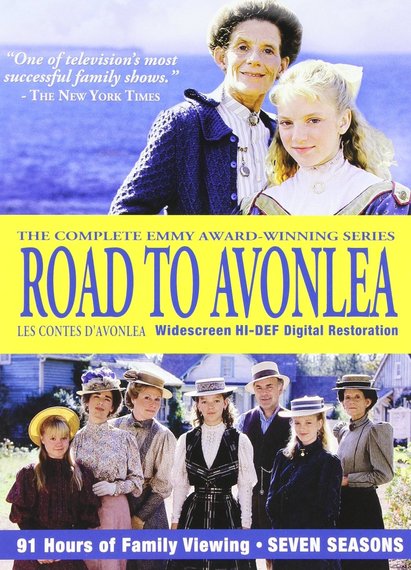 From the moment I heard the opening title, beautifully composed by John Welsman, the memories started flooding back. It was like sitting down with family members who I'd spent far too much time apart from. It was wonderful. The costumes, the scenery, the characters - everything was exactly as I remembered it. I couldn't get enough. Beautifully restored the series was also presented in a widescreen format that gave it more of the cinematic feel it had already possessed. For 91 episodes, I laughed at Felix's antics and Hetty's old-fashioned (even for the period) ideals, cheered at Sara's can-do attitude, and cried happy tears when Olivia King (Mag Ruffman) finally married Jasper Dale (R.H. Thomson). Basically, I was a big nerd and geeked out at everything, bu there was one episode I avoided, because I knew what it would do to me emotionally. It's an episode called Old Friends, Old Wounds and it deals with the death of Marilla Cuthbert, played by Colleen Dewhurst whom, like Megan Follows' Anne Shirley, I'd come to love when I took my first first visit to Sullivan's Green Gables back in 1985. The episode was shot after Dewhurst real-life passing as a tribute to her memory and as I knew what a sobbing mess I was going to be, I saved it till last.
I remember watching it on the Disney Channel when it first aired and I remember being saddened by Marilla's passing, but this time it was different. This time there was a poignancy to the episode that there hadn't been when I was a child. My grandmother, like Marilla (and Dewhurst in all the films I've seen of hers), had this special spark about her - a kindness you could see in her eyes and a smile that lit up the room. Also, like Marilla, my grandmother was a cherished member of her community who loved cooking and was always willing to help a person in need. She didn't know any strangers - everyone she met was a friend. The similarities go on, but - you get the picture.
There were tears, thought the entire episode - lots of them, but there was also a comfort in the way the story was presented. How the characters rallied around one another to help in a time of hurt, much in the way my real life family had done (and is still doing) for one another. What's so beautiful and enduring about this series is how it connects with the humanity of its audience, even now, twenty years later. It's a true testament to the creativity of Mr. Sullivan and the writers who worked on the series.
I am truly grateful to Sullivan Entertainment for allowing me the chance to take a step back into my childhood and reconnect with some of the most kind and colorful characters I have ever met. All I can say to them is: "Thank you."
Popular in the Community