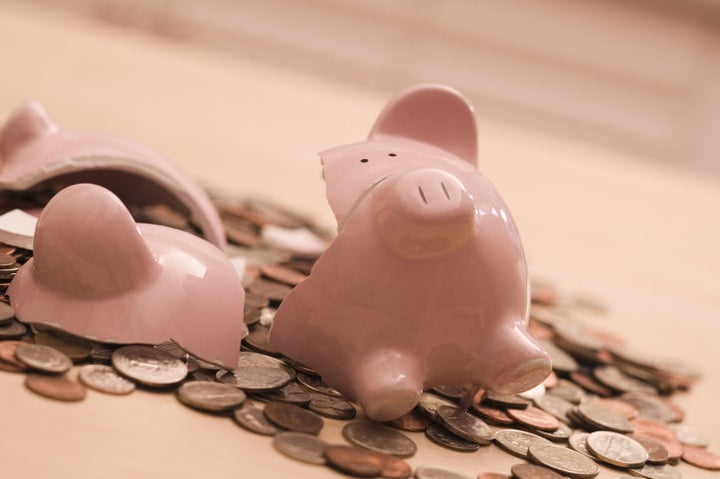 In reading "The Road from Ruin" by Matthew Bishop and Michael Green, I felt like I was going to church.
"The Road from Ruin" is brilliant not because it is written well, though it is, nor because it defines a problem, as former President Bill Clinton once said, "as something with a beginning, a middle and an end," but because it is breathlessly bold, basic, straight as an arrow, uncompromising, and at least in one sense, even revolutionary. Here is the sober business editor for the Economist Magazine, calling for financial literacy as essentially America and the world's new civil rights issue, or what I call the first global silver rights empowerment tool. That's revolutionary, and precisely where we are at this moment in history. Financial literacy is the new civil rights.
In "The Road from Ruin," the authors do not talk around financial education and financial literacy as if it is some nice holiday bobble on a Christmas tree, or "something nice for serious people to do," once they already have done serious things. The authors have rightly so placed the issue of financial literacy, and the work we do at Operation HOPE in urban and under-served communities here and around the world, for every ethnic group and socio-economic class, in the momentum building final chapters. In other words, this is the "it."
I was also impressed and inspired to see that the authors boldly go beyond the yawn-inducing traditional definitions of financial literacy "as a math class," which it is not, and deal with financial literacy for what it truly is; emotional, cultural, aspirational, and a direct link to the larger, more over-riding issue of our virtues and our values as a society. Who are we, why are we here, and what are we for? Or as I often say, financial literacy is "the new language of money." To make my own statement of revolutionary thought, not inconsistent with the tenants of the book, "if you don't understand the language of money today, and if you don't have a bank account today, you are nothing more than an economic slave."
As the book aptly notes, with approximately 40 million people today with no bank account in the richest country in the world, the United States of America, more people don't have a bank account today than didn't have the right to vote in 1963. If this is not a call for financial literacy as the new civil rights movement, I don't know what is. I am absolutely convinced that if Dr. Martin Luther King, Jr. were alive today, this (the issue of pushing financial literacy empowerment) would be the work he would be doing. When he was killed in 1968, he had already called for a new movement to eradicate poverty, called The Poor People's Campaign. And like Dr. King's movement in 1968, at Operation HOPE today we say "whether you are white, black, red, brown or yellow, you simply want to have some more green (currency for those living in the U.S.). Quoting my personal hero and Dr. King's senior aide in the movement, "we integrated the lunch counter but we never integrated the dollar."
To me, a promoter of financial education leading to financial literacy, financial capabilities (the new U.S. Treasury Department focus on financial literacy), and ultimately financial empowerment and what I call "silver rights," or making free enterprise and capitalism work for the poor and the under-served, "The Road from Ruin" goes one critical step further; suggesting that "capitalism needs to find its soul again." I could not agree more.
In my now bestselling business book, "Love Leadership: The New Way to Lead in a Fear-Based World," I make the case that this is not so much an economic crisis, as a crisis of virtues and values.
That this is not an indication of the failure of capitalism and free enterprise, but the failure of greed, and a fundamental lack of humility, authentic memory (harking back to the similarities of the crash of 1930, and the response or lack thereof from political leaders and others immediately thereafter), or even a rational long-term vision of the future.
Even the late Ray Charles and my friend Stevie Wonder could see that at the base of this global crisis are three main things:
Captains of the financial universe lost their storyline; ultimately viewing and treating clients and customers, large and small, like transactions and not like relationships.
The "product" of capitalism and free enterprise moved away from the power and success of great new ideas, resulting, yes, in power, money and prestige for the idea's leader, to a culture where the "product" was simply getting and keeping more money.
People -- from the poor to the vaulted middle class, and maybe even financial promoters and Members of Congress -- were massively financially illiterate. Effectively driving financial automobiles, at 90 MPH, without a hint of driver training, God forbid a competent driver's license.
With a brew such as this, what else could we expect except the equivalent of a financial and economic tsunami?
In my remarks to the assembled attendees of the recent Corporate Citizenship 2010 Conference in New York City, hosted by The Economist, I said something I originally shared in an interview on Love Leadership for the Washington Post newspaper: "everyone did a Madoff. We robbed Peter to pay Paul, we lived beyond our means, we bought stuff we couldn't afford, and we had no clue how the story was going to end." This too is a crisis of virtues and values. Quoting me directly from "The Road from Ruin," "in this crisis it was easier to be a mortgage broker than a pimp on a street corner, because pimps need references."
Bishop and Green at one point in the book reference the early American-watcher, de Tocqueville, who optimistically observed that "the greatness of America lies not in being more enlightened than any other nation, but rather in her ability to repair her faults." In Love Leadership this ties directly to my 4th Law of Love Leadership which is Vulnerability is Power. In short, life is 10% what life does to you and 90% how you respond to it. The key to getting out of this crisis this time, and making sure we never end of up here again, is almost completely in our response. In this regard I believe in rainbows after storms. You cannot have a rainbow without a storm first. If it was not for this crisis, I don't believe we would even be trying to deal with our larger problems. Now we must. This can be a good thing. Let's now figure out what we are (really) for, and not just what we are against.
We need to get our storyline back, and we need to reclaim the greatness of our ideas; the first of which is love as work.
We need to recommit ourselves to "doing the work" in our lives, and we need to understand, finally, that ultimately fear fails. We need to accept that this is ultimately a crisis of virtues and values, and like the native Indians in America, begin to make decisions with a consciousness that (these decisions will) impact seven generations yet unborn.
In "The Road From Ruin," Matthew Bishop and Michael Green suggest that capitalism needs to rediscover its soul. Here's how I think it can be done (a summary of my remarks from the Corporate Citizenship Conference):
Write letters to bank CEOs and when they don't listen, to their regulators, telling them of not just your challenges, but how you recommend they run a better business. With approaches like this you seek justice for yourself, but you also help them to win, and society to become "better."
When CEOs and others don't listen, follow the lead of the Huffington Post and simply "move your money." There is power in your economic vote as well as your political vote.
Host a Financial Literacy Family Meeting every week at your own kitchen table, with your mate and your family, and make sure that your family has the financial literacy knowledge and tools they so rightly deserve. Remember that the #1 reason for divorce in America is money. Start with a free course in financial literacy for your children with Operation HOPE's Banking on Our Future, www.bankingonourfuture.org, or other credible organizations such as Junior Achievement.
Encourage your Member of Congress to support financial literacy legislation requiring every child to receive a mandatory course in financial literacy, K-12 education.
Encourage your Member of Congress to support HR1325, inspired by the work of Operation HOPE and the non-partisan U.S. President's Advisory Council on Financial Literacy (which was also originally inspired by the work of Operation HOPE), which would require every college student receiving a guaranteed student loan to also receive a mandatory course in financial literacy. HR1325 would also require every college or university receiving federal funds to offer a mandatory course in financial literacy.
Join me and civil rights icon Ambassador Andrew Young, global spokesman for Operation HOPE, in our call to our government and governments around the world to make an electronic, debit card accessed bank (or credit union) account a basic human right; assigned and accessible at birth, no different than one's Social Security number. Register your support for a "Bank Account for All"

here

.
Encourage your local bank to support the visionary tenants of the Operation HOPE-Financial Services Roundtable "Framework Agreement," which seeks to integrate financial literacy into bank products, financial services, HR departments, and the new consumer way of life. Review the HOPE-FSR agreement here.
Become part of the change we need to see in our world. Become a HOPE Corps volunteer, teaching young people in your neighborhood a course in dignity, the language of money, and through your own life example, show them who they can "be" too. When that young man or young women looks at you they are also saying to themselves, "I can become you." That is when you change the world. Do it now, do it here.
Let's make de Tocqueville proud, by once again showing that America can lead the world, but this time "not by being more enlightened than any other nation, but rather in our ability to repair our faults."
John Hope Bryant is the founder, chairman and CEO of Operation HOPE, vice chairman of the U.S. President's Advisory Council on Financial Literacy as well as chairman of the Council Committee on the Under-Served, financial literacy advisor to the World Economic Forum Global Agenda Council, a Young Global Leaders for the World Economic Forum, and author of LOVE LEADERSHIP; A New Way to Lead in a Fear-Based World (Jossey-Bass), which debuted in August, 2009, as the Amazon.com #1 Hottest New Book (for Leadership), on the CEO Reads Top 10 Business Best Seller List, and was published in November, 2009 in digital audio book format on Audible.com, iTunes and other audio book retailers . Love Leadership has continued to be listed amongst the Top 25 Business Books for CEO READS for the 6 month period after release.
Related
Popular in the Community