"Dangereuse Curves" announced the sign as Ihsan swung the car around the gut-wrenching turns making our way up the Swiss Alps to our appointment. I picked an appropriate accompaniment on the stereo as the Little Willie's played "Diesel Smoke, Dangerous Curves." This was a very special appointment -- one that is the bread and butter of what we do at Formaggio Kitchen. We were meeting a raclette producer who had been recommended to us by a mutual friend based in Switzerland. Our meeting could mark the start of a new exclusive relationship importing exceptional artisan Swiss cheeses or it could be nothing more than an interesting conversation on the map of our constant search for new and exciting cheese. We were certainly hoping it would be the former.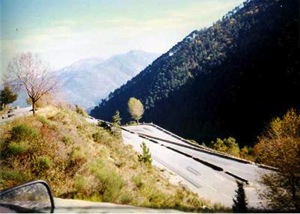 My husband Ihsan and I were in the midst of a fast-paced tour of France, Switzerland and Italy along with three staffers from the Formaggio Kitchen family of stores. Our ultimate destination was the Biannual cheese festival in Bra, Italy simply known as "Cheese," but we were packing in as much as we could -- visiting existing producers and discovering new ones.
Our first stop was to a small town in the Jura mountains of France along the border with Switzerland where we visited with Comté agers extraordinaire Marcel Petite.
Each year we visit their aging caverns housed underground in what was once a military munitions fort. This trip we were choosing our holiday selection, which always includes the highly anticipated and inevitably very small allotment of Comté Extra Grand Cru 36 month. At any given time throughout the year, we have three or four varieties of Comté, which is already pretty unheard of in a U.S. cheese shop. Even so, during the holidays we offer six different ages including the young and simple Trois Sapins and the new cyclamen to the exclusive 36 month.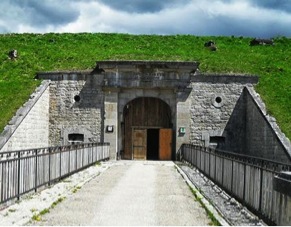 While Comté is certainly a cornerstone of our cheese offering, with more than 200 varieties of cheese from all over the world, we were anxious to continue our adventure to our appointment in Switzerland and to Cheese.
From the Jura we made our way into Switzerland, gripping our seats around those famous switchback turns. In our shops, we have sold raclette for years, but the experience of eating it late at night, high in the alps, on a cool fall evening, was a different experience altogether. Our host, Mark, was gracious and convivial as we tasted cheese together and discussed the world of Raclette. Each town seemed to have its own claim to the best Raclette of the region, and for our money this award went to the one we tasted that night. As we went home for a quick night of rest before heading to Bra, we felt confident we had found a new Raclette for our shops.
The following morning we were up early to make our way to Bra. Having come to this event since it began in 1997, we have developed a certain routine during our stay. We always stay at the hotel of our good friend and respected winemaker Matteo Ascheri and we always taste Parmigiano-Reggiano with long-time member of the Formaggio extended family Giorgio Cravero, whose family has aged the cheese since 1855.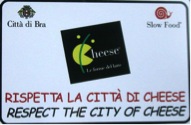 He buys from a select number of farmers, some who produce a mere six wheels a day. Over the years of working with Giorgio we have narrowed our selection to the San Pietro and the Baruffi family farms, both of which meet our preferred flavor profiles.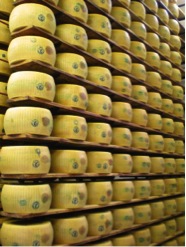 While the trip was ostensibly about cheese, no trip to Piedmont would be complete without a dinner at the warm home of Mulino Marino. Truly the highlight of this trip was mama Maria Teresa's dinner (ok... and Fernando's collection of Romano Levi grappas). Two years ago they introduced us to two new products. One was their new enkir rice cakes which are finally ready this year so we added them to our current order of polenta, tipo oo flour,chick pea flour and chestnut flour. Second was a bag of mauro musso's rye pasta. Mauro works closely with the Marino family and uses only organic grains for his unique pastas of rye, farro or varietal wheats. A passionate blend of artist and mad scientist, he is truly a one man show and his pasta has developed a cult following in our stores.
Each step of this trip was familiar to us as we sought out the little-known farmers and producers who just want to make good products -- pure, simple and true and not chasing the latest fad or marketing buzz but creating something that speaks to the way they want to eat and live. Despite the long, exhausting trip, we returned home more energized than ever to share our stories and the new discoveries with our customers.