My first LGBTQ experience that I can remember was driving past the now closed Triangles Café in Connecticut when I got my license in high school. It wasn't until a decade later that I stepped through the doors of Triangles Café as an out and proud gay man and came to fully realize how much bigger and better the world can be.
For my fiancé Nicholas, it was The Male Room in Tampa, FL, in the shadows of a Lowe's Home Improvement warehouse, on a Monday for karaoke night. That bar closed in 2007.
I met Nicholas working at The Museum of Modern Art in New York City. We'd like to say it was one of those romantic comedy moments where we were both gazing at Starry Night and then our eyes locked, but really our friendship began over the shared fondness for a banana with peanut butter every morning for breakfast in the staff cafeteria.
One July night in 2015, we were hanging out at a gay bar in San Francisco, when a drag queen appeared and announced it was time for arts & crafts. In her hands were two buckets full of beads in varying shapes and letters and we were instructed to go to town making friendship bracelets, key chains, and basically anything our hearts desired.
We didn't know anyone at the bar, but we quickly made friends by asking "Do you have a P? I'm spelling P-R-I-D-E" and "Are there any more of those shiny pink flowers?" It was the easiest conversation to have with a stranger, and it allowed everyone to break the ice and continue talking long after arts & crafts had ended. We returned to our hotel and said to each other "it would be so cool to create a space like that in NYC."
In January 2016, we started the Troupe429 party at Cielo at The Mayfair, a cozy underground Italian restaurant in Times Square. The marquee for The Book of Mormon theater acts as a landmark for guests to know they're getting close to the stairwell that leads down to this hidden basement bar. The interior décor immediately transports you out of the city. You feel like you're stepping into a Hudson Valley stone-home basement.
We gather monthly at the Troupe429 party to make new friends while dusting off our Nintendo64 for Mario Kart races on an 80-inch TV, catching up with colleagues over beer pong tournaments, bopping to throwback pop and R&B tracks, and enjoying each others' company in a welcoming and safe space. Since our first party, we've rotated whiskey tastings, rainbow JELL-O shots and homemade s'more cookies, coloring books, free pizza slices, contests for best concert T-shirt, a unicorn piñata stuffed with drink tickets, and filling the ceiling with balloons and streamers for special occasions like PRIDE.
What started off as a get-together for our friends and friends-of-friends quickly became an extended family of people that didn't need a drink to start a conversation. People walked in and smiled to see familiar faces from the month before. That metaphorical wall so many of us feel when we walk into a bar was torn down by video games, beer pong, and Britney B-sides. We became exactly what the party name is, a group of like-minded people, performers, creatives, etc. who come together. The "4-2-9" in case you're wondering, is "G-A-Y" on a telephone keypad.
Nicholas and I have been engaged a year this month, and have put our wedding on hold in order to open Troupe429: LGBTQ Bar & Performance Space in Norwalk, CT, which is a 50-minute train ride from Manhattan's Grand Central Station. Sadly, there are no longer any LGBTQ-owned & operated bars between NYC and New Haven, CT.
Connecticut (particularly Fairfield County - where we are opening) has lost two major LGBTQ venues in the last decade. Cedar Brook Café in Westport, CT, was America's oldest continuously-running gay bar and closed in 2010 after 71 years. The previously mentioned Triangles Café in Danbury, CT, closed in 2014 after 30+ years and was home to the largest monthly transgender/queer party in New England.
Opening a new LGBTQ space in America during a time when it's very easy to feel alone is a feeling I wish we could bottle and share. At this year's Pride in the Park organized by the Triangle Community Center, Fairfield County's Pride Center, we celebrated with the diverse community that makes up southern Connecticut and beyond. We set up a booth to introduce ourselves and explain our mission to celebrate all people, their creativity, and the skin they live in. One woman asked us, "would you consider having a harpist?" Our response was nothing short of an excited/shouted "YASSS!"
The space we're currently renovating has been vacant for over a decade. Wall Street in Norwalk, CT, was once a busy downtown but fell on hard times and is currently being revitalized, to which we hope to contribute. The future home of Troupe429: LGBTQ Bar & Performance Space is an 1860's brick building that, in 1880, was home to Hanlon Bros. – manufacturers of Hanlon's Baking Powder and Shirt Waist Starch. Out the rear windows is a canal that leads to the Long Island Sound. Inside, we are planning a décor that we hope will make all LGBTQ people proud to be who they are, and proud to have (and have had) strong leadership in the fight toward equality.
Wherever you are, if there is a LGBTQ space near you, please frequent it. Cedar Brook Café, Triangles Café, Tampa's The Male Room and many more across the country have shuttered. Support your local safe space so it's there when you, or someone else, needs it. We hope you'll join us in Connecticut for a drink or a hello when we open later this summer!
For more information about Troupe429, click here and watch the video. Follow on Instagram @troupe429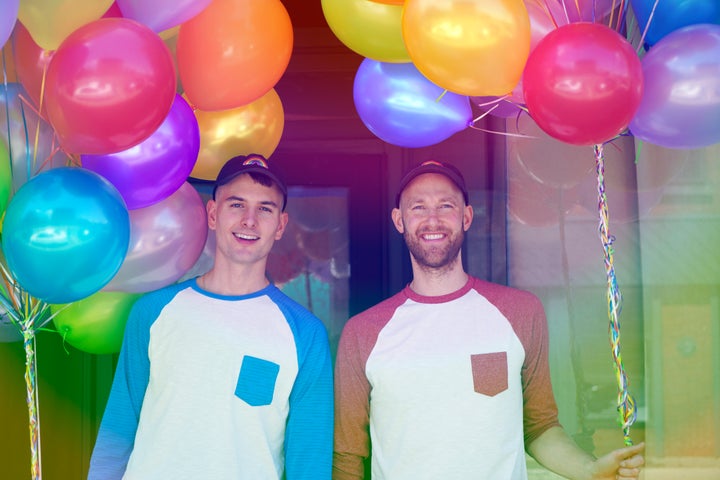 Calling all HuffPost superfans!
Sign up for membership to become a founding member and help shape HuffPost's next chapter