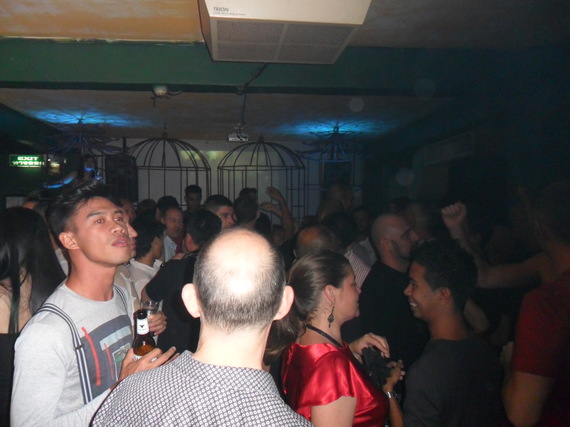 I'll never forget the night I sat on the ledge of an upstairs window at The Edge, a gay bar in London's Soho Square, and told my friend Roland that my life was almost over.
I was two years away from turning 30, which, as I saw it at the time, meant the end of my life as I knew it. After all, I was a gay man, and, like women, we age at an accelerated rate that was at least 10 years ahead of straight men. In gay years, I would be a decade from 50!
I'd always considered 30 to be the turning point where I'd finally grow up. It would be a new age as tame and lame as new age (cue Yanni -- ugh!). "I'd better enjoy the next two years because after I turn thirty, I'm never going out again," I told an unbelieving Roland, who tried his best to break my resolve. "You're only as old as you feel," he offered, along with some other time-worn clichés intended to hold back the years. But he was only 23. What did he know about aging? I was determined to cut myself off: "No more bars, no more clubs, no more dance floors." Who wanted to see an old man of 30 cavorting with a bunch of twentysomething twinks to a teen-pop soundtrack?
I'd pretty much given up on becoming the 30-year-old I'd always expected to be: one with a longtime companion, a thriving career and maybe one or two kids. If I were as fortunate as Meryl Streep, who was 30 when she won her first of her three Oscars, for Kramer Vs. Kramer, I might even have had an Academy Award on the mantle of my two-story house in Nyack, New York. Of course, I'd have to be cast in a movie first, and maybe take acting lessons.
How far I hadn't come from one year earlier when I was being scolded over the telephone by another Academy Award winner.
"Give me a break. Give me a fucking break!"
Cher was so over me. I was interviewing her for People magazine, and I dared to bemoan the impending arrival of my 27th birthday. Once she finished berating me (only half-jokingly), she told me that her forties, which were a year away from being over, had been her best decade. When they began, she was dating a guy half her age. She had a big music comeback, hit movies and an Oscar all on the way. My life, she insisted, was just beginning.
I hung on to my mental checklist anyway and consulted it on my 30th birthday. I was half a 30-year-old success: I was a staff writer at People, a position I'd been promoted to exactly one year earlier, on the day I turned 29, and I was in love. My boyfriend Tommy and I rang in my new decade with a huge party at Cheetah, then one of New York City's hottest night spots (formerly known as Sound Factory Bar, aka, N.Y.C.'s best gay nightclub ever). There was music, there was dancing and there was a lot of drinking.
The theme: "30 is the new 20!" It was written in colored icing on my birthday cake, which I drunkenly fell into while blowing out the candles. The next afternoon, walking down Greenwich Avenue with Tommy, I made a new-decade resolution: Now I was done with the nightlife. Adulthood would finally begin. It lasted about a week. My thirties, in some ways, were even wilder than my twenties. I had more money to indulge in bacchanalian debauchery, and I did it in far more exotic places than New York City and London: Paris, Rome, Florence, Milan, Athens, Mykonos, Copenhagen, São Paulo, Rio and Buenos Aires, where I moved in 2006, two years past the halfway point.
By the time I turned 40, I was old enough to know better than to consider my life nearly over or to make any major plans to alter it dramatically, just because I was a decade away from 60 in gay years. Although there was no birthday cake to fall into, my bash, at Rheo in Buenos Aires, was even crazier than the one I'd had 10 years earlier -- if you can measure the level of hedonism by how much of the night before you remember the morning after.
Unintentionally, though, my 40th birthday was my swan song of sorts, the last birthday I've marked in such dramatic fashion. I'll be turning 45 in two months, and if things go as expected, I'll observe it quietly and soberly, far from any maddening crowds. (At the moment I'm leaning toward Mozambique, one African country over from Cape Town, where I now live.) The last five years already have seen my number of nights out decrease exponentially. At 27, I couldn't imagine not spending Friday and Saturday night at Sound Factory Bar, the Roxy, Wonder Bar or any of the other myriad gay hotspots that New York City nightlife had to offer at the time. How could I not indulge?
Nearly 18 years later, I'm increasingly less interested in getting off the couch after sunset. Part of it is that I know what to expect -- or rather, what not to expect. If the past two decades have been any indication, I'm probably as unlikely to meet my soul mate under a strobe light as on Grindr. The other part: general boredom, which is alleviated only by copious amounts of tequila, leading to killer hangovers that now require days' worth of recovery time. And what do I gain for the pain? I know all the songs, all the pick-up lines. I can recite them in my sleep. So why not get some?
This past New Year's Eve, I was in bed at 10:30. It was my second consecutive New Year's Eve in, and it felt so right. It helps that the gay nightlife options in Cape Town are severely limited: Dancing to Katy Perry and Miley Cyrus hits night after night at Crew probably wouldn't have been all that enticing 20 years ago either. I still go out occasionally, but I often let weeks, if not months, pass between isolated club nights.
That meant that I was totally out of practice when Rob, my 27-year-old American friend, arrived in Cape Town a few weeks ago from London. He and I met in Buenos Aires five years ago, and he was there for the beginning of the twilight of my party years, which officially ended in Bangkok's DJ Station three years ago after six months in the city exhausted my last remaining fumes.
Would I be able to keep up? Over the course of 16 days, Rob and I had three big nights out, two of them consecutive, one lasting until the next morning. "I was afraid I was dragging you out too much, but you seemed to do just fine. You were back to your old ways!" Rob wrote to me a few days after his return to London, which, to my ears, was tantamount to his saying that I didn't look a day over 30.
The best part was that I actually enjoyed myself. Not once did I feel like the oldest person in any room, including the ones at Crew, which is where we eventually ended up all three nights. We were surrounded by plenty of men in their 30s and 40s, and none of them seemed out of place. In fact, the most popular guy in the club on the second and third nights was a handsome tourist from Natal who didn't appear to be a day under 45. Everyone dubbed him the "Silver Fox."
And thus my hopes for the future doubled. I'd figured my nights would be quiet and over by 10:30 p.m. (my unofficial bedtime) for the rest of my forties and beyond because I'd be too exhausted to stay up later. Most of them probably will be. But it's nice to know that my nights can be whatever I want them to be, wherever I want them to be, at any age. To borrow from the immortal words of Men Without Hats (whom you'd probably have to be of a certain middle age to remember), whether you're 25, or 35, or 45, you can still dance if you want to.
Just don't expect to see me doing it two nights in row again anytime soon.
Calling all HuffPost superfans!
Sign up for membership to become a founding member and help shape HuffPost's next chapter