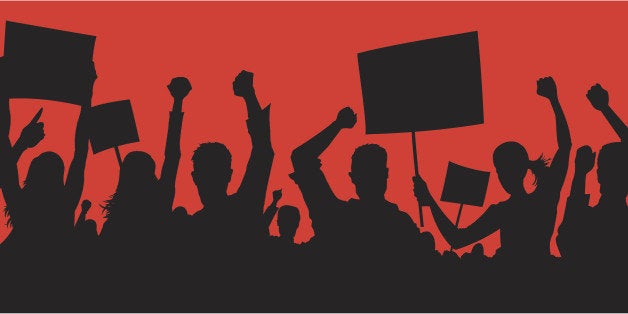 Who knew when we entered the modern day South Africa last week that there would be such a roar? As my team and I sat just 50 feet from a female lion positioned behind a tree near the watering hole lying in wait for the herd of Zebra who were looking for a drink, we looked on silently in uncomfortable amazement at the Royal Madikwe safari hoping we weren't going to be suddenly attacked ourselves.
Amid the warthogs, springboks, elephants, giraffe, and scores of other species was heard a more passionate roar in the country. These were not the sounds of animals, but the resounding cries, chants, dances and protests of college students. Protests that had been rocking the country from campus to campus. From Johannesburg to Cape Town to Durban. From the Western Cape to East London were heard the sustained sounds of students protesting against educational and economic injustice with the refrain "Fees must fall"! On social media the sound has resounded globally with the hashtag #feesmustfall. But the roar we heard resounded with greater reverberation that went beyond college fees. The crowds that were sounding off were impassioned cries for economic justice.

Black South Africans were promised over 20 years ago a righteous and affordable education as a part of the political negotiations to cease apartheid in the early 1990s. Yet students are still unable to pay school fees and they refuse to allow another educational increase to take hold while business, commercial, and mining industries soar. They refuse to have another promise delayed and hope deferred for another generation. Students refuse to accept the rising of ridiculous government spending and obvious corruption as the costs for college education increase.
The roar of the lion cannot compare to the roar of protests that start off spirited but end up violent as students face off with police who are positioned like that lioness by the watering hole. Students want an education and desire to drink from the watering hole of knowledge that
will give them a glimmer of hope for a future career.
So what is the way forward for South Africa? In my opinion, the magical and mysterious answers come from convening and listening. I had the privilege of speaking to hundreds of students at the invitation of Jubilee Community Church in Cape Town where student leaders wrestled with the topic of Gracism, my written solution to racism. We learned that when gracist dialogues emerge at an uncommon table with what I call the 6-Ps: protestors, police, private sector business people, public educators, politicians, and pastors, magic happens.
The next step for South Africa, in my humble opinion, is to get their 6-P stakeholders in a room with a skilled and experienced facilitator to listen. Small ideas will emerge that can make a big difference. It all begins with listening and effectively pulling the extremists from the edges of silence or violence. By sitting down at the gracist table of engagement where, indeed, comprehension begins with conversation, all parties begin humanizing the other, realizing that none of them are animals, but that they all are brothers and sisters.
Calling all HuffPost superfans!
Sign up for membership to become a founding member and help shape HuffPost's next chapter