If you could smell what The Rock is cooking, it'd probably smell like the "richest American cinema cheeseburger."
At least, according to "Skyscraper" director Rawson Marshall Thurber, it would.
In Dwayne Johnson's new action flick "Skyscraper," which hit theaters on July 13, The Rock plays Will Sawyer, a former FBI Hostage Rescue Team leader and U.S. war veteran who is now an amputee making a living assessing security for ― what else? ― skyscrapers.
Things are going pretty great for Will and his family until terrorists attack his new assignment, the 240-story Pearl building, setting it on fire. To make matters worse, he's framed for the attack. He has to battle the bad guys (terrorists, duh) and the good guys (the police, duh) in order to save his people from the 3,500-foot burning high-rise hellscape. (How random that this would happen to The Rock. Of all people!)
Unsurprisingly, maximal cheesy Rock stunts ensue. 
So far, the most-talked about, most-memed feat from the movie has been Will's improbable crane-jump into the building, and rightly so. It's ridiculous.
But Thurber is here to defend it.
According to him, the marketing team exaggerated the distance between the crane and the building on the first teaser poster (shown above), making it about double the distance that appears in the movie. 
"That poster is supposed to be evocative of the moment, not literal, and the jump in the movie is significantly shorter than that," Thurber said. "I think people will appreciate that in the movie."
Exaggerations aside, the director insisted the jump is possible.
"It became such a topic and thing to poke fun at, and there's this professor ... who teaches a physics class on movies and he actually did the math on the jump, based on the jump in the poster, and apparently the science works out."
The professor, Costas Efthimiou, of the University of Central Florida, teaches a class called Physics in Films, which he told us "aims to explain science to non-science majors" through movies. He calculated that the jump may be possible.
But at HuffPost, we have another minor quibble we can't get over. Prior to the jump, The Rock pulls off a feat even more impressive and inexplicable.
In order to launch his body from construction equipment to burning skyscraper, Johnson's character needs to climb more than 1,400 feet straight up the side of a giant crane just to get above the building's fire line.
For reference: Boop, there he is.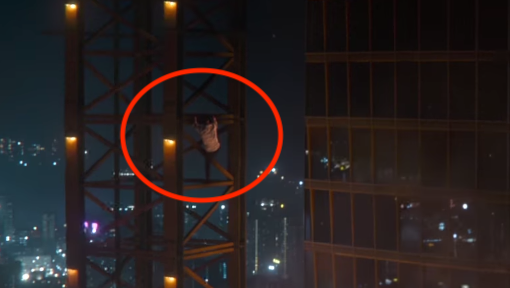 Of course he does it ― and in a matter of minutes ― and no one even notices until he's almost at the top. 
So let's crunch the numbers: The fire is burning around floor 96. If the average floor height on the 3,500-foot, 240-story building is about 14.5 feet, that means to get to, say, floor 100, Johnson needs to climb around 1,450 feet ― again, straight up a crane ― in order to enter the building on a floor that's not entirely consumed by flames.
Sure, his family is running out of time. But there's no way The Rock, or anyone, sprints up that ladder in the few minutes allotted in the film.
[Editor's Note: The police just take the elevator up, sidestepping the need to climb 1,450 feet. Somehow, The Rock beats them to the top.]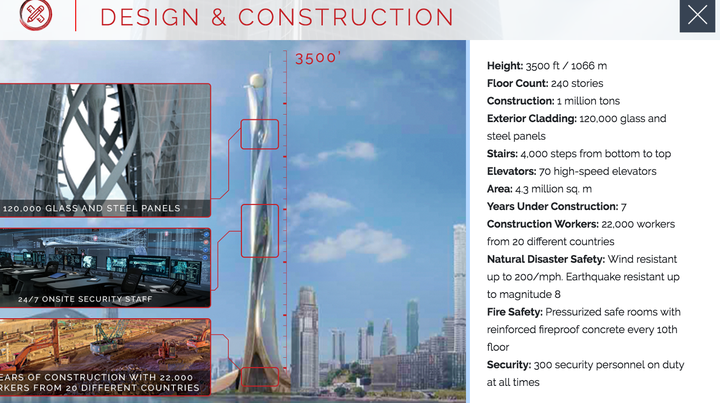 We reached out to Professor Efthimiou, who was traveling at the time and hadn't yet seen the movie. But he was kind enough to do some calculations for the speed of humans ascending a staircase, and at those rates it may be possible for The Rock to reach the required height quickly:
The ascending speed of humans on a staircase is about 0.6-0.8 meters per second. Of course, this has to be modified for the number of floors one has to ascend and the manner he is ascending them. Let's assume a well trained person whose speed is not affected no matter how many floors he has to ascend and he can work equally well in all manners. To give the director the benefit of doubt, we can assume an ascending speed of 0.7-1.0 meters per second.

In the movie, the 96th floor is at an elevation of about 3,500 ft x (96/240) = 1,400 ft. This is about 427 meters and it would require 610 seconds at 0.7 m/s which is about 10.17 minutes. If one argues that our hero is strong and he can ascend at 1 m/s, then he needs only 427 seconds or 7.12 minutes. 
"Based on what I understand from your message, it appears that the director has not erred in this," said Efthimiou.
Again, that's not exact calculations for climbing up a crane to save your family from a towering inferno after you've already been injured in a fight with terrorists, but it does make it seem somewhat more likely.
However, the director himself told us there's no great explanation for Johnson being able to climb the crane as fast as he does. Thurber admitted to taking some "cinematic liberty" in the scene, because he didn't want to make a "documentary about a guy climbing a crane."
"I think where we would take the time to show how long that might actually happen in real life, I think people would be bored stiff," he said.
Thurber continued: "You have to balance reality with art, reality with entertainment. Obviously, 'Skyscraper' is supposed to be a big summer cheeseburger, the richest American cinema cheeseburger. Hopefully, [we] put a little pepper jack cheese on there."
"Skyscraper" producer Hiram Garcia also weighed in on the crane climb. "Movie time is a special thing," he told me, adding, "We never put a stopwatch on it, but it's pretty impressive that he beat the elevator coming up."
[Editor's Note: Yeah. It is.]
For the nonbelievers who might dismiss the reasoning behind The Rock's physical feats, you can just refer to Thurber's concluding thought:
"The Rock can do anything. How dare you question The Rock."
[Editor's Note: For the record, we'd watch a documentary about The Rock climbing a crane.]
REAL LIFE. REAL NEWS. REAL VOICES.
Help us tell more of the stories that matter from voices that too often remain unheard.
BEFORE YOU GO
PHOTO GALLERY
Celebrity Photos 2017