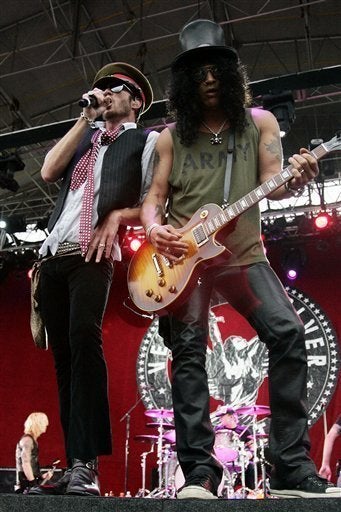 Slash and Betty White join forces in fight to save the zoo's elephant:
They say politics makes for strange bedfellows, and few pairings could be stranger than rocker Slash (Guns N' Roses, Velvet Revolver) and Golden Girl Betty White. But both have thrown their weight behind the Los Angeles Zoo's new elephant habitat, which is at the center of a mammoth debate.

A longtime zoo supporter, White has staunchly supported the zoo's planned expansion of the elephant habitat, Pachyderm Forest. In a letter to zoo members, she wrote, "Without zoos to provide a refuge for endangered animals; without zoos to carry out breeding programs to ensure the survival of species; without zoos to provide opportunities for young people to see and learn about animals so that they will grow up to become the conservationists of tomorrow; the world will be a pretty sad place."
Construction of Pachyderm Forest was temporarily halted by the L.A. City Council in December. Later this month, the Council is scheduled to decide the fate of the habitat and Billy, the zoo's Asian elephant, who has resided in Los Angeles for two decades. Activists argue that Billy should be sent to a sanctuary and the partially-completed exhibit be converted for use by other animals.
Slash, who has been frequenting the L.A. Zoo since he was a youngster and now brings his own children to see the animals, said in a videotaped appeal: "Billy has been taken care of at the zoo for about 20 years. He has four keepers who have been at his beck and call, taking care of him and providing him with optimal medical care and everything else that he needs."
Both Betty and Slash want construction of Pachyderm Forest to resume. "This enclosure is one of the nicest enclosures he could possibly have," Slash says in the video, which was filmed at the habitat site.
No word yet on whether the rocker and the Golden Girl plan any joint appearances to promote their cause, but both are using their respective (and, one would bet, mutually exclusive) fan bases to lobby City Council to support keeping Billy at the zoo.
Calling all HuffPost superfans!
Sign up for membership to become a founding member and help shape HuffPost's next chapter