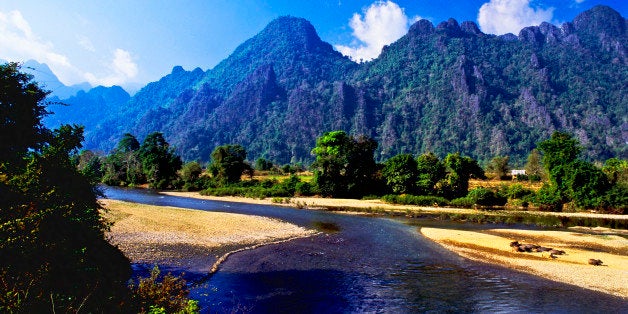 It may not be easy to imagine a modern fable, almost a fairy tale, set in post-war Laos, where unexploded bombs and grenades, courtesy of the American military, still litter the landscape. But Ahlo, an uncommonly determined and resourceful 10-year-old (not to mention defiant, as the occasion warrants) exceeds all expectations. Among the many obstacles he overcomes is an ancient tradition in his tribe that declares he is cursed, due to some unusual circumstances of his birth, and bound to bring his family bad luck. The early death of his mother, among other unhappy circumstances, seems to confirm the validity of the ancient admonition.
The possibility of deliverance from his family's poverty, as well as from the tribal curse he bears, arrives in the form of a village competition to see who can construct a rocket able to fly high enough to reach the clouds and bring rain to a parched countryside. By virtue of sheer pluck, as well as some guidance regarding explosive materials gleaned from a war veteran he has befriended, Ahlo constructs a rocket fueled by bat manure, copper filings, and ammonia (provided by his urine), and enters the competition. The outcome represents a triumph of the human spirit over all-but-insurmountable odds.
The Rocket, an independent film produced in Australia, succeeds as a work of art through an unusual combination of painful realism, poignant humor, and vivid images of the Laotian landscape. It is not a film that takes itself too seriously, but its themes and motifs have a kind of internal integrity that carries it through what might otherwise seem implausible. The performances by the actors playing the leading roles, including Sitthiphon Disamoe as Ahlo, are outstanding.
The Rocket, produced in 2013, was both written and directed by Kim Mordaunt. It received a 98 percent approval rating on Rotten Tomatoes, and was the winner of the Tribeca Film Festival Audience Award for Best Narrative Feature. At the same film festival, Sitthiphon Disamoe won the award for Best Actor in a narrative feature film.
REAL LIFE. REAL NEWS. REAL VOICES.
Help us tell more of the stories that matter from voices that too often remain unheard.