Getting to know yourself better, deeper, and more intimately has fallen under all kinds of labels from meditation to masturbation, from navel gazing to spiritual grazing. The truth is, some people embrace self-examination while others are forced to confront themselves in a mirror.
"Does this make my psyche look fat?" can, of course, be a loaded question. While some people think that introspection can be mapped out with definitive goals and breakthrough points, the truth is that it's all about a process of discovery. Sometimes drugs help the process; at other times a rude dose of reality does the trick. When all else fails, there's always musical comedy.
* * * * * * * * * *
During the 2014 San Francisco Fringe Festival, two monologues stood out for the quality of their writing, performance level, and intensely personal subject matter. Both involved grown men who were forced by a series of unusual circumstances to take a good look at themselves in the mirror.
In Ceremony, Michael Kass described how he came to a tipping point due to a combination of the heartbreak from a bad relationship, intense dissatisfaction with a job at which he was perceived to be quite successful, and a general feeling that his life needed to change.
His solution? A trip to Peru to drink a noxious Ayahuasca-based tea which is famous for its mind-bending (and vomit-inducing) side effects. Unlike reparative therapy, Ayahuasca offers its supplicants a powerful form of regurgitative therapy.
Although Ceremony was Kass's first full-length solo show, it received the Duende Distinction for Playwriting Award at the Hollywood Fringe Festival. As directed by Diana Wyenn, the monologue allowed Kass to relive an intensely personal tale of transformation and consciousness raising (with the help of several puke-ready plastic buckets positioned around the stage). Here are some excerpts:
Whereas Michael Kass went in search of self-awareness, Steve Mize's hilarious monologue entitled Life, Audited described how he was forced to confront an inconvenient truth by the Internal Revenue Service. Some may see his monologue as a David versus Goliath story built on the question "What would you risk to defeat the most powerful United States government agency?" But for those who have read Mike Daisey's poignant editorial, The Empty Spaces, or How Theater Failed America, Mize's monologue puts an all-too-human face on the anguish and humiliating types of self-delusion required to pursue a career in the arts.
Directed by Jane Morris with rapid pacing and a keen sensitivity to joke lines, Life, Audited tells the story of an aspiring actor who has diligently been saving his receipts for each and every expenditure related to role preparation, auditions, professional networking, and the kind of education about life one must pursue with unending depths of passion in order to prepare for potential roles. Mize comes to his tax audit armed with a briefcase labeled "TAX SHIT."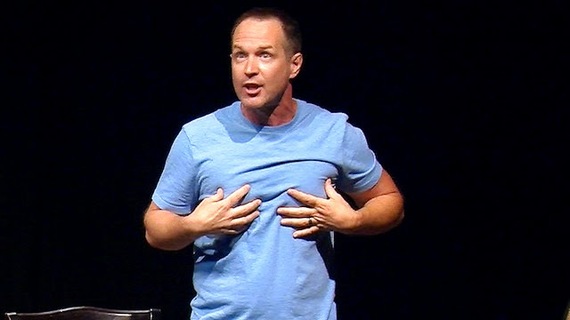 Steve Mize performing Life, Audited
Mize's writing and delivery make his tale of a frustrated actor more endearing than most simply because of the diligence with which he has tried to do the right thing. Over the course of several visits with an IRS agent, he carefully details the economic trials and tribulations of pursuing an actor's life in New York and Los Angeles. Throughout his monologue, he presents the auditor (and audience) with an intensely detailed description of the battle between trying to earn a living as a freelancer and being confronted by the unyielding force of a mammoth bureaucracy.
As he stresses that, yes, he wrote off the cost of drinks with a potential job lead (but only the cost of the other person's one drink and not his own four drinks), Mize is confronted with a shocking truth that is all too easily ignored when one is trying so hard just to put one foot in front of another in the desperate pursuit of an acting career. Though his spending may have been mapped out in excruciating detail in an Excel spreadsheet, the cruel fact he's ignoring (which is clearly pointed out by the IRS auditor) is that he's not just an aspiring actor; he's also an alcoholic.
Steve Mize performing Life, Audited
Determined to demonstrate his financial diligence and prove to the auditor that he's completely above-board in trying to follow all the rules for taking proper deductions related to his work, Mize's performance is appropriately frenzied. Having once (many years ago) deducted the cost of a trip to the baths as "research" because I was writing for a variety of gay publications, I can empathize with his concern for veracity.
In 1988, Lynn Ahrens and Stephen Flaherty joined forces to write a musical farce based on Michael Butterworth's novel, The Man Who Broke The Bank of Monte Carlo. It was the first collaboration for lyricist Ahrens and composer Flaherty, who would subsequently create Once On This Island (1990), My Favorite Year (1992), Ragtime (1998), Seussical (2000), and Rocky The Musical (2014). Their latest show, Little Dancer, recently had its world premiere at the Kennedy Center.
In the 25 years since its off-Broadway premiere at Playwrights Horizons, Lucky Stiff has enjoyed numerous productions in regional and community theatres (Center Rep in Walnut Creek opened its 2012-2013 season with a delightful staging of the musical). True to form, the plot is complete with slamming doors, mistaken identities, and romantic missteps.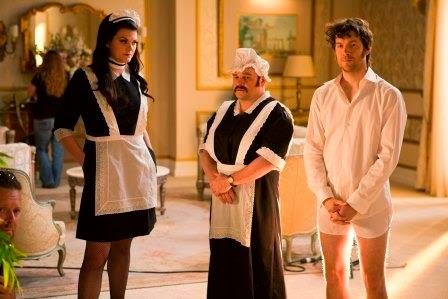 Mary Birdsong, Jason Alexander, and Dominic Marsh in Lucky Stiff
A film adaptation of Lucky Stiff has been making its way around the festival circuit. Directed by Christopher Ashley, it stars Dominic Marsh as Harry Witherspoon, a shy, nebbishy English shoestore clerk who receives word that his uncle has died in Atlantic City, leaving behind a $6 million fortune and a will that contains some very peculiar instructions for his only nephew. Apparently, Anthony Hendon (Don Amendolia) wanted his corpse to be taken on an all-expenses paid trip to Monte Carlo for a week of gambling, partying, and living the high life.
Pamela Shaw and Jason Alexander in Lucky Stiff
Complicating matters for Harry is the stipulation that any failure to fulfill his uncle Tony's wishes will cause the entire estate to go to the dead man's favorite charity. Others eager to claim the decedent's fortune are his ex-lover, the legally blind Rita LaPorta (who hates to wear her glasses and is convinced that she accidentally shot and killed Tony), and Annabel Glick (Nikki M. James), a lonely single woman who represents the nearly bankrupt Universal Dog Home of Brooklyn. Her devotion to dogs is captured in this hilarious number:
In addition to Pamela Shaw as Rita LaPorta, Jason Alexander porrtrays her panicky boss, dentist Vinnie Di Ruzzio. Having themselves a rowdy good time in cameo roles are such beloved entertainers as Cheyenne Jackson, Mary Birdsong, Kevin Chamberlin, Jayne Houdyshell, and Mary Jo Catlett. Lucky Stiff was also the last movie made by Dennis Farina, who has some charming scenes as the mysterious Luigi.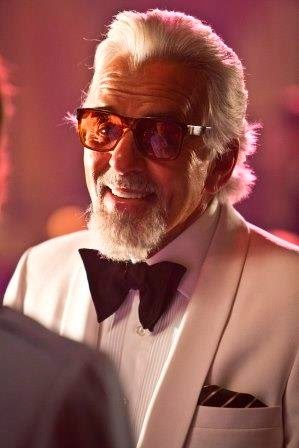 Dennis Farina as Luigi in Lucky Stiff
There have been far too many instances in which cinematic adaptations of musicals become bloated, top-heavy affairs. Thankfully, Lucky Stiff is not one of them. In a manner very similar to the screen adaptation of Little Shop of Horrors, its creative team has found ways to keep Lucky Stiff feeling like an intimate and extremely giddy farce (which is much easier said than done).
To their credit, they have also made extremely clever use of animation (not just in the opening credits, but to help as a bridge between certain scenes and as a constant canine comic enhancement). The musical numbers staged in the Monte Carlo cabaret for Cheyenne Jackson's MC and Kate Shindle's Dominique are hilariously tacky. You'll probably never see Jayne Houdyshell being so good at being so bad. Here's the trailer:
Calling all HuffPost superfans!
Sign up for membership to become a founding member and help shape HuffPost's next chapter