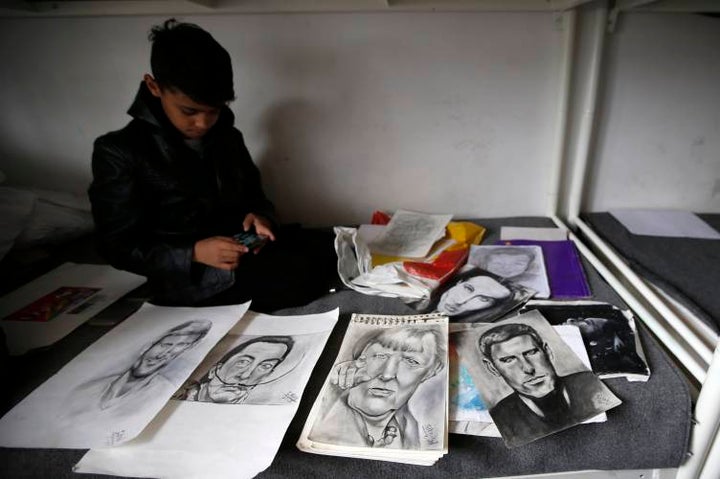 As people around the world come together with family and friends to celebrate the holidays, it is so important to acknowledge all that we have to be grateful for. Each day I feel blessed, remembering that I have family, plentiful food and water and a home to go to every day. This holiday season, there are more people (nearly 65 million) displaced than in any other time in our generation since World War II. The United Nations estimates that in Syria alone, 13.5 million are living as refugees, and that approximately 5 million of those are externally displaced, living outside of their home country. As an art-activist, I have been so moved by the enormous focus of artists all over the world, how so many have taken up this issue. Through my writing, research and activism, I am forming a greater connection to the concept of refugee art. Recently, I have explored and written about the Ritsona refugee camp, where many Syrians live today, and the role art has played there, as a tool for healing and as a way of communicating awareness, compassion and human understanding.
Following my exploration of the Ritsona Refugee Camp, I've considered how art and activism are utilized to engage with the experiences of refugees far beyond the Ritsona camp in Greece, from many points across the world. Through research and exploration of this critical experience in our world, I have seen that powerful, compelling art is being used in so many ways to impact the refugee crisis all over the globe. It has spread beyond those working to improve the lives of just refugees, and is now part of the cultural zeitgeist, part of the lives of those involved with refugees, and those that don't even have much knowledge of the plight of refugees or the issue in general. According to the U.N., for the first time in 50 years, the world's major powers are united in the struggle to help end this massive problem.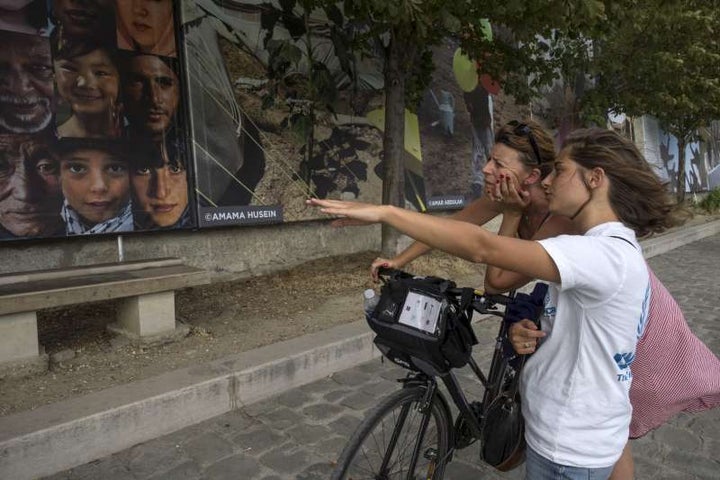 Anyone who has visited Paris in 2015 might have seen the walls of the banks aside the Seine. 370 meters of wall was covered, mostly in photographs organized by renowned photo-journalist Reza, capturing the portraits and candid images of Syrian refugees. Some were taken by Reza over the course of several decades, but others were photographs taken by young refugees, working with Reza to tell their story to anyone strolling by the iconic river. Entitled "Dreams of Humanity", this exhibition is a combination of art-activism and art-therapy, where by telling the story through the artistic endeavor of photojournalism, young refugees were able to express and illuminate on their own painful experiences, sharing, and at the same time, addressing some extent of their own personal need for healing.
Founded in 2012, The Kaynouna Arts Therapy Center works at the forefront of the refugee crisis, with offices in Jordan, Lebanon, Palestine, UAE and other Arab Countries, utilizing art psychotherapy to address the intensity of experience for thousands of Syrian refugees living in camps such as Amman, Mafraq, Zaatari, and Baqa'a. Kaynouna has encountered some of the most profound and difficult responses to the crisis of living as a refugee- the feelings of children. In this video on the centers program, CNN captured some of artwork created by very young Syrian refugees. To anyone on the outside, the art produced by small children, rooted in their minds and based on their real-life experiences, is disturbing, heartbreaking, and eye-opening. For the children, it is therapeutic- a mechanism and a space for sharing, processing and working through trauma so intense that most of us could never imagine it.
Similar art therapy programs are available in Lebanon, providing refugees with a platform for expression and the opportunity for refugee youth to process and address their experiences of trauma, from fleeing, and from adapting to a new life, displaced. Approximately 1.3 million Syrians are living in Lebanon as refugees, and the pressure to support and embrace so many traumatized people has taken a toll, on Lebanese resources, as well as on the already suffering refugees themselves.
Through art therapy programs made available in schools, the refugee youth are empowered to express their feelings, and enabled to communicate, through the medium of art, despite the barriers of language. Perhaps most importantly, these survivors are given the space and tools to relax and to be at ease. Anita Toutikian, an artist and psychologist who runs workshops in Lebanon for Syrian Refugees, explains that "In this work, we are not exploring the trauma," she adds. "We are working in a group setting, and in a group setting it is not easy to address individual traumatic experience. We are giving them the opportunity to release the trauma."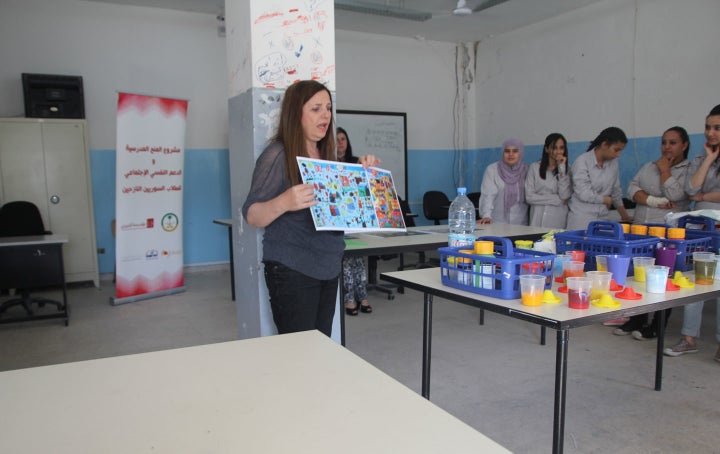 After fleeing Afghanistan with his family, Farhad Nouri has done a lot with his life for a 10 year old boy, especially while living as a refugee in Serbia. Known today as the "Little Picasso", Farhad inherited his artistic talents from his father, a professional artist in Afghanistan, and brought them to life through the time and intensity of his experiences- the dangers and instability of his home country, the treacherous journey through Turkey and Greece as his family fled, and by enduring the daily challenges of life in the camp in Belgrade's Krnjača neighborhood, where he has lived for the past ten or so months. He has an affinity for his artistic subjects, or heroes as he calls them, including Pablo Picasso and political leaders such as Angela Merkel.
His success has also emboldened his empathy. Most recently, Farhad held an exhibition of his work in Belgrade, in cooperation with the organizations Help Refugees, Refugees Foundation Serbia and Fabrika Fotografa, a Serbian photography school. The proceeds of this exhibition, as decided by Farhad himself, went to covering the medical costs of a child he met in Serbia, in need of special, life-saving treatment. It is quite powerful to learn of Farhad's story as an emerging art figure, but much more so when one considers the challenges he faces on a daily basis as a refugee in Serbia, and in light of his profound and inspiring act of kindness toward the suffering of another child. Farhad's story is an example of how art plays a multi-faceted role in the scheme of the refugee crisis.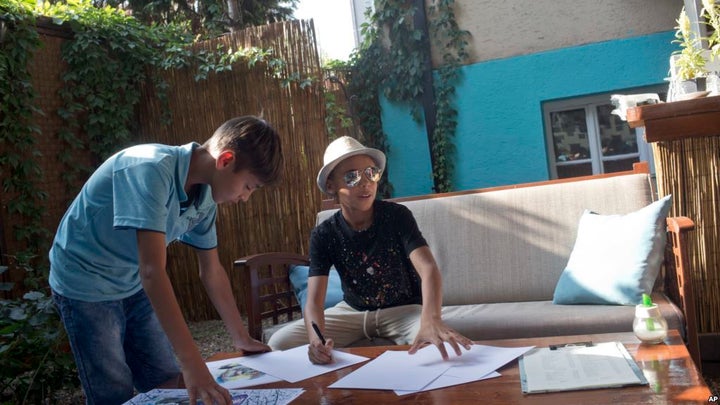 There are many other examples to explore, and one of the lessons I have learned, from observing and researching the art attached to the global crisis of refugees, is that it seems to be having an impact; world leaders are taking notice of some of the many installations, exhibits, activist events and corresponding media attention. It impacts the rest of the world, that is so far removed from anything these refugees endure, and it impacts the refugees themselves, most powerfully, offering healing, opportunity, identity and a manner of communication that transcends language, lifestyle and even the worst of trauma.
Popular in the Community