Yes, boards of directors of public and private companies have fiduciary responsibilities. If the board does not fulfill its duties of care and loyalty, the company can be in serious jeopardy. Wells Fargo, Volkswagen, and other corporations are clear examples. Yet, capable oversight alone does not translate to growing shareholder value. The role of the board, above and beyond fundamental oversight, is to envision the company's greater potential in the global marketplace, and drive success.
Companies profit by finding innovative solutions to global challenges.
The board of directors understands that the company will only grow value by using its greatest assets to find innovative solutions to global challenges.
The company is effective in engaging its stakeholders to build relationships and inform strategy.
The company establishes mutually beneficial and effective partnerships with NGOs and nonprofits as well as other companies to achieve its goals. (Here's an example of Unilever's partnership with Acumen and another example of Dow Chemical with Acumen.)
Boards of directors must be qualified.
The greatest potential of a company is stunted if the board is comprised of people with homogenous backgrounds, perspectives, and areas of expertise. Since the vast majority of corporate boards are comprised of older white men with similar backgrounds, boards are limited in envisioning the company's greater potential in the global marketplace. Consider instead building boards of directors with people who bring vital expertise (cybersecurity, sustainability, and emerging markets, as well as finance for example); in addition to a variety of perspectives that derive from their life experiences. Boards with more women, Millennials, and people from a variety of racial and ethnic backgrounds, who have grown up in countries around the world, and accustomed to living with the Internet and advanced technology will be best qualified to understand the global marketplace and imagine what's possible.
Social responsibility must be recognized for its role in growing profits.
The dichotomy between social responsibility and shareholder value is false. Dozens of case studies in A Better World, Inc. show quite clearly that companies that mitigate risks, reduce costs, and find innovative solutions to global challenges will grow shareholder value. Companies that do not incorporate the climate change into their core strategies will be most at risk, as well as companies that violate human rights. Companies that do not recognize and understand opportunities in emerging markets—including geographic as well as gender and age—will fall behind. And companies that are not innovative in finding the best solutions to our greatest challenges will be lose to the competition. Fortunately, investors are beginning to understand the risks and costs associated with climate change, as well as weak board composition.
Companies must invest in developing new and diverse leadership.
Developing people who are best equipped to lead in this dynamic world is fundamental to the success of any company. The new study—Better World Leadership—sponsored by American Express, Dow Chemical, HP, Johnson Controls, PIMCO, and Symantec, with the World Environment Center, provides clear and compelling evidence that nonprofit board service is an effective pathway for companies seeking to grow shareholder value by advancing diversity and inclusion, developing human capital for innovation, and fostering economic development and achieving the U.N. Sustainable Development Goals (SDGs). Among the studies findings are the following insights: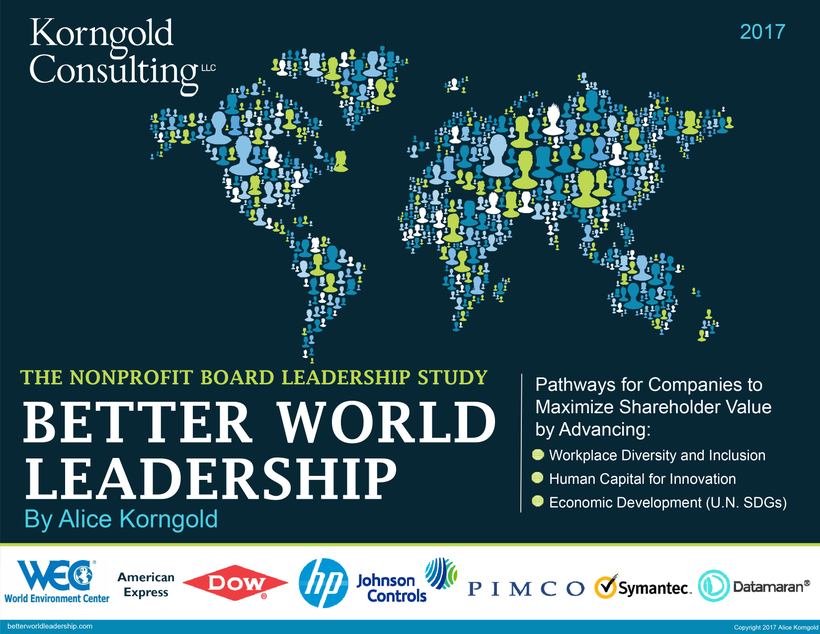 Employees are more likely to choose companies and stay at companies that train and match them to nonprofit boards in addition to sponsoring the nonprofits where they are involved.
Employees who are waiting in the wings to serve on nonprofit boards are more diverse—more women, more Millennials, and more people from a variety of racial and ethnic backgrounds—than those already serving.
Business people who serve on nonprofit boards gain a deeper appreciation for the perspectives of people from diverse backgrounds, while also learning about the most vital challenges facing their communities.
Companies can maximize their financial opportunities by helping to build a better world.
REAL LIFE. REAL NEWS. REAL VOICES.
Help us tell more of the stories that matter from voices that too often remain unheard.
This post was published on the now-closed HuffPost Contributor platform. Contributors control their own work and posted freely to our site. If you need to flag this entry as abusive,
send us an email
.