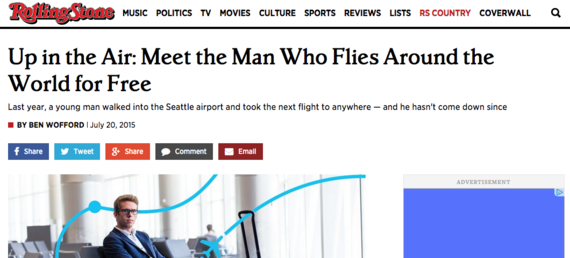 "Meet the man who flies around the world for free," proclaims a headline in the most recent issue of Rolling Stone magazine. What follows is a 6,000-word story about a 25-year-old travel blogger who, the article says, pays to lounge in spacious flat-bed First Class suites "with a sliver of his gargantuan cache of frequent-flyer miles that grows only bigger by the day."
It's no wonder, then, that dozens of other publications around the world have picked up the story, and quite a few TV stations have approached the blogger, Ben Schlappig, for interviews. Traffic on his blog, "One Mile At a Time," has seen a huge spike.
The only problem is, there is no truth in that headline whatsoever. "Say what now?" This was Schlappig's reaction in a July 26 blog post. "I spend a lot of money on travel. A lot." He does pay for most of his flights with miles, but he spends money to buy some of those miles when airlines offer promotional discounts. The rest he earns from credit-card signup bonuses or spend, as well as from other promotions and paid flying -- that's right, you can't earn miles for a flight unless your ticket was purchased with money.
For years, I've tried to fight the widespread perception in the media that the only way to get people to read travel stories is to either tell them what they can get for free, or to dumb down the complexities of today's air travel system to infantile "tricks," because the audience is just not that smart.
When my book "Decoding Air Travel" came out, I suggested to Scott Mayerowitz, a good airline reporter at the Associated Press, a possible story that would educate readers about how to handle the many difficulties and uncertainties of travel. "I have enough trouble trying to explain the basics of fares to people," he replied. "We have such a once-a-year-flier audience."
This very attitude -- and my frustration -- prompted me to start writing a weekly travel column when I worked at the Washington Times. Even though I was the newspaper's diplomatic correspondent and didn't get paid extra for the column, I hoped to make a little difference as part of the so-called mainstream media. In fact, I wrote about Schlappig in my very first column in 2008, shortly after he'd first contacted me through FlyerTalk, an online frequent-travel community.
I was grateful to NPR for allowing me to explain -- in a "Weekend Edition" interview about my book -- why the only effective key to making travel less expensive, more comfortable and convenient is knowledge about the airline system. It's a science -- there is no need to sugarcoat or dumb it down. The airlines have made the system utterly complex in order to make more money. As consumers, it's up to us to learn as much about that system as possible and make it work for us.
I realize it takes time and effort to do that -- it took me years of flying to almost 100 countries to learn it. I also know that reading blogs, such as Schlappig's or Gary Leff's excellent "View From the Wing," is often not enough -- not because they know less than me, but because of the nature of blogging. That's exactly why I wrote "Decoding Air Travel" -- to have all the science one needs between two covers, for a bargain price, compared to what it would cost travelers to acquire all that knowledge on their own.
I admit it was exciting to see the book reach #80 on Amazon's bestseller list, which is no small feat for what is essentially a very technical how-to textbook. But the biggest rewards have come from the appreciation of business travelers -- and their companies -- who have been able to fly in Business and First Class for less than what they used to pay for coach.
So don't believe the numerous stories out there offering easy and quick "tips" for free travel. Nothing in air travel today is easy.
"You'll never travel the world for free," Schlappig says. "There's no such thing. Even if you travel exclusively on points, there's an opportunity cost to every point you earn -- and beyond that, at a minimum there are taxes, fees, etc. There are other bloggers who promote traveling being free. I'm not one of them, and never have been."
In its December 2014 issue, Rolling Stone published a story titled "A Rape on Campus," which the magazine later retracted. The article claimed that several members of a University of Virginia fraternity viciously raped a woman, identified only as Jackie, as part of an initiation rite during a chapter house party.