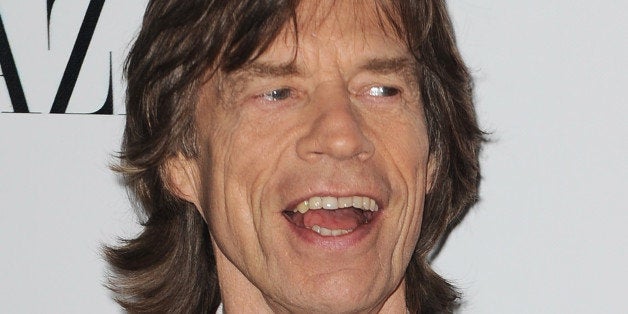 The Rolling Stones, celebrating their 50th year together, returned in September 2013 to the scene of their triumphant 1969 concert in Hyde Park, London. Some 100,000 mesmerized fans watched the group do what they can surely do in their sleep, though "sleep" is certainly not a word that springs to mind when you're describing their rapid-fire, over-the-top show (parts of it, as seen in the documentary, The Rolling Stones: Sweet Summer Sun, Hyde Park Live, are on YouTube).
The Stones' September performance was as high energy as it gets; fans were utterly stoked. Charlie Watts drummed, Ron Wood and Keith Richards strummed and Mick Jagger soared over mile after mile of ramp extensions, strutting his bad boy stuff. You could maybe forget you were watching a quartet of 70-year-olds (Ron Wood is 66), so confidently did they radiate youthfulness and sexual cool.
Ron Wood and Keith Richards have their rabid fans ("Keith = God" read one man's hand-scrawled sign), but Mick Jagger is the iconic front man and it's hard not to think that for these few hours he was the most powerful man on earth. He said "sing" and they sang. He said "clap" and they clapped. He said "wave" and they waved. If he had said, "have sex with me" he might have had 30,000 volunteers.
As a blogger who targets single women who are over 60 and looking for love, I am astonished at the number of women who reject men on dating sites -- without meeting or even corresponding with them -- solely on the basis of age. Over and over again, I hear women complain that they don't want someone who is "too old." These comments are typical:
• "I'm an active person and I'm not interested in living with someone who sits around all day watching TV."
• "Older men only want you so you'll cook and clean and wait on them."
• "I'd maybe get two or three years out of him and then I'd be a nurse maid."
• "I want sex and after 60 a man is too old for that."
• "I don't want sex and old men are always pawing at you because they need to prove they can still do it."
• "Viagra love is not for me."
• "I don't want someone who's going to die on me."
• "As soon as I see a man is 65 or older, I close him out."
Maybe Mick Jagger does not seem to you an ideal sex partner. But his trademark mix of sleaziness and susceptibility is wildly appealing to many. It seems few women think sex with him would be disappointing, although to know for sure we'd have to canvas the 40,00-plus women he claims to have seduced.
The point is that there is no age at which the spigot of sexual pleasure is automatically turned off. Some men are through at 50. Some are going strong at 80.
It seems to me the height of folly for a woman of 60 (what, she's Scarlett Johansson?) to reject a man because he is over 60. Or 70. Or 80. We are all more than the sum of our years. Whatever time you have left as a sentient being is a gift, I tell my readers. Isn't it a bit premature to pronounce a man near-comatose before you meet him, before you see what his years have taught him?
That's what I tell the women who ask my advice. But it occurred to me, as I watched the concert for the second time, that those full-of-life, slick and sexy Rolling Stones have something to say that exactly fits the senior dating situation.
"You can't always get what you want, but if you try some time you just might find you get what you need."
From now on, I'm going to refer my petulant female ageists to Mick.
Sienna Jae Fein blogs at www.datingseniormen.com
REAL LIFE. REAL NEWS. REAL VOICES.
Help us tell more of the stories that matter from voices that too often remain unheard.