Down south in Kerala, India, the abundant greenery battles the human world vigorously, reclaiming structures, creeping on to the roofs, eaves and windows of houses, inching onto the roads. Helped by the plentiful moisture and sunshine, wild plants and weeds colonize empty plots of land and clamber over bridges and festoon themselves on electricity wires. The rivers, lakes and canals, too, are throttled by water hyacinths, water lilies and water cabbage. The visuals are spectacular, rather like being immersed in a Henri Rousseau painting. The palm-fringed shadows point to how Kerala, (kera-la, "coconut land" in local parlance) got its name. In the bygone centuries, this famed Malabar Coast was where world powers sent their envoys to scout spices such as cardamom, nutmeg, cinnamon, anise and particularly the black peppercorn, prized for its addictive pungency. They sailed into Kochi, and in the historic fort area you'll see the ingenious Chinese fishing nets are still in operation, alongside houses built in Dutch style, Portuguese churches, and relics of English trading companies. Eons ago, Jews were welcomed here, and this laid-back port city has one of the oldest Jewish synagogues and a thriving living culture of Syrian Christians.
Keralites are renowned for their high literacy rates, evolved ethos and decent standard of living (often helped along by disbursements from family in the middle-east.) They're open-minded and two-thirds of the women work outside the house. Everywhere we stayed, we received a warm welcome, and the strong green credentials of our hosts impressed us.
FORT KOCHI
The two square miles of the Fort Kochi area are what draw the most visitors to Kerala. Water views are never far, and there is a relaxed cadence to the colonial era bungalows and tree-lined streets, which are easily negotiated on foot. The Dutch Palace museum in Mattancherry offers marvellously painted wall murals and the ancient, still functioning orthodox synagogue and Jew Street, along with a handful of other landmarks provide fascinating insights into Kochi's story. But the recent arrival of world class boutique hotels, great restaurants, vibrant art and design galleries and atmospheric cafes have created a new level of excitement in the area. The Kochi-Muziris Biennale, an international art exhibition showcased over several locations, was conceived by Kerala artists, Bose Krishnamachari and Riyaz Komu and has been a hugely successful. Even months after the event, we saw vestiges of the art on the streets.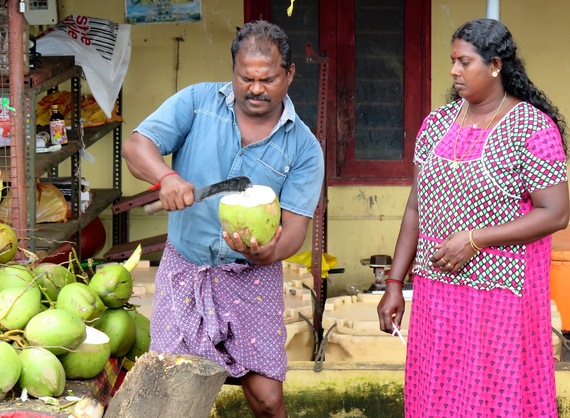 An hour and a half drive from Kochi brought us to the famed backwaters at Kumarakom, at the edge of the giant, placid and surprisingly traffic free Lake Vembanad. Here, the charming and imaginatively laid out Coconut Lagoon hotel turned out to be a microcosm of rural Kerala, showcasing the best of the region: canals, the delicious feathery appams and fiery curries, ancient ayurvedic treatments, energetic ottamthullal dance, the white and gold saris and mundus, traditional teak houses, the miniature Vechoor cows to the traditional rice boats made of teak, palm fronds and screw-pine leaves. The manager was perhaps the most soft-spoken man in the world. This, we thought, must be the ideal place for a crash course on Kerala's heritage.
Then came the best part, a languid, floating cruise on a kettuvallam, the quaint, hand crafted boats with arched windows and low hanging eaves. Even a half-day ride to Alappuzha and back wafted us deep into life in rural Kerala. The sight of the other boats always got my pulse racing- some of the larger ones were mobile five-bedroom thatched cottages. At the water's edge we saw a girl in a white school uniform holding her ribbons while her mother braided her hair, housewives vigorously bashing and pounding the day's washing, men reading newspapers while the toddy dripped into a pot on a nearby palm tree, washing lines laden with unstitched clothing intended for wrapping. The coppersmith barbets and koels called all the while. Needless to say, they remained hidden in the lush foliage.
FORT KOCHI AREA-
STAY AT-
Brunton Boatyard- a 22-room, leafy, water facing, sprawling hotel replete with Colonial-era charm and a warm welcome. Calvetty Road, 221 5461 www.cghearth.com
Malabar House, a 5-room jewel of a boutique hotel in Fort Kochi. www.malabarescapes.com.
Affordable style- Bernard House and Spencer Home are both on the Parade Ground in Fort Kochi.
EAT AT-
Rice Boat, a seafood restaurant at the Taj Malabar.
The restaurants at the Brunton Boatyard and Malabar House.
CAFES to lounge in-
Kashi Café and Art Gallery, Burgher Street, Fort Kochi +91 484 221 5769
Teapot Café, Peter Calli Quieros St, Fort Kochi +91 484221
SHOP-
Crafters- A series of shops in Jew Town, a treasure trove of antiques, pillars, metal water troughs and architectural salvage. www.crafters.in
Pepper House, an exciting design shop and café on Kalvathi Road between Fort Kochi and Bazaar Road.
GUIDE- Mr. Biju Manayani +919447465526 explains Kochi's story as you explore.
TUK-TUK DRIVER Sunish +9895042863 can spin you around Kochi's hotspots in two hours.
KOCHI-MUZIRIS BIENNALE, an extensive international art exhibition every two years, exhibiting in multiple locations such as Aspinwall House, David Hall Gallery and Pepper House. www.kochimuzirisbiennale.com.
ERNAKULAM is the extension of Kochi and a hub of commerce. Sematti, a sari shop on MG Road has an impressive collection.
Enjoy a traditional Kerala meal, especially karimeen masala, at the local favourite restaurant at the Grand Hotel.
KUMARAKOM AREA ON LAKE VEMBANAD-
Stay at-
Coconut Lagoon, an award winning resort steeped in local traditional and style. From here, you can cruise the backwaters on a shikara or a kettuvallam boat. www.cghearth.com
The Kumarakom Lake Resort and Zuri too are noteworthy resorts.