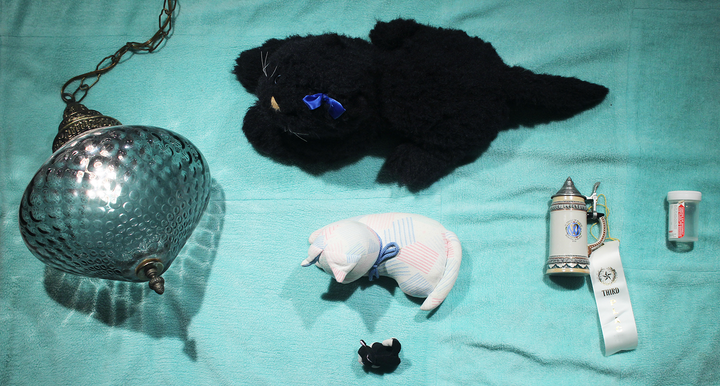 I'm 32 years old and I have moved 32 times that I can remember. Roughly 10 of those times were before I was 18. The remaining 22 have been of my own choosing and I don't count bouts of homelessness or living in a travel trailer as moves.
When I was 18, my oldest brother booked me a flight to Utah. I brought a backpack and a duffle bag. Supposedly the ticket was round-trip but the return date was flexible. I was told the plan was for me to stay a few weeks through spring break. That was not the plan.* The next time I visited Arkansas was with a friend who helped me bring my 1970 VW Beetle back to Utah. I packed the backseat with my artwork, mementos, blankets, and clothes. Needless to say, not many things returned with me to Utah. But they would account for the bulk of what I owned for the next 14 years.
While the adventure known as my life carried me to new and exciting places, I relied on, and became very attached to, my cars. I'd always chose compact VW models and was able to fit what I considered essential inside them, the room's worth of items that make me feel at home nearly anywhere. The items don't seem to make much sense. A bit of tinted safety glass in a specimen jar. A hand-blown antique hanging globe lamp. Three stuffed cats. A small turquoise blanket. A little trophy shaped like a beer stein that says "10 years of buggin' Eureka Springs 2002." But these things bring me joy, remind me of loss, and allow me to feel connected to my own fading history.
My cars too have taken on a lot of personal meaning. Growing up in rural America, a car is a symbol of very real freedom. Despite wheels breaking off, small fires starting, cables snapping, and oil spewing, I loved my first car like an obsessed person would.
When my mom informed me that she had bought me an old Volkswagen Beetle and that I owed her half of what she paid, I was terrified. I'd learned to drive stick with that car, do an oil change, replace valve covers, change spark plugs and eventually tear apart and rebuild my own carburetor. I became quickly obsessed and invested every paycheck into upkeep and repairs. In junior high, I'd entered it in a local Volkswagen show and won thrd place in a small, unpopular category. I was ecstatic as I received the little beer stein, as those winning towering grand sweeps trophies strolled away calmly.
Selling it nearly broke my heart but allowed me to visit my grandfather when he suddenly took ill. Letting go of my favorite thing let me be the last person who ever saw him alive and taught me a valuable lesson about priorities. Even though I sat with tears of grief rolling down my face when I signed over the title, I knew I'd made the right choice later when I got to hold his hand one last time.
"I am choosing logic over emotion. I'm letting go of one dream to embrace another."
I've never wanted much even though most of my childhood was spent in poverty. But scarcity does strange things to people. I've seen my mother's wallet stretch to fit 16 credit cards. I've seen family members' bank accounts seized by the IRS. I've seen the crumbling and the rebuilding and silently wondered why anyone would put themselves through that.
The most valuable thing I've ever owned is a 2004 Volkswagen R32. In suit with my VW obsession, I lusted after it since its limited release stateside. Years later, when I finally found one in my price range, I jumped at the chance. I paid it off a week before I drove it through a puddle and hydro-locked the engine. A friend helped me get it idling again but then it dropped a valve. In laymen's terms, it now needs a new engine and stuff. So I've put it in storage, hoping I would make enough money for the repairs. But instead of making lots of money, I've been writing. I've been doing what feels truest to me. I've been busy becoming the person I want to be when I grow up, and stopped beating myself up for not figuring that out sooner.
While modern day minimalists can come off as rather smug, I wasn't aware I was doing something people paid life coaches thousands of dollars to teach them until rather recently. I've made choices about each of the items in my life based on necessity, not in some pursuit of happiness or freedom.
My last major move, from Manhattan to Chicago, was with two passengers; my (now) partner and his wonderful younger sister who held my cat on her lap the whole ride. At the time, they were both relative strangers and I had to decide between them and keeping my gorgeous antique cedar chest (a very useful and beautiful piece of furniture that doubles as a giant heavy box for moving).
One of the major hurdles of adopting a minimalist lifestyle for most people is letting go of things they don't need. But what exactly does a person need? When you're down to only what will fit in a small hatchback without blocking the windows that answer becomes more obvious. It's now abundantly clear that I made the right choice, but was a real struggle at the time. While the antique trunk may have held more monetary value than other items, it held less personal connection and practicality.
And that's what it basically comes down to for me: personal connection to an item and its practicality in my life. I ask myself, "If I am to carry this thing, is it worth my exhaustion at the end of the day?" This has served as both a metaphor and a real-life practice when I moved from Brooklyn to the Upper East side mostly by public transit. This isn't minimalism for millionaires.
I usually find myself concealing my older iPhone 5 in public, especially in more judgmental crowds and justifying my thriftiness to those who look concerned. But I can't deny that I felt a small twinge of pride when I realized that uber rich women are challenging themselves to only wear 33 items for three months when I regularly use less than 30. So as I realized that my car had been in storage for over a year, I knew it was time to reevaluate. The emotional side of me screamed, "No! You'll never take her! Cyanide Palindrome (the name I gave my R32) is a collector's item and I can sell her for near Blue Book if I wait a few years! Besides, I'll never sell her! I love her! She understands me! I'm losing my voice from all the shouting!" While the logical side of me said, "I love cities and I aspire to live in places around the world. There is no room in my life for this thing and it doesn't symbolize anything other than a bad investment. Move on."
I'm never sure who to trust but as a general rule people who shout less seem more "together" to me for some reason, so I am choosing logic over emotion. I'm letting go of one dream to embrace another. And like so many taking on the minimalist movement are coming to realize, as the room I carry with me gets smaller, the life I'm building around it gets bigger.
*The plan was for me to be in a place where I could grow, expand, and see worlds beyond Northwest Arkansas. My older brother would have paid for me to fly back if I'd wanted to, but I didn't.
Popular in the Community