This past Memorial Day my Uncle Howard posted a photo of my grandfather, Hyman S. Goldberg's headstone taken at Salem Cemetery in Lorain, Ohio. The youngest of 6 siblings, my grandfather was a man of devout, Jewish faith, a man of family and a man of service.
For the past few years since moving to San Francisco, my wife and our son have attended the Memorial Day service at the Presidio National Cemetery. Ultimately, the day has come to mean much more since my grandfather passed away in 2010. Before then, Memorial Day felt more like a "day-off," but now it's an opportunity to honor the service of friends, colleagues, classmates and my grandfather's generation who put service over self to defend our nation.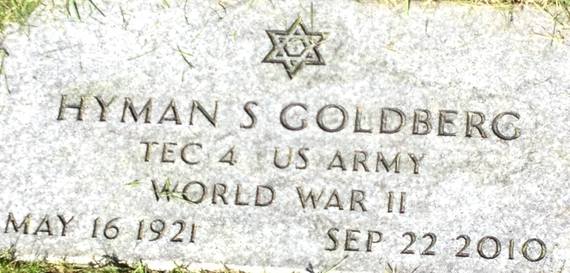 My grandfather's headstone reminded me of the important values that he instilled in me -- and the importance of civic education. From a very young age he (and my grandmother) encouraged high aptitude in reading, writing and fundamental mathematics (much to my chagrin), but also to gain an education of the world outside the classroom. They also told me that education would also implore me with curiosity and assist in my professional achievement, but also my personal, intellectual satisfaction.
Their focus on these important virtues, I believe, was based upon the immediate environmental reality: growing up in an economically disadvantaged city very different from the cities in which my Summer Camp friends grew up, different from many of my college classmates and different from the cosmopolitan cities I've had the opportunity to call home -- Washington, D.C., Mexico City and now San Francisco.
I grew up in Lorain, Ohio -- a "shrinking" deindustrialized, rust-belt city near Cleveland, which faced devastating lay-offs during the late-1980's and 1990's (my dad one of those "let go") as the factories closed and manufacturing jobs moved out of town. My high school, Lorain Admiral King, met the wrecking ball a few years back, with the Historic Lorain High demolished in the mid-1990's. The demise of my childhood synagogue is sadly imminent as young families move away to seek new and better economic opportunities and friends of my grandfather pass on.
Yet, however economically disadvantaged, Lorain was a melting pot of culturally rich Latin American and African-American population and a roll up your sleeves, no frills, just get it done way of life emulated by both my grandparents and parents. It was, and remains, my most influential education that prepared me for today's world. My grandfather encouraged the classroom learning experience with students of other backgrounds -- social, economic and ethnic. He believed this would help to shape my character and values and would prepare me for the world that was becoming much more like the Lorain melting-pot of which I was a part, as was he many years ago.
I think he believed that working with my peers in light of what was happening around us in Lorain, would compel me to work even harder. Many of us enrolled in honors or AP classes in English and History, while also creating an independent student civic education organization focused on enhancing the educational experience in our school. We committed ourselves to a shared civic responsibility in Lorain -- such as voter registration drives and hosting forums with the local school board. Since those formative years, I have continued to take the lessons he taught me and apply them to important civic causes and opportunities, but the 'roots' begin in Lorain, Ohio.
For example, during the 2010 Midterm Election Cycle, I had the opportunity to serve as a key advisor to Ohio's Supreme Court Chief Justice Eric Brown, who (in addition to being my cousin) was running for re-election. Throughout the campaign, we regularly visited Cleveland, a once vibrant economic engine now faces fiscal woes. During these visits we met with lawyers, judges, foreclosure mediation committees, teachers, students, union organizers and the jobless. Stories of "falling on hard times" were constant in Cleveland, but also across the entire state. Many of these issues remain across our country and outside of the San Francisco Bay Area bubble.
It's these stories and realities that propel me to stay on the civic engagement path, encourage and educate friends, colleagues, my son -- or to a quote a friend who served in the U.S Marine Corps (and I believe my grandfather would agree):
"On Memorial Day, I ask my friends with children to talk to them about public service. Whether their children grow up to serve in the Peace Corps or the Marine Corps, serving our country is a great honor and an experience that will empower them for the rest of their lives. The fellow countrymen and women they will meet while serving will open their eyes to new perspectives and ideals that will shape their worldview and improve their outlook on life."

Calling all HuffPost superfans!
Sign up for membership to become a founding member and help shape HuffPost's next chapter