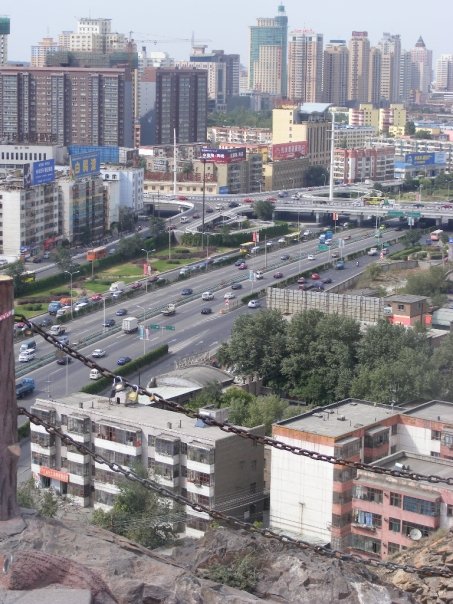 In September 2009, an incident of mass hysteria erupted in Urumchi, the regional capitol of East Turkestan in northwestern China. Hundreds of Han Chinese visited their doctors reporting pinprick attacks, that is, a needle-like objects stabbed into the skin. The catch: in almost all of the cases, no pinprick occurred. Instead, Han city residents responded to police text messages warning of pinprick attacks by imagining they had been attacked. Mosquito bites, moles, and errant itches became suspicious marks for medical examination.
A primary cause of the hysteria was "information starvation." Following deadly ethnic unrest two months prior, authorities blacked out the Internet across the Uyghur homeland for over ten months, turned off international calling, and even texting was limited to official messages. Another factor was ethnic tension. Ethnic tensions had already ignited in the July unrest, and after state media exclusively accused Uyghur suspects for the attacks, Han people imagined each Uyghur passerby might have pricked them.
This year, the Uyghur Human Rights Project (UHRP), a Washington, DC-based NGO, obtained newspaper articles published in Urumchi during the hysteria and throughout the Internet blackout. On September 18, 2013, four years after the incident, UHRP released Rumors, Hysteria and Suspicion a report based on the state propaganda, as well as overseas media reports, and interviews collected from the Uyghur diaspora. The report looks at not only the attacks, but also massive protests by Han Chinese decrying perceived police inaction against the pinprick attacks, and the subsequent rushed judicial process of Uyghurs accused of perpetrating the attacks. It indicates that a culture of vilifying Uyghurs led to the outbreak of hysteria and suspicion directed at innocent Uyghur residents of Urumchi.
The report's relevance was underscored by an article in the Atlantic the following week. Author James Palmer describes the pinprick attacks as "an old urban myth... tinged with ethnic hatred." The history of the "myth" is instructive. When a similar rumor circulated in Beijing and Tianjin in 2002, for example, police clamped down on information to prevent "copycat attacks" whereas in 2009, police text messaging seemed to trigger the hysteria.
Similar to the September 2009 hysteria, Palmer's article displays a demonization of Uyghurs. He writes, "The Uighur presence on city streets, though, is aggressively male. All across China, Uighur men stand on street corners in little clusters, selling huge chunks of nut cake or cheap goods, cigarettes hanging out of their mouths. In contrast to the soft-faced Han, they're often bristly and unshaven. Their stance can be slightly sly, like spivs hawking knock-offs on some East End London street in the 1950s. But when they walk, it's not with the nervous, ready-to-dart steps of other vendors; they swagger with an easy, laddish confidence. It's no coincidence that young Uighur men have taken to hip-hop with enthusiasm; its defiant machismo echoes as strongly in Kashgar as Compton."
Singling out nutcake vendors specifically, Palmer joins the ranks of numerous Chinese netizens -- their hatred seethed after police were perceived to overcompensate a Uyghur nutcake vendor whose products were destroyed last December. In describing them in relation to their Han compatriots, however, Palmer draws upon racist tropes from the West.
The "soft-faced" Han recalls a long history of feminizing Chinese men in the West, and it is coupled here with a demonization of Uyghur masculinity as "aggressive," which is common in China. The discussion of hip-hop takes these ideas further. Suggesting that participation in hip-hop expresses Uyghurs' (and not Hans') "defiant machismo" recalls a demonization of Black men in America and continues the feminization of Han men. These American racial stereotypes gain no value when applied to Uyghurs and Hans.
Palmer hyperlinks to a piece about the Silk Road of Pop film, whose director Sameer Farooq comments that hip-hop in Urumchi has encouraged collaboration between Uyghur and Han artists and provided opportunities for Uyghur performers to travel to interior China. When Fulbright scholar Angela Steele interviewed rap crews in Urumchi in 2008, she met some ethnically mixed crews. Several Uyghurs rappers cited Eminem as an early inspiration, a successful white American rapper who was mentored by Dr. Dre, a black rapper from Compton.
In Palmer's article, the Uyghur threat is also illustrated by a discussion of thieves. He quotes a Han interviewee who said: "If a Uighur is arrested, he just slashes himself with his blade, and then the police don't want to touch him because if he's hurt, they have to take him to hospital and pay." Palmer links the trend to "gangs of Uighur child beggars." In fact, children in these gangs are abducted from their homes in the Uyghur homeland and trafficked to interior China on a massive scale. China's government made resolving this problem a key goal this year, possibly motivated by its review before the UN Committee on the Rights of the Child in September 2013.
Self-mutilation is a real and desperate act of these trafficked children. The Trail From Xinjiang, a new film by Xi'an-born documentary filmmaker Chen Dongnan, records this tragic phenomenon. Chen filmed Uyghur youths who were trafficked, and recorded their harrowing acts of intravenous drug use, self-slashing, and even death. This in-depth account dispels Palmer's stereotype of "swagger." The terrified youths reach drug-induced oblivion for the courage to pickpocket, risking extreme consequences, self-mutilation among them. Official complacency toward their crimes and plights has only reinforced Han stereotypes about Uyghurs throughout China.
Four years after a culture of hatred led to collective panic in Urumchi, an article like Palmer's that recycles American stereotypes to make sense of Chinese ethnicity underscores the importance UHRP's report, Rumors, Hysteria and Suspicion. The Chinese government's stranglehold on information, preventing independent reporting and open discussions about some of the most important issues in the region, have created an environment ripe for panic. As outside observers, we are free from these limitations on what we can say. Let's focus on sharing truths, not stereotypes.
Correction: An earlier version of the post incorrectly spelled James Palmer's name
Popular in the Community