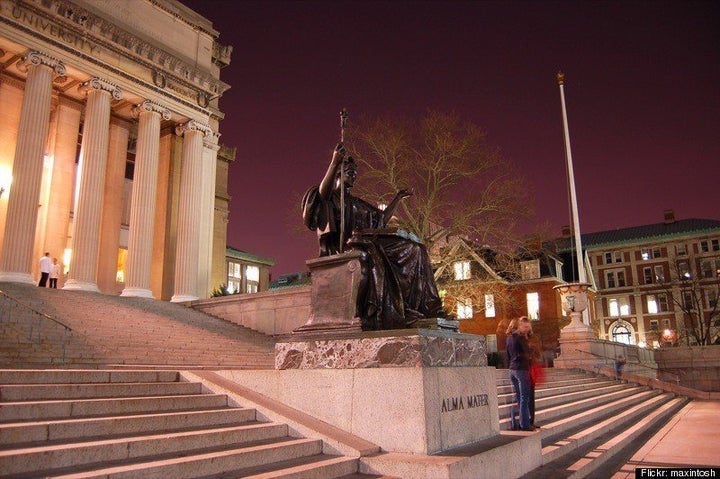 To the Columbia University Community:
As I am sure you are aware, the Columbia University Senate is once again eager to push for inviting the Reserve Officers Training Corps to Columbia (or what has more colloquially been termed the "return of ROTC") in light of the recent vote to repeal the "Don't Ask, Don't Tell" policy. A recent discussion featured in the Columbia Spectator's magazine, The Eye, though it featured many well-spoken and intelligent individuals, failed to provide a voice for the lesbian, gay, bisexual, and, especially, transgender community. In fact, given that the major reason for keeping ROTC off-campus has been its discriminatory practices against LGBT individuals (in particular, the "Don't Ask, Don't Tell" policy was cited), I was surprised to find that there was no representative of the Columbia LGBT community invited to speak. In fact, not once did the acronym "LGBT" or the words "gay," "lesbian, "bisexual," or "transgender" appear in the transcript. This, sadly, has been the norm of almost every discussion regarding the possible return of the ROTC program to Columbia's campus.
Given this deficiency, and the general rush to invite the ROTC program back (which began, in fact, long before the repeal had taken place or was even assured), I would like to take this opportunity to address a couple of misconceptions about the status of LGBT individuals in the military.
First, the "Don't Ask, Don't Tell" policy remains in effect, and its timely end is not assured. Though Congress did pass legislation to repeal it, and even though President Obama signed it, the legislation requires the President, Secretary of Defense, and the Chairman of the Joint Chiefs to "certify that changing the law to allow homosexual and bisexual men and women to serve openly in all branches of the military will not harm readiness." This cannot take place immediately: it must follow a sixty-day waiting period. In addition, a Republican Congressman is planning to introduce a bill that would delay the implementation of end of "Don't Ask, Don't Tell" to the Republican-controlled House of Representatives. Its fate is uncertain. Until the waiting period ends and the necessary officials certify that allowing lesbian, gay, and bisexual individuals to serve openly (which may, in fact, be never), the United States military will be continuing the same exact policy to which our University objected the last time this matter came up.
Second, while the policy of "Don't Ask, Don't Tell" has been repealed by Congress and lesbian, gay, and bisexual servicemembers may soon be able to serve openly after years of being forced to hide, we have yet to achieve full equality in the military even for LGB people. Under Article 125 of the Uniform Code of Military Justice, "sodomy" is still considered a crime and punishable by court-martial. Though some would argue that the 2003 Supreme Court case Lawrence v. Texas rendered the issue moot, this is untrue. Because the Constitution applies differently to members of the Armed Forces (especially with regard to the right to privacy, which was the driving constitutional right behind the 2003 decision) the ruling in Lawrence does not strike down the sodomy ban in the military. Thus while sexual conduct for heterosexuals remains a possibility, the same cannot be said for gay and lesbian servicemembers -- the discrimination continues.
Gay, lesbian, and bisexual individuals will continue to face discrimination in military institutions in other ways. As of now, for example, the Air Force Academy does not permit cadets to take a same-sex date to their dances. I think that it would be safe to assume that the other military academies have similar bigoted policies. LGBT chaplains are, thus far, also a no-go at the Academy. (Though this shouldn't come as much surprise, given the Academy's shameful history when it comes to diversity and tolerance: it has been plagued with sexual harassment, sexual assault, and gender bias scandals; it has also allowed its Christian Evangelical chaplains, paid by the academy, to run loose on its campus as they attempted to convert cadets.)
Third, transgendered individuals are not permitted to serve in the United States military. This is problematic on a number of levels. It bears noting that the reason that Columbia kept ROTC off campus for the last few decades has been the military's explicit and then implicit discrimination against lesbian, gay, and bisexual individuals. The reason, then, was not simply the policy of DADT, but rather the institution's failure to adhere to Columbia's antidiscrimination policies. Even more shamefully, transgender veterans are made unable to access the benefits that cisgender individuals have access to -- as a direct result of the military's discriminatory policies. The military also refuses to recognize any legal changes to one's sex. These are people who fought and died on behalf of our nation; do they not also deserve even the pitiful benefits we give to our veterans? I put it to you that denying any veteran, regardless of gender identity or presentation, free access to such basic procedures as mammograms, pap smears, or prostate exams is an embarrassment to this nation as a whole.
Finally, the US Military does not include gender identity, gender expression, or, despite the repeal of "Don't Ask, Don't Tell," sexual orientation in its Anti-Harassment Action Plan. This is important because, even if our military wishes to discriminate against transgender individuals -- already bad enough -- it ought to at least provide protections against harassment for those who may not present themselves within the bounds of "traditional" gender expression, regardless of whether or not those people are in fact transgender. Additionally, the failure to include sexual orientation in the Anti-Harassment Action Plan will leave lesbian and gay servicemembers vulnerable even after they are technically allowed to serve openly in the military.
Let me be clear: when I first heard of the repeal of "Don't Ask Don't Tell," I was thrilled -- not only because I saw it as yet another step toward equality for lesbian, gay, and bisexual Americans, and because gay and lesbian servicemembers may now serve openly and with dignity (albeit only once they graduate from the military academies) but because I hoped the end of that policy would allow Columbia, in good conscience, to invite the return of the ROTC program and thereby make the life of one of my friends currently in the ROTC program easier. It was with deep sadness that I discovered that our nation's armed forces continue to discriminate not only against gay and lesbian individuals, but against transgender individuals as well.
With regret and disappointment,
Noah Baron
Columbia University
Class of 2011

Popular in the Community