This time last year the global buzz about Prince William and Kate Middleton's big day had reached a fever pitch. Predictions and speculation ran rampant about what it would mean for markets, trends and marriage as ideas swirled about how big of a financial and psychological impact this one event would have on couples across the country and throughout the world. Well, one year later, it's no longer all hype and guesstimations. The verdict is clear; there's proof that the marriage of a modern-day prince and princess can shape weddings even in a country across the pond like ours.
From bridal runways to a craze in royal white wedding cakes, couples are taking inspiration from -- and mimicking -- the royal wedding for their own. According to a global study of brides and grooms conducted by wedding market research company Splendid Insights, interest in having a "royal"-style wedding has doubled in the last year. Doubled. A craze that has transformed the sweetheart-neckline wedding dress to one with lace and sleeves and brought back the lace trimmed veil as we bid adieu to the birdcage of recent years. These trends weren't just flashes in the pan either. Just weeks ago, famed designers like Carolina Herrera and Monique Lhuillier sent new collections down the runways with several nods to Catherine, and even Pippa Middleton's bridesmaid dress interpreted was into a bridal gown.
A cake company, who shall remain nameless, shared with me that the biggest celebrity wedding of the year was inspired by this event. The bride specifically requested a cake that was in the "style of the royal wedding cake." Traditional piped icing has peaked again, and even trendsetters are taking a cue from the trendsetting couple of the decade.
Another spike that can be tied to the royal wedding is the number of people opting to get married in a church. "One in five couples today are choosing a church wedding, a 5 percent increase from last year and the first increase in 10 years," says Liene Stevens, founder of Splendid Insights. Not every impact is as black and white, however. "The royal wedding wasn't just trendsetting because it was royal -- it was the ultimate in peer approval. The millennial generation craves peer approval, and Kate and Wills, both millennials themselves, told the world that it was okay to design a life that appears to be a study in contrasts. With their wedding, they put a stamp of approval on living together before marriage, having a meaningful church ceremony, and then having a fun party afterward," Stevens explains.
Rebecca Grinnals, president of Engaging Concepts and The Engage Conferences, has seen a shift toward the business of getting married in general. Society's obsession with weddings has seeped into every facet of our culture and thanks to this "I do," the conversations have reached a loud roar. "For so many months the royal wedding was a daily part of the 'conversation' and coverage in the global media. Coming out of the doom and gloom of the economic downturn, the wedding gave everyone something to celebrate. For the overall wedding industry, it provided the perfect chance to put the focus back on the pomp and circumstance and in a way gave couples the permission to throw more lavish affairs." And that means a return to what weddings once were. "It brought back the return to tradition and elegance with multiple celebrations that included all of the elements that people adore about weddings -- especially a picture-perfect couple who by all accounts are deeply in love and full of promise. It made traditional weddings cool again," says Grinnals.
I for one am grateful for the impact this duo has had on couples around the world. Weddings are celebrations again, and no one need apologize for their choices, big or small. So happy anniversary to Prince William and Kate Middleton! Now we wait with bated breath for news of baby and how they'll be shaping the homes and families of new nesters to come.

Below, photos of the royal couple and some of the bridal style their wedding has inspired: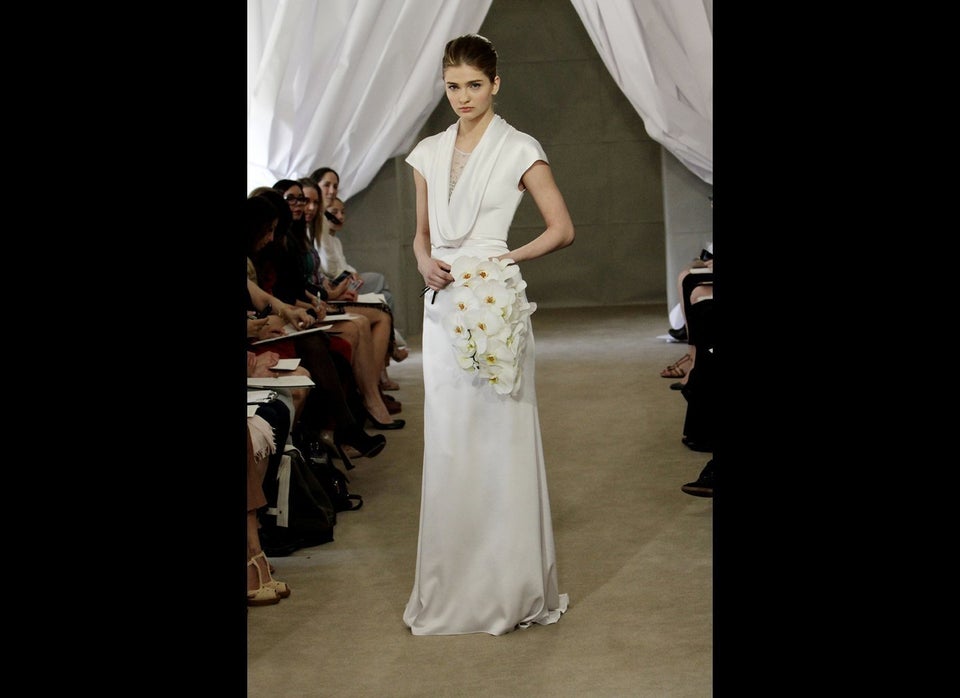 royal anniversary story slideshow