How would you feel if after buying a new car you discovered you paid too much? Odds are you would be upset, but paying too much for your car has no effect on your driving it for years to come. Paying too much for your 401(k) plan, however, is like a leak in your gas tank; the ultimate effect is that neither is going to take you as far as you need to go.
Regrettably, there have been many leaky plans since the inception of the 401(k) back in the 1980s, but not until 2012 did 401(k) service providers have a legal responsibility to disclose all of their fees and compensation. While leak implies small, according to the DOL, 1% in unnecessary fees over an average 35-year working career could reduce a participant's account balance at retirement by 28%!
The fee disclosure rules enacted in 2012, which were intended to plug the leak, are flawed. Reminiscent of the infamous "it depends on what the definition of the word 'is' is," one flaw depends on what the definition of "disclosure" is. Some service providers apply the Einstein theory of disclosure, while others use the Rube Goldberg theory.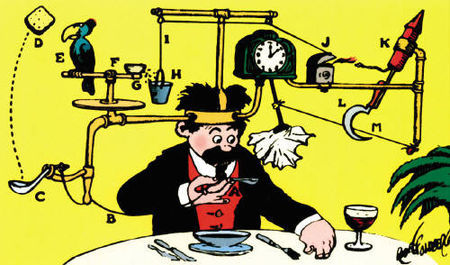 Einstein's theory is based on his belief that, "401(k) Fee disclosures should be made as simple as possible, but not simpler." His actual quote was "Everything should be made as simple as possible, but not simpler".
For example, if a service provider applying the Einstein theory needed to disclose compensation amounting to $496,000, the disclosure would read: We receive $496,000 in compensation.
The Rube Goldberg theory is named after Rube Goldberg, a cartoonist well-known for his drawings of overly complicated mechanisms used to accomplish very simplistic tasks. These mechanisms were known as Rube Goldberg Machines, and if you've ever played the game Mousetrap, you've got the idea.
Applying the Rube Goldberg theory to the same $496,000 disclosure, it would read:
"In 2011, when viewed in relation to total MSSB client assets of in excess of $1.6 trillion, the payment made by each such service provider...equaled an amount of not more than 31/10,000 of one basis point (otherwise expressed, 31/1,000,000 of one percent). We do not believe that such payments were made in connection with retirement plan business specifically, and were certainly not made in connection with any particular retirement plan, but, for perspective, the amount of retirement plan assets included in the total MSSB client asset number set forth above is approximately $112 billion." ( See page 7 of MSSB's Qualified Retirement Plan Disclosure Document.)
The Department of Labor recognizes the Rube Goldberg theory effect writing, "Anecdotal evidence suggests that small plan fiduciaries in particular often have difficulty obtaining required information in an understandable format, because such plans lack the bargaining power and specialized expertise possessed by large plan fiduciaries."
In order to prudently remedy this flaw, one might expect the DOL proposal to prohibit the use of the Rube Goldberg theory, and mandate that all disclosures be as simple as possible, but not simpler. Absurdly, the DOL proposed a guide, because "a guide would help small plan fiduciaries locate important information disclosed in multiple, often long and complex documents..."
In a second act of folly, the guide is to be written by service providers, even those adhering to the Rube Goldberg theory! DOL's reasoning is that service providers "are in the best position to identify the location of information that otherwise may be difficult for a responsible plan fiduciary to find in multiple, highly technical or lengthy disclosure materials."
The DOL proposal amounts to a Rube Goldberg remedy to solve a Rube Goldberg flaw! As a result, at retirement some of you are going to find that your 401(k) isn't going to take you as far as you need to go.
Share this article with your employer, or better yet, your senators and congressional epresentative. If you don't motivate them, no one else will and it's your retirement income security that is at risk!
About the Author: Mark Mensack, AIFA®, GFS® is affiliated with Fiduciary Plan Governance, LLC. and the Centre for Fiduciary Excellence (CEFEX) where he serves as an independent fiduciary consultant, and a CEFEX Analyst. He has nineteen years of financial services experience; fourteen as a financial advisor with broker-dealers, and five as an RIA. His expertise is in the area of fiduciary best practices, 401k hidden fees and ethical issues in the retirement plan marketplace. Mark also writes the 401k Ethicist column for the Journal of Compensation & Benefits and is listed among the 2013 Top 100 Most Influential People in the 401k Industry; some of his work can be found at www.PrudentChampion.com. Mark welcomes examples of ethical issues in the retirement plan space, and especially misleading 401k marketing materials at 401kEthicist@PrudentChampion.com.