 "With all the sorrow of such," wrote Judge Anna Schneider of the Jerusalem District Court, "the defendant has nothing to complain about in this case except for himself... The defendant must evacuate the house and return it to the claimant empty of all people and all belongings no later than December 31st, 2012 at 2:00 p.m."
The defendant is Ayoub Mohammad Shamasneh, the patriarch of a Palestinian family of 10 from the East Jerusalem neighborhood of Sheikh Jarrah, represented by a private Palestinian lawyer.
The claimant is the Israeli General Custodian of Property, represented by private Jewish lawyers associated with a number of extremist Jewish settler groups including, it would seem based on twitter, Arieh King's notorious "Israel Land Fund" (a group co-founded by a U.S. donor listed as "Name Withheld").
And the ruling is another example of the workings of the complex, formalistic and fundamentally illegal system commonly referred to as "Israeli Law."
The defendant has nothing to complain about in this case except for himself, writes Judge Schneider after conducting an in depth investigation as to the validity of the claimant's assertion that the defendant no longer had the status of "Protected Tenant" (a status granted to certain East Jerusalem Palestinians who had had rental agreement with the Jordanian Custodian for Enemy Property prior to the Israeli occupation of East Jerusalem in 1967) and that the property should be ''returned'' to Jewish control, based on Jewish ownership documents from before 1948. Having ruled in favor of the claimant's argument, the Judge ordered that the Shamasneh family leave their home and that the property to be transferred to the Israeli General Custodian, a governmental body that then has the ability to rent or sell the property to whomever it wishes. Like other cases in East Jerusalem and the West Bank, the process was carried out in a rational, civilized manner, the competing claims were weighed against one another, and in this case, the Palestinian family's claim did not convince the Israeli judge. The law ruled. Had the case gone differently, the Palestinian family could have won, and the government ministry and its settler partners would have been sent away empty handed. Although we may not like the results, there is little that is more important in a democracy than the rule of law. Isn't that so?
That is so. Only here's the catch: Israel is not a democracy and the "law" with which it governs millions of Palestinians living under occupation in the West Bank and East Jerusalem is fundamentally discriminatory, unequal and, ultimately, illegal.
In this case and in thousands of others, as described powerfully by Military Judges themselves in Ra'anan Alexandrovich's brilliant documentary film, The Law in the These Parts (2011), the Israeli Judge examined, questioned, pried and prodded, searching for details, for facts, for dates, for truths. There are a few questions that Judge Schneider never asked, and which Israeli judges dealing with the Occupied Territories could never ask without the pillars of their invented Legalistic and Seemingly-Just universe beginning to crumble. One of them is this: Why should Israeli Jews -- whether in government positions or as private individuals -- be allowed to use documents from before 1948 to reclaim ownership of houses lived in by Palestinians for decades when there are tens of thousands of Palestinian refugees with pre-1948 ownership documents who are not even allowed to visit their old homes, let alone sue for ownership and legally expel the current Jewish residents? This question cannot be asked, because the only answer is as follows: Israeli law grants one set of rights to Jews and another to Palestinians living under occupation; Israeli law, as manifested primarily -- but not exclusively -- in the West Bank and East Jerusalem, is based neither in values of equality nor of democracy, but rather is a complex code of ethnic privilege, and even supremacy.
On December 10th, Arieh King, the head of the extremist settler group, the Israel Land Fund, a group that moves Jewish settlers into Palestinian East Jerusalem neighborhoods like Sheikh Jarrah or Beit Hanina, tweeted that ''we got a order of aviction [sic] of Arab family from house at Shimon Hatzadik [settler name for Sheikh Jarrah], East Jerusalem,'' and a few days later, tweeted a triumphant picture of Ayoub Mohammad Shamasneh reading what Arieh King called an ''order of eviction'' (although it is not clear yet whether an official eviction order has been issued) in the entrance to his family's house.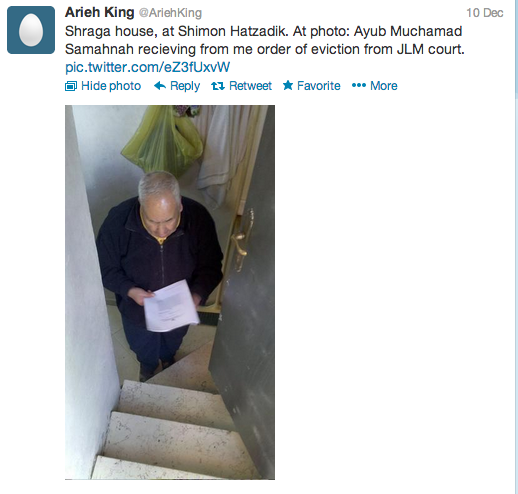 If this eviction is carried out, it will be the first one in Sheikh Jarrah since a round of evictions culminating in November 2009 that led to waves of large-scale Israeli and Palestinian grassroots demonstrations, organizing and anti-Occupation activism, sweeping international condemnation of Israeli policy in East Jerusalem, and an increased awareness in Israel and in the world that Israel's law in the Occupied Territories is discriminatory and undemocratic. The 2009 evictions were brought to a halt by this combination of local activism and international and media pressure. This time around, the Sheikh Jarrah eviction announcement comes on the tail end of another international settlement crisis, i.e., Israel's decision to punish the Palestinians following the PA's successful bit for UN-non-member-State-recognition by restarting settlement projects in the controversial E1 area of the West Bank and parts of occupied East Jerusalem. The international community's reaction to Israel's E1 plans was appropriately harsh, with the UK and France threatening to recall ambassadors and media discussing the possibility of sanctions, and the U.S. remaining relatively quiet (perhaps in silent accord with the Europeans?). While it of course cannot be proven that this potential eviction in Sheikh Jarrah is immediately linked to the E1 and East Jerusalem expansion plans, the link is even more fundamental: both are examples of Israel's complete flaunting of international law, of standards of equality and democracy, of destroying both Palestinian lives and the potential for a peaceful future for both peoples. The question, now, is will we, as a community of Israelis, Palestinians, internationals, diplomats, journalists, activists and peace seekers, speak up again now? Will we stand up against the continuation of this illegality? Will we protest the dispossession of the Shamasneh family as well as the construction of E1 and Israel's implementation of its illegal law throughout the occupied territories? We have only a few weeks until the eviction could occur, but I hope that the answer will be ''yes."
Related
Popular in the Community