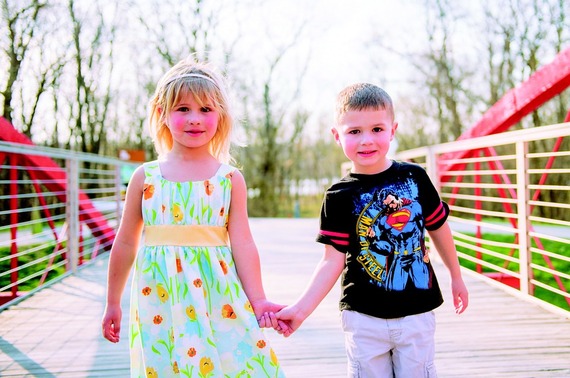 My 4-year-old son decided this weekend that he wants to "get married with" his best friend. Yesterday he carefully chose a sparkly princess crown ring at the mall, and this morning before preschool he very earnestly offered it to her. She graciously accepted and told him she loved him, while her mom and I eavesdropped around the corner and tried not to cry.
The kids discussed it all the way to preschool. Who would be the mom and who would be the dad? Who would feed the baby? Who would set the table?
My son became thoughtful and then announced very seriously: "I suppose now I have to look up the rules of being a dad."
I laughed. And then I realized... I have to teach him the rules of being a dad! Ok, so I have a few more years. But what has he learned so far? What are the rules of being a dad?
The two most important rules of being a mom or a dad are:
2. Always make sure you're doing as much work as the other person
That seemed like enough information to keep them occupied for a while, but now I have some real thinking to do.
I'm a single parent, so this question weighs on me heavily. My son will, over the years, continue to categorize information about gender roles and parenting. He's just starting to put the pieces together. I want to get this right.
But what can I tell him now?
2. Notice when your partner is tired and needs a break.
3. Know that kids go through phases where they prefer one parent over the other. Never take it personally; just ride it out.
4. Bring home dinner sometimes.
5. Put down your phone/computer for at least a solid hour every evening to focus on your family.
6. Clean up your own mess, in every sense.
7. Let your partner be imperfect, let your kids be imperfect, let yourself be imperfect.
8. Listen and empathize rather than trying to fix.
9. You are not the secondary parent. You are just as important as your partner.
10. Always, always keep your word and have integrity.
The "rules of being a dad" apply to moms as well. I'd like to teach my son how to be a human, a partner, a parent, regardless of his sex. Maybe that's the most important rule: there are no "mom" or "dad" rules, there are only "partner" and "parent" rules.
This parenting gig definitely has its highlights... like watching your 4-year-old propose to his best friend at 8:00 a.m. in his astronaut pajamas with his sleepy hair sticking up.
I'd love to read some of your ideas on the "rules of being a dad" in the comments.