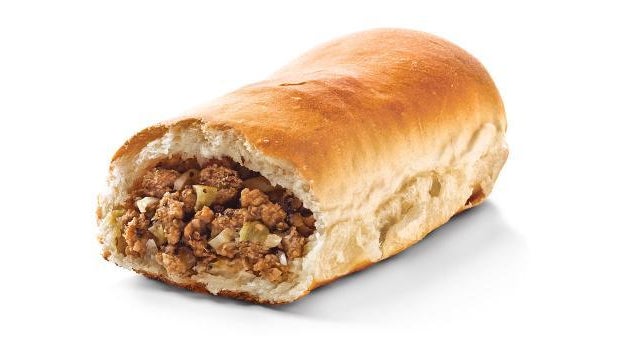 I'm sometimes shocked when I walk into a steakhouse in France or other European nations and see a menu that reads "côte de boeuf de Nebraska"! What amazes me is that we Americans, other than paying allegiance to "Omaha Steaks," don't usually tout Nebraska beef, but the Europeans are seriously all over it.
And why not? The beef is terrific and Nebraska is the second-largest cattle producer of all U.S. states, exceeded only by Texas.
To be sure, Nebraska is one cattle-saturated place. So when we at Flavored Nation began searching for Nebraska's iconic state dish, we knew that beef had to be involved. Not beef itself, of course, because our hunt is always for a dish, not a food.
But a beef dish that's ubiquitous in Nebraska? Piece of steak! It is the runzasandwich from the Runza restaurants. Nebraska's sandwich is unique among Flavored Nation's 50 iconic state dishes because it's the only one named for a restaurant. Like so many of the iconic dishes we've found at Flavored Nation, the runza is wildly popular in its state and in a few contiguous states but has barely been heard of in the rest of the U.S. We're hoping to change that, starting with its availability at the Flavored Nation event in late October in St. Louis. It will be there, prepared by a chef from Runza.
The sandwich has been on the menu at the original restaurant since Runza's opening day in 1949, in Lincoln, Nebraska. The founder, Sally Everett, was told by her friends that she makes a great version of the sandwich, popular among German-from-Russia immigrants, which describes Sally's background. Some called it bierocks, a name still in use today, though that name has been eclipsed by "the runza" in modern times.
When Everett opened her restaurant, she created her own name for both the sandwich and the restaurant, a variation of an old German name for the sandwich that no one quite remembers, although the "krautrunz" is everyone's best guess. Sally dropped the "kraut" part of the name but she didn't drop the cabbage, still an essential part of the runza.
To make a runza, you sauté beef in its own fat with cabbage and onions, until the meat is cooked through. A secret blend of spices is added, all created by one spicemaster. Then, you shape fresh dough into a long-ish loaf, not unlike the size and shape of a hero or submarine roll. The best part is that the bread gets stuffed with the beef mixture before the bread is cooked, and when it comes out of the oven, it is now a runza sandwich.
Everett's little shop from 1949 has done well for itself. Not only has it given its name to the state's iconic dish but, after a slow start — a second store was not opened until 1966 — the Runza chain now has 83 shops altogether, most of them in Nebraska, with five shops just over the borders in other states.
In 2016, the Runza chain sold almost 2 million sandwiches both in the restaurants and through mail order. They are particularly popular at University of Nebraska in Lincoln, where nearly 10,000 of the sandwiches are sold at every Cornhuskers football game.
So, what is it about these things that always has Nebraskans coming back for more? Don Everett, president of Runza and a grandson of Sally Everett, says "the nostalgia factor is big for Nebraskans." But, beyond that, "the sandwiches have such a buttery beefiness, and such a warm, homemade quality. Because they are! We bake all of our own bread for the runzasandwich."
And what does the company make of the loose use of its trademarked name? When your Aunt Polly makes one at home, she will probably call it a runza. Can she?
"Well, technically not," says Becky Perrett, director of marketing for Runza at the home office in Lincoln. "But we don't squawk when people use the name. There are, for example, many church cookbooks throughout Nebraska that include a recipe called 'The Runza Sandwich.' We're not going to go after them."
Lastly, is this iconic Nebraska dish always made from Nebraska's iconic beef?
"Well, mostly," says Don Everett. "We buy from a number of vendors who get their beef from a cattle processing plant called Greater Omaha Packing. We know for sure that at Greater Omaha most of their cattle are Nebraskan cattle, but you may, once in awhile, get a little Kansas in your runza. It still tastes great."
REAL LIFE. REAL NEWS. REAL VOICES.
Help us tell more of the stories that matter from voices that too often remain unheard.
This post was published on the now-closed HuffPost Contributor platform. Contributors control their own work and posted freely to our site. If you need to flag this entry as abusive,
send us an email
.