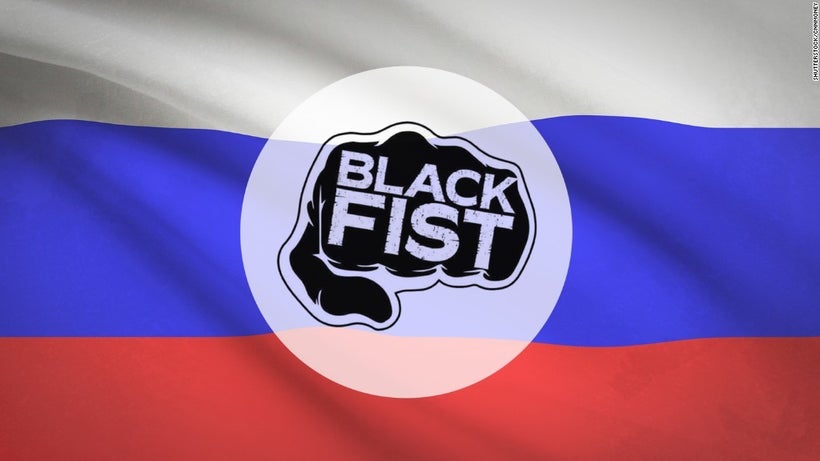 As the Russian Collusion investigation in Washington DC, moves forward with full stream. For the record, we also need to highlight the lesser known facts about how Russia has long played a part with exploitation of the Black activist movement in America.
Not to many have considered the awareness of institutional racism how even upto this date-the Soviet Union or to be correct its successor, the contemporary Russian Federation have worked diligently to highlight American institutional racism and also to undermine both Black activists and the government that targets them.
When it comes to other recent examples, there are numerous examples that even included selling of Black merchandise for Russian profit(example below)-even though the main goal was to disrupt an unsuspecting American public.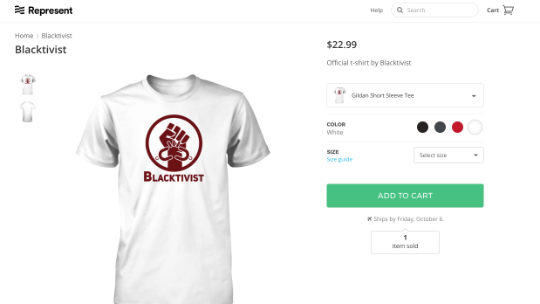 Here are a few known cases that show the many Russian fake activist groups:
Blacktivist a social media account (now deactivated) which according to a recent article in the New York Daily News both their "Twitter and Facebook was intended to stoke racial tensions in the U.S. during the presidential elections."
Police brutality tracker DoNotShoot.us, created to mimic and influence American protesters. 
RBC discovered around 120 Facebook, Twitter and Instagram frontgroup accounts with a combined total of 6 million followers and likes.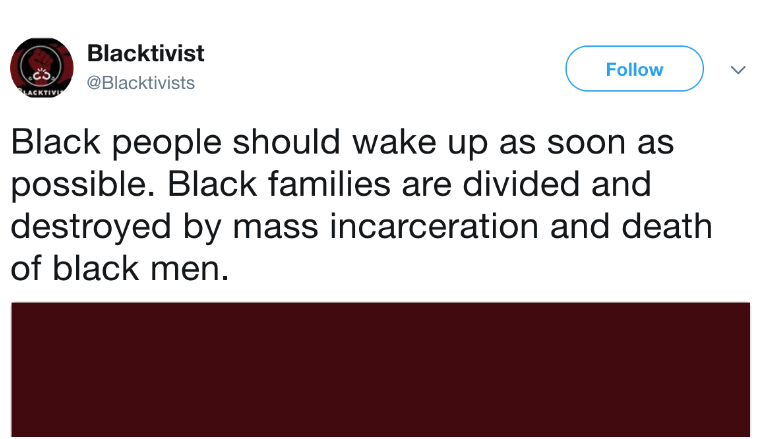 The "Black community welcomes you! We want to bring peace in life of our brothers and sisters!" the "About" section of the Facebook page read.
For the record-Blacktivist was one of the most intrusive and active Russian Fake account sites- their account racked up a considerable audience, with a combined 360,000 likes on Facebook, CNN reported.
A recent article in CNN did not confirm when the Blacktivist Facebook account was established. But most of the Social Media accounts cached data including their Twitter account first show the set up around April 2016.
A recently published article from NPR lays out how Google, Twitter and even Facebook, representatives testified before U.S. House and Senate intelligence committees about alleged Russian social media influence during the 2016 election. Those hearings continue this week (November 1).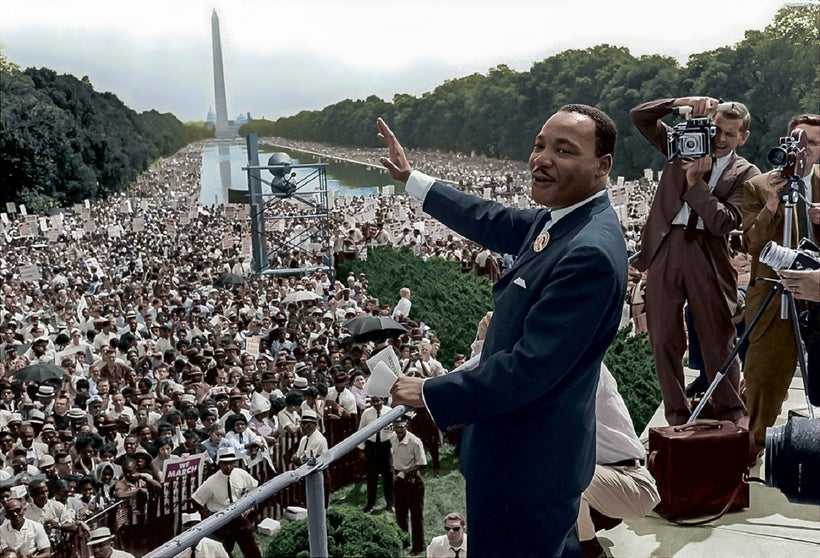 Soviet interference in the American mainstream culture is nothing new and some historians even suggest while the FBI under then-Director J. Edgar Hoover ran their COINTELPRO campaign to destroy Dr. Martin Luther King in 1964, including with listening devices in his hotel and letters threatening to ruin him. In the meanwhile, the KGB made a serious effort to exploit King as an internal political insurgent against Washington, D.C. When he wouldn't be used that way, the KGB also tried to undermine him. (-glg-)
-Gregg L. Greer a Public Speaker, Minister, Social Activist, and the Editor of the One World internet journal. Greer is the Founder of Freedom First International a human rights NGO. He has written extensively about American politics, Civil Rights, and the intersection of economics and politics. His stories have also appeared in The Huffington Post, CNN, and Apolitical America. Greer's first book, Truth, Justice, and the American Way is scheduled for release on 3/26/18-listen to his radio podcast at OneWorld Talks -if you are interested in interviews from him and others of the brightest minds today, you can email him at  oneworldtoday@gmail.com His website is www.gregglgreer.com
REAL LIFE. REAL NEWS. REAL VOICES.
Help us tell more of the stories that matter from voices that too often remain unheard.
This post was published on the now-closed HuffPost Contributor platform. Contributors control their own work and posted freely to our site. If you need to flag this entry as abusive,
send us an email
.