Sabah state in Malaysia has aspirations to become one of the first jurisdictions in the world to produce only certified sustainable palm oil statewide.
Towards that goal, the Sabah Forestry Department has initiated a mapping project that will identify what Sabah state looks like today so that a comprehensive plan can be created to balance the need of conservation and development.
Vast swathes of pristine Bornean forests remain in Sabah but it has not been spared the pressures of development which has seen timber and palm oil plantations cut chunks out of its forests. As a producer of 12% of the world's supply for palm oil, the ability to supply the niche market for sustainable palm oil is there.
Forestry Department Director, Sam Mannan, in recognizing the coming glut of palm oil when millions of hectares of newly planted African palm oil enter the global market, made the original proposal to have all of Sabah's palm oil certified by the Roundtable on Sustainable Palm Oil by 2025.
... it will also provide new long term opportunities for the State's producers to access premium markets worldwide, grow local manufacturing and attain a competitive edge.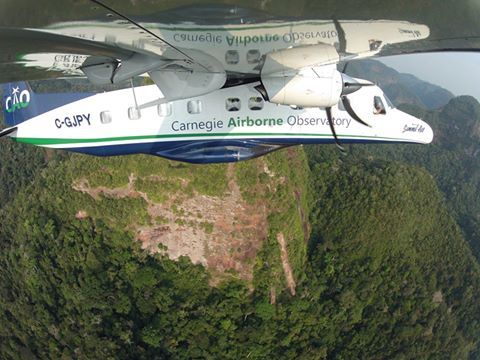 Palm Oil Debates

The debates over producing "sustainable palm oil" have raged for years. From facebook groups and twitter fights between those who " save orangutans" and those in the industry, the arguments between the right to development and saving wild life has only seen the extinction of the Sumatran rhino in Sabah. The Bornean orangutan which is presently rated as "Endangered" by the IUCN is expected to join its cousin, the Sumatran orangutan, in its "Critically Endangered" list.
Human versus wildlife conflicts are on the increase as the state looks to further develop. I wrote previously on the endangered Sumatran elephant in Sabah which is under great pressure to survive. Even the orangutans in Sabah will continue to see their populations drop if no definitive action is taken to save them. This graphic from 2012 shows 62% of the orangutan population in Sabah are hanging on in fragmented forests. Connecting the yellow areas 8,9,10 and 11 in the map will be critical to saving the isolated populations in those areas and the new mapping effort will show which areas need to be reconnected. Reports by the IUCN have shown that viable populations of orangutans need a thousand animals. Areas with lesser numbers will see localized extinction within a hundred years.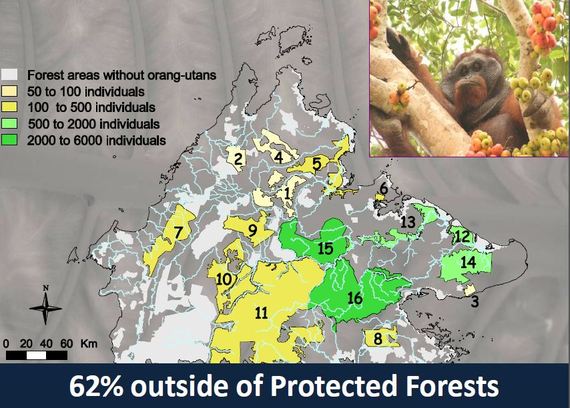 Disconnected Sustainability Actions
There is a very strong disconnect between global plans and demands for sustainability. Palm oil by itself, will not save the orangutans. Whether Indonesian or Malaysian, the industry as a business, is only one of many other local industries including timber or mining. It has to survive against competing oils like rapeseed from Europe to US grown corn and soy. Neither rapeseed nor soy has the same pressure to be sustainable and In a world where cash is king, commodity markets could care less about the dead zone in the Gulf of Mexico or elephants in Sabah .
One Planet, One Sustainability Standard
One of the biggest disconnects in global sustainability plans, is the assumption that developing countries in South East Asia or Africa, where climate change fighting forests remain, will be happy to live on less than people in developed countries. I personally found this suggestion to be completely naïve and ignorant.
We have to apply the same standards of sustainability accepted by rich northern countries to those in the poor south. The follow up actions that Sabah state will take from this mapping effort must be supported globally. Any palm oil it produces must be snapped up by environmentally conscious buyers the same way electric cars like Tesla's electric cars get oversold even though these green cars may be powered by coal and fracking.
This acceptance of a "lessened impact" has to be allowed to sustainable palm oil. It won't save every stick of forest there is but it will have a lower impact. It is true that the RSPO does not save forests and indeed, may certify some deforested areas in Sabah but then again, the RSPO's existence is to certify sustainable practises. If its mandate were to save forests, then it would be an activist group along the lines of Greenpeace.
The RSPO is in a tough spot as there is no one platform where everyone agrees on what sustainable palm oil looks like. Greenpeace may say saving trees is essential to it but local governments may say that development at the cost of losing some forests is sustainable.
I expect a fiercesome debate between Malaysian conservation groups, the extractive industries in Sabah including palm oil and indigenous peoples before a final map can be created. Once that debate is concluded, the Sabah map can become a model for other jurisdictions in Malaysia or Indonesia where arguments continue to roil.