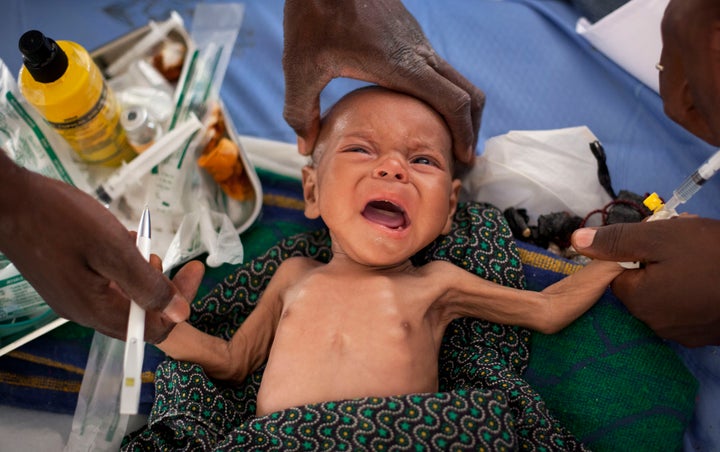 This blog is part of a series organized by The Huffington Post and the NGO alliance InterAction to call attention to the crisis in the Sahel, a region in sub-Saharan Africa where more than 18 million people face starvation and 1.1 million children under the age of 5 are at risk of dying from acute malnutrition. Click here to read more of HuffPost Impact's coverage of the Sahel and here to find out what InterAction members and others are doing in the Sahel.
As a Red Cross Red Crescent worker, I have worked in the most extreme of environments. Burkina Faso is now my most recent, and in many ways, my most surprising of these. Hot and arid, Burkina is one of the countries of the Sahel region in West Africa. Landlocked and extremely poor, this country of almost 16.5 million is in the midst of a crisis and, yet, it seems the outside world has not heard any of the warnings.
The crops are failing, carcasses of valuable cows and sheep scatter the parched landscape and basic food is now an unaffordable luxury for many. As I travel around the country with my colleagues from the local Red Cross, we often come across glaringly empty grain storage banks, malnourished and sickly children, emaciated cows and devastated crop yields.
Yesterday, in a village in Yagha province, we met Djeneba, 24, mother of little Malika, 2, whose life has been changed since she became involved with a small business support program, run by the Red Cross. She is now making a small income through produce from her own garden which, in turn, enables her to support other small businesses. With this money, she is confident that her daughter will be able to go to school. Awa, 41, a mother of six in Tongo Mayel, in the Soum province, is benefiting from a similar Red Cross program supporting small livestock breeding. She initially received two goats, but now has six.
Not all the women I have met have the same outlook. While assisting the nutrition program in Diogora, a remote village in the Yaghé province, a number of mothers told me they were wondering how they would get through the lean season. Although they do receive supplementary feeding for their hungry children, they also have other kids who are too old to benefit from the program. They said they knew, like all mothers, that they would have to share these precious rations. It was heartbreaking to hear these women having to make such life and death decisions.
However, Burkina Faso is not the only place where humanitarian assistance is badly needed in the Sahel region. A few weeks ago, while visiting some villages in the area of Kaffrine, in Senegal, we could see that "greniers à grain" were already empty, even though they were supposed to help the locals get through the lean season. We watched groups of women gathering food from the wild to feed their children, grabbing wood to sell on the market, and hoping to have something other than mangoes to feed their children. They still managed to provide them with some rice, but didn't know how long this would last. Meat and fish disappeared from their daily intake long ago. A similar story in Niger where, as early as January, grain banks were already empty with the only hope that WFP or any other organization would come and replenish them.
The International Federation of the Red Cross and Red Crescent Societies has launched emergency appeals in Burkina, Chad, The Gambia, Mali, Mauritania, Niger and Senegal, requesting less than 20 million Swiss francs to support over 1 million people, sadly, only one third of the amount has been donated. While we and other humanitarian actors warned the international community as early as December, donation levels remain low, leaving humanitarian agencies with no choice other than having to make hard choices in the assistance they will provide.
While a drought is not as "sexy" in the media as an earthquake or a tsunami, it is affecting a huge number of people, and jeopardizing the development of the children who suffer from malnutrition. We shouldn't wait to see heartbreaking images of dying children to act -- we have lost the opportunity to preserve people's livelihoods for this year. We must do our best to preserve their lives while investing in restoring people's livelihoods and building community resilience, so that they will be in a better position to cope with the next drought -- which will come, no doubt about it.
Calling all HuffPost superfans!
Sign up for membership to become a founding member and help shape HuffPost's next chapter