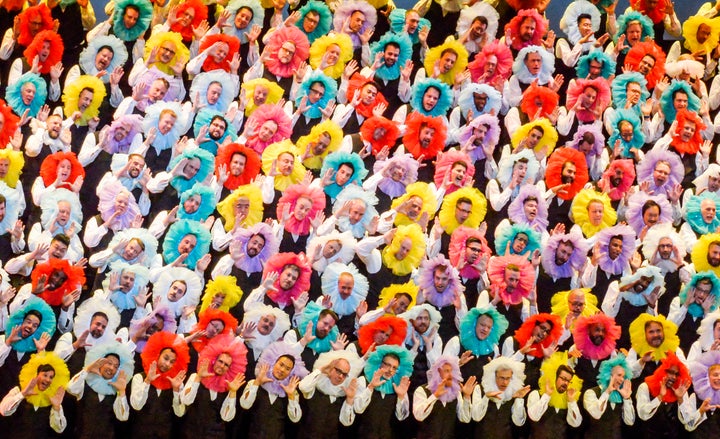 The San Francisco Gay Men's Chorus is going on tour this fall – prepare yourselves for a very gay October.
If you've ever watched the group, you know they will brighten up the grayest of days and the dullest of sports games. One of the many prides of San Francisco, SFGMC will continue spreading positivity this fall in a place that may need it most – the South.
The group will head out on the Lavender Pen Tour this October in an effort to raise funds and awareness in five states that have sought to legalize bigotry, intolerance and overall hate with anti-LGBTQ+ legislation. Mississippi, Alabama, Tennessee, South Carolina and North Carolina: you're on the list.
These states continue to push an anti-LGBTQ+ legislative agenda, which includes but is most definitely not limited to:
A ban on transgender individuals using restrooms that match their gender identity
Businesses and individuals having the right to deny services to same-sex couples based on religious beliefs
Mental health professionals having the ability to refuse treatment to LGBTQ+ individuals and doctors refusing to get involved with gender-reassignment procedures
Kicking off its 40th season, the chorus will tour these five states in seven days beginning October 7th and continuing through the 15th, spreading messages of love and acceptance throughout the region. The group will help raise much-needed funds for local non-profits in these communities, so they can continue doing their vital work to dismantle these biased and discriminatory laws.
With a divisive political climate in the United States, SFGMC will take its message and music on the road to promote universal equality and inclusiveness, and the value in treating all individuals – irrespective of differences – with dignity. The Chorus aims to empower fellow Americans through song, especially LGBTQ+ youth, and come together, provoke conversations and action around civil liberties for all, while raising funds for local communities.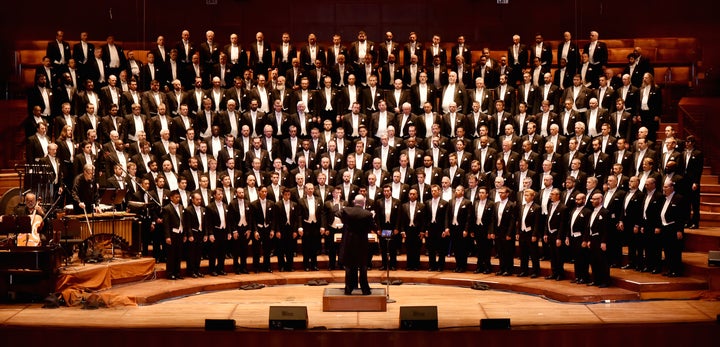 SFGMC will visit schools, churches, government buildings and more to spread the message and share the meaning of The Lavender Pen Tour. The tour's goal is to open a dialogue between a diverse set of Americans from different backgrounds and empower LGBTQ+ youth struggling with unease and fear of further marginalization. SFGMC hopes to use its voice to affect change in lives of people struggling to live their authentic lives and communities throughout the South.
"As has been evidenced in the recent weeks, we as a country have a long road to travel. After spending a week in the South last month with our beneficiaries and community partners, I learned that hope -­‐ the unbreakable and audacious idea that Harvey Milk built his life on and inspired us to do the same -­‐ is very much alive," said Chris Verdugo, SFGMC Executive Director. "We will amplify the work of these organizations across the South, raise tens of thousands in additional funding so they may continue their vital work and empower and inspire them with our music and mission. We believe this tour is another step in the right direction that will build bridges of understanding, compassion and empathy."
The Lavender Pen remains a symbol of the fight for equality for all and the reason for the upcoming tour's name, as a year before his death, Supervisor Harvey Milk sponsored a gay civil rights bill, who Mayor George Moscone signed into law with a lavender pen given to him by Harvey.
The itinerary of the Lavender Pen Tour is as followed:
October 8th – Jackson, MS at Thalia Mara Hall
October 10th – Birmingham, AL at Aly Stephens Performing Arts Center
October 11th – Knoxville, TN at the Knoxville Civic Auditorium
October 13th – Greenville, SC at First Baptist Church
October 14th – Charlotte, NC at Ovens Auditorium
In addition to the tour, the Chorus will visit schools, churches, meeting houses, senior centers, and government buildings in between these anchor concerts to spread the message of the Lavender Pen Tour.
The San Francisco Gay Men's Chorus has courageously served as the international standard bearer for a powerful and accomplished mix of high-­‐caliber performance, human rights, community activism, empowerment and inclusiveness, establishing it as an icon among LGBTQ organizations.
To buy tickets to the Lavender Pen Tour, please visit: www.sfgmc.org
Check out a sample of SFGMC in the below video, as the chorus payed tribute following the Pulse Nightclub massacre:
Calling all HuffPost superfans!
Sign up for membership to become a founding member and help shape HuffPost's next chapter