JUNE 6, 2007―-Two days after New Haven adopted historic protections for immigrant residents, 14 year old Jerry Sarmiento watched as Immigration and Customs Enforcement officers stormed into his home and took away his mother.
In an affidavit submitted to the Yale Worker and Immigrant Rights Advocacy Clinic after the raids, Sarmiento described seven agents ringing his doorbell in the early morning decked out in blue bullet proof vests.
"(My mother) answered the door thinking that it was NHPD. She asked who they were looking for and the officer said, 'A person from Guatemala' and then forced themselves into the apartment."
32 people were picked up—the largest raid in the city's history—two days after the Board of Aldermen approved private funding for the first ever Municipal ID in the nation.
"It was a hot mess," recalls former Mayor John DeStefano Jr., who says he realized something was amiss when the city's chief of police had no idea ICE was planning a large scale operation. "And it became clear it was somewhat retaliatory in nature."
This theory—that the federal government barged into homes in the largely Latino Fair Haven section of the city to punish City Hall for approving a resident ID card—gained some traction when Yale Law sued the feds and won. Mike Wishnie, director of the Worker and Immigration Advocacy Clinic at Yale, says they won mostly because of the indiscriminate nature of the raids.
"In fact almost everybody they arrested was not on their list, was not somebody they were targeting," Wishnie says. "They just happened to be living in an apartment that once upon a time someone might have lived in, or the apartment upstairs, or in the building next to it or around the corner. ICE just went door to door, pushing in doors without warrants, without consent, and arresting more or less whoever they found."
That information—which was gathered by volunteers in the immediate aftermath of the raids—helped the city keep ICE from carrying out operations for ten years.
"It was they—Homeland Security—who made New Haven a 'Sanctuary City.' It was never our term, it was never our intention," DeStefano says. "But by reacting so aggressively, and so much in violation of their own policies."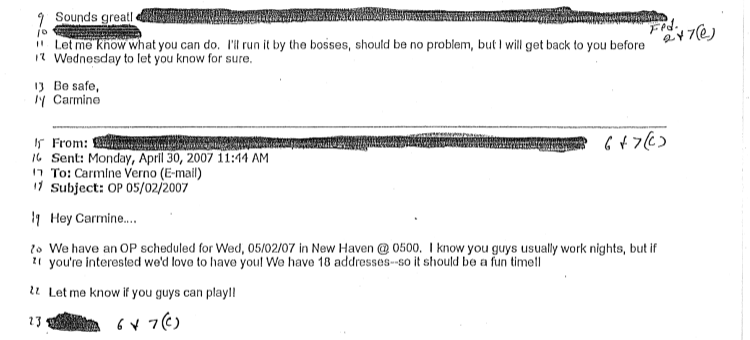 Before New Haven became ground zero for the debate over immigration, it was just a small city experiencing the same problems as many other places: there was a growing population of disenfranchised people who could not access city services because of a broken federal system.
"I didn't decide to take up immigration," DeStefano says. "The community decided it. The economy decided it."
"John DeStefano always talked about his immigrant roots you know, the Italians that came to this city," says John Jairo Lugo of Unidad Latina en Accion. "We should be open minded about new immigrants in the city—and that's how we made the connection with him."
In the summer before New Haven's ID card was passed, the immigrant community suffered a rash of robberies including the high-profile murder of Manuel Santiago, an undocumented immigrant from Guatemala. Kica Matos, who left her post as executive director of JUNTA for Progressive Action to serve as the Deputy Mayor under DeStefano, says the city was just trying to fill the needs of its residents.
"Immigrants became so victimized that they started being called 'walking ATMs' in our neighborhood," Matos says. "And we heard many stories like that: harassment in the workplace, sexual assault, all sorts of different kinds of discrimination cases. They were victims of crime and they didn't want to report crime because they were afraid local police were going to enforce immigration laws."
JUNTA and Unidad Latina en Accion then drafted a report with Yale law students that made six recommendations, one of which was to create an ID that was accessible to people regardless of their immigration status.
Though they did not know it at the time, the federal government was watching New Haven closely. Documents recovered by Yale demonstrate communication between New Haven's FBI field office and the Massachusetts ICE office accusing Yale students of "…loading up the Amistad with illegal aliens and sailing them to freedom…"—a reference to the infamous slave ship that landed in New Haven's harbor after a rebellion took control of the ship.
Meanwhile, DeStefano needed to gain support for the card from the rest of the city.
"The idea morphed from an immigrant card to a resident card: the distinction being to create a document that had benefit not just for immigrants but for general residents of the city," DeStefano says. "It could be used to access recreational services, library services, all the public services."
The city secured private funding to launch the card, but needed approval from the Board of Aldermen to accept the money.
The lead up to that aldmermanic hearing was extremely tense, Matos says. Anti-immigrant protests from out of town organizations and "piles and piles of death threats" sent in to her and Mayor DeStefano were a daily occurrence. Despite the hostility Unidad Latina en Accion, JUNTA for Progressive Action, and St. Rose of Lima churched packed the aldermanic chambers twice and the ID card was passed almost unanimously.
Municipal ID cards are now available in 13 other cities, according to a report released by the Center for Popular Democracy in fall of 2016.
"Since the introduction of muni-ID in New Haven, at least 15 additional cities have launched their own municipal ID cards, and campaigns are underway in at least a dozen other jurisdictions," the report says.
Threats of new raids and sanctions for cities with immigrant-friendly policies from the Trump administration have been stirring panic and preparation for resistance as well.
Sitting in the meeting hall of the New Haven People's Center, Lugo's phone rings off the hook during a recent interview.
"There is so much fear in the community right now," Lugo says. "I get maybe eight separate incidents a day I have to respond to."
REAL LIFE. REAL NEWS. REAL VOICES.
Help us tell more of the stories that matter from voices that too often remain unheard.
This post was published on the now-closed HuffPost Contributor platform. Contributors control their own work and posted freely to our site. If you need to flag this entry as abusive,
send us an email
.