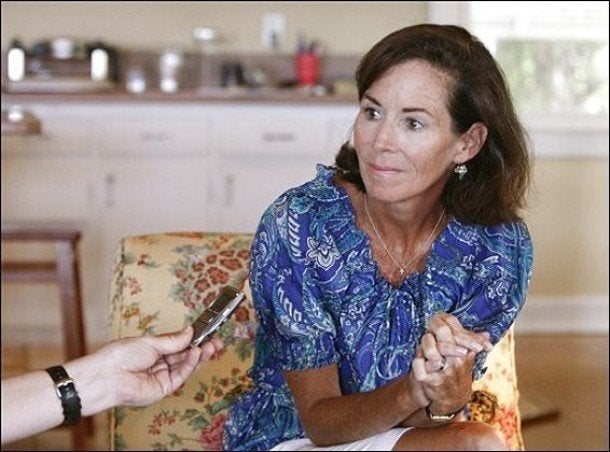 The news that South Carolina First Lady -- or perhaps former First Lady or maybe soon-to-be-former ... -- Jenny Sanford has signed what will have to be a more lucrative book deal than Chaz Bono's "handsome, six-figure" contract comes as welcome news. We've already gotten the wacky, rambling, weepy, Drama Queen side of the sordid Appalachian Trail-to-Argentina story from the First Man himself. Now it's about time to hear the other side. You can bet it will be a much stronger read than the transcript of her husband's presser last June.
South Carolina's fertile soil has given us Pat Conroy, Marshall Tucker Band and Joe Wilson, to name a few. Mark Sanford actually imported Jenny Sanford. She was reared in Illinois; earned her bachelor's in finance from Georgetown University; then moved to New York, where she worked for the investment banking firm, Lazard Freres & Co. through 1990, serving as vice president in mergers and acquisitions. She met the dashing Mark in New York, then ran her husband's 1994 and 2002 campaigns and co-managed his reelection in 2006.
I don't know Jenny Sanford. Much of what you read in these parts tends toward sympathy, along the lines of "you go, girl," heartfelt applause for a woman who refused to stand by her man, a la Silda Wall Spitzer, another radiant, smart woman who needs a man like a fish needs a motorcycle (which you're legally allowed to ride down here without a helmet.)
On June 25, TIME quoted me in an Internet piece about the Sanford presser:

"A lot of Bible-steeped power brokers will still give him a pass," says John Jeter, a South Carolina writer whose new novel, The Plunder Room, examines Southern mores. "But American and especially Southern conservatism is going to have to find a new kind of face."
In her new book, Jenny Sanford most likely will present that face, though I would bet she's not about to dive into the smarmy world of politics, especially the Southern genre. In her immediate-post-traumatic statement, Jenny didn't exactly make that clear, but she did make her priorities obvious. She offered up Psalm 127, then said she sought "the wisdom of Solomon, the strength and patience of Job and the grace of God in helping the heal my family." Heapin' helpin's of the Lord, which is required in our World Wrestling Entertainment-championship-sized-buckle of the Bible Belt, and to her--count 'em--four sons.
Whereupon a respondent to the The Atlantic's release of her statement trashed her, calling her a "tad self-serving." The respondent also said her "Biblical blunt force trauma was over the top," and ended by railing that for her to say she was suffering like Job was a bit specious.
She'll be chuckling all the way to the investment bank. I would also bet that Jenny will offer up in her new book a few things: More God, lots of sunshiny motherhood stories about all those fine men she's raising (which will be inspirational in their own right) and a superb, even motivational read.
After all, here's an ambitious, successful, savvy Wall Street investment banker/supermom who ran successful gubernatorial campaigns. Think about it: Wouldn't you prefer to edit--let alone read?--this book, rather than, say, a senseless word melange from a certain governor clear on other end of the country?
As for a tome that's a game-changer, this one likely won't make Oprah's list, though Oprah does have a little tenderness toward Southern literature (let's not forget Jenny qualifies as a Yankee). Still, Jenny, as we say in these parts, ain't a stupid girl. You can also bet she's not out for blood. She's out for redemption. And that, dear readers, is what, in the end, a good book is all about.

REAL LIFE. REAL NEWS. REAL VOICES.
Help us tell more of the stories that matter from voices that too often remain unheard.