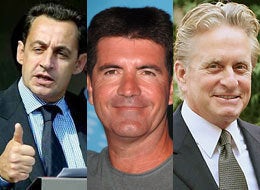 Growing numbers of middle-aged men embarking on second marriages are trying to turn the clock back with plastic surgery, experts claim.
Surgeons at a Harley Street clinic say more and more "alpha males", particularly those who are marrying younger women, are going under the knife, with Botox and male breast reduction top of the list.
They have called the trend "The Sarkozy Effect", after the French President Nicolas Sarkozy, who last year married Carla Bruni, a former supermodel 13 years his junior.
The Harley Medical Group says 50 per cent more men aged between 35 and 55 had Botox injections to reduce wrinkles so far this year, compared with the same period in 2007.
Demand for male breast reduction surgery has increased by 47 per cent, and 43 per cent more men have undergone microdermabrasion - when the outer surface of the skin is sloughed off.
Chin lifts, blepharoplasty - the removal of eye bags - and face lifts are also more popular than ever among what surgeons call FAMs - forty or fifty-year-old alpha males.
Surgeons say that despite their wealth and high-powered jobs, male patients increasingly want to ward off the effects of old-age to please their younger partners.
Although there no suggestion that Mr Sarkozy has gone under the knife, famous alpha males who have had surgery include the actor Michael Douglas, who is 25 years older than his second wife Catherine Zeta Jones.

Read the whole story.
Popular in the Community