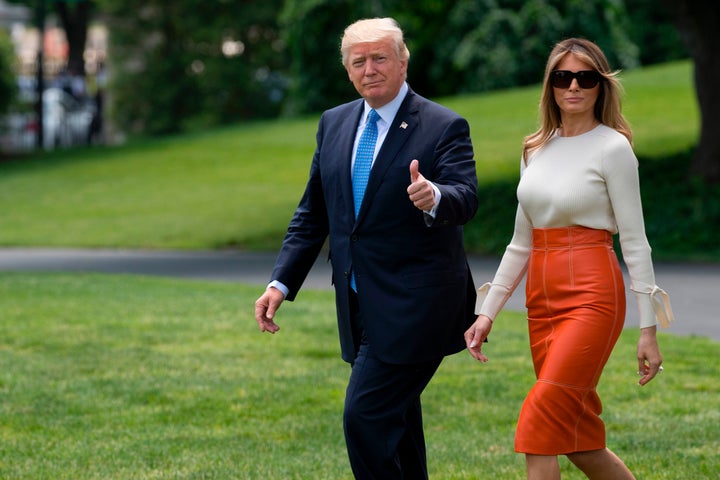 What a difference a president makes. Unlike his predecessor, Barak Obama, who was barely accorded the Saudi royal carpet when he visited Saudi Arabia, President Trump is about to receive an unprecedented "magic carpet" welcome from King Salman.
The Saudis have transformed Trump's presidential visit into a grand regional enterprise using every precious second to showcase the indispensability of Saudi Arabia's link to American security.
The President's decision to make Saudi Arabia the first stop of his first foray abroad is symbolic on so many fronts to an Arab world under siege by Iran and radical Islam. The region hopes it marks an end to the deep, abiding failures of Obama's Middle East polices and a "reset" with the Saudis – who remain the pivotal center of influence in the Muslim world.
The Kingdom is literally counting down the seconds until Air Force One touches down in Riyadh. According to the Kuwaiti Times a website launched for the visit featuring a countdown clock under the banner "Together We Prevail" is ticking down throughout the Arab world.
The Kingdom has convened to coincide with the President's visit an "Arab Islamic American" summit with a glitzy guest list of regional leaders and business leaders from around the Middle East. President Trump will have not one, but three summits while in Riyadh: one with Saudi King Salman, one with Persian Gulf leaders, and one with 50 Muslim leaders and religious representatives from across the Muslim world. Additionally, President Trump and King Salman will inaugurate a "Global Center For Combatting Extremist Ideology" where Mr. Trump is expected to deliver a major address on Islam and, for good measure, the "Tweeter-in-Chief will join Deputy Crown Prince Mohammed Bin Salman at a conference on social media.
Of course, no Saudi royal guest accorded such a triumphant welcome can arrive empty handed. Nothing pleases a Saudi host than a new mega dose of American arms. Just in time to coincide with the President's visit, the United States will unveil in Riyadh a "ginormous" arms deal fit for a king brokered by Jared Kushner and Crown Prince Mohammed in the neighborhood of $110 BILLION over 10 years.
Alas, it would have been a real show-stopper if Israeli Prime Minister Netanyahu had been invited, but the Arab world is not quite ready for that.
The Saudis have good reason to go the extra mile for Mr. Trump.
The Middle East is in utter turmoil, the Sunni states confront an aggressive Iran, and the Saudis are confident that the royal treatment will encourage the United States to recalibrate America's leadership in the Middle East in the wake of Obama's back-of-the-hand pivot away from the region toward Asia. Never mind Donald Trump's occasional insults against Islam or his travel ban…that's ancient history.
The Saudis are not about to let American fatigue with the region interfere with this new opportunity to reset relations with Washington. They intend to use every second of his visit to convince Mr. Trump that his "America First" slogan starts with many American boots on the ground in the Middle East anchored by a renewed commitment to Saudi security against Iranian designs to delegitimize Saudi custodian legitimacy over the Muslim holy places in Mecca and Medina – the very theological foundation of the Saudi monarchy.
For all of the glitz and ceremony the key question for the United States is whether the Trump Administration can develop a coherent strategic policy to balance a sustained commitment to combat ISIS and Al Qaeda in the Middle East without being drawn into the region's proxy wars being fought on so many fronts between Saudi Arabia and Iran. The Saudis, along with their Gulf State allies Iraq, Kuwait, Bahrain, Qatar, Oman and the United Arab Emirates are, to one degree or another, on the front lines fighting Iranian proxies in Yemen, Lebanon, Syria, Sinai, Libya, and Iraq. Iran is a regional menace, engaged in a concerted campaign to steal a page from Putin and do to our allies what Russia is doing to the rest of the world – undermine legitimacy and escalate military actions and state-sponsored terror to fulfill its aspirations for a "Shiite Crescent" stretching from Yemen across Iraq and Syria into Lebanon.
Among its goals during the visit the White House intends to unveil a more coherent anti-ISIS strategy to entice more Arab boots on the ground to hold liberated ISIS caliphate territory once its Syrian capital of Raqqa is liberated. Also, President Trump plans to share recommendations with the Gulf Cooperation Council to develop a new regional containment policy to restrain Iran's growing regional threat to them, Israel and American interests. This is good sense given where American strategic interests stand in the region today.
President Trump must receive something more in return from the Saudis than this magic carpet welcome to further American security. The Saudis have to cease promoting religious intolerance abroad and put and penalize financiers of ISIS and Al Qaeda who continue to operate under the camouflage of pilgrimage to the holy places. It will be interesting to see whether the newly inaugurated Center to Combat Extremist Ideology achieves any provable metric in the country which has spawned radical Islamic theology.
The U.S. – Saudi alliance is essential to American security interests in the Middle East, but an American commitment to thwart Iranian designs must be matched by a Saudi commitment to lead its Arab allies into a more effective anti-ISIS/anti-Al Qaeda regional coalition that has more skin in the game than best intentions and a few shekels. That will be the true test whether Mr. Trump negotiated a good deal for the carpet ride he will be accorded tomorrow.
REAL LIFE. REAL NEWS. REAL VOICES.
Help us tell more of the stories that matter from voices that too often remain unheard.