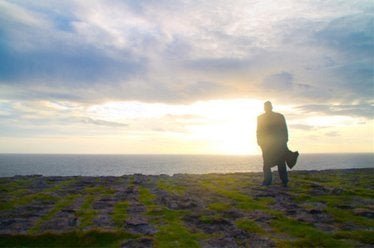 Beneath a morning sky that seems about to collapse under its own weight, we venture to the Rossaveal ferry terminal and board the Happy Hooker for a ride across Galway Bay to Inishmore Island, one in the triptych of the fabled Aran Islands. These are the western-most habitable islands in Europe: next stop, Newfoundland. We're met by driver-guide Michael Hernon, a champion for his isle, who evokes the sense that the rest of the world is far away and unnecessary.
He boasts the island's assets as we pootle along: "19 types of bees, 437 wildflowers, 30 types of butterflies" and herds of white Connemara ponies. "Take a deep breath," he instructs as he toothpastes the van between low dry stone walls lining a very narrow stretch of road, "In fact, if a single girl sees seven white ponies in a day, the next single man will be her husband." Our traveling companion Ciarán crouches down in the back.
It's a miracle Michael can negotiate these roads without scoring the sides of his van like an Etch A Sketch, and it begs what happens if he meets a car coming the other direction. Ciarán says his dad was here years ago when there were only two cars on the whole of the island, and, as luck would have it, they crashed into one another. A bad craic-up.
Michael steers us up the hill to Dún Aonghasa, Ireland's favorite ruin, after Seán Quinn. It's a pre-Christian stone fort enclosed by three curvilinear wind-chiseled walls ending at a clean-sliced cliff. It is how I imagine the perch from "The Guns of Navarone," though some scholars think its purpose was more religious than military, perhaps used for seasonal rites by the Druids. The wind is the sound of ghosts who can't tell their stories. The light here seems like a physical object, as though you could lean on it, though not too close to the edge, which is a sheer 300-foot drop to a grim and battering sea. But talk about heightened awareness: Standing here, looking out to infinity, eyes are far ahead of thoughts.
The ruins, now designated as a World Heritage Site, are a popular tourist stop, which typically means a perimeter ruination of concessions, gift shops, fudge bars, colored trash bins, civilized with stairs or trams. But happily there is nothing here but ancient stone. We have to head down the hill to find the knick-knackery and to peek into the An Púcán Craft Shop in Kilronan, where they sell the famous Aran sweaters. Francis Beatty, who has been running the shop with her husband for 32 years, tells us the Aran Sweater was an early version of DNA, in that mothers would weave a distinctive pattern into the pullovers for their sons so that if lost at sea, they could then be identified. But things have changed, even here on Inishmore, she laments. "The fishermen today prefer Tommy Hilfiger."
'Round twilight we check into the Tigh Fitz B&B, next to a shuttered pub advertising "Craic Agus Ceol," whatever that is. The guesthouse is family run, and the proprietress is sweet as the local cream, but I am a bit puzzled by the large sign in my bathroom: "Dear Guests. Please ensure all traces of make-up have been removed before using provided towels, as stains cannot be removed and extra charges may incur." Makes me wonder what kind of guests usually stay here, and where they might be from -- but also whether there might be a business opportunity to introduce a good laundry detergent to the islands.
A cold monsoon has let loose at dawn and gets worse as we head to the serpentine ferry car park, a new construction that has, says Michael, "127 signs, including one that tells visitors the number of signs." The sea has the voice of a rock concert crowd as we holler goodbyes to Michael. Inside the ferry we ride the white horses, as the Irish call the white caps crashing over the gunwales. It feels like the sea is playing air guitar with our boat, and one by one the children, then their parents, stagger to the stern to call for O'Rourke and feed the fishes.
Once back on solid ground, we appreciatively settle into the steady seats in our van and blast into the past to a great historical crossroads marked with a stone triangular monument that proudly states: "On this site in 1897, nothing happened." We're in the village of Recess, so perhaps the marker makes sense. A little later down the lane is a piece of unsung history now being intoned. The Connemara Heritage and History Centre is based around a restored pre-famine cottage of one Dan O' Hara, who was forced to emigrate in the 1840s when evicted from his home for having windows that were too big. Dan didn't own the home, but when he increased the size of the windows in his house -- and added glass -- this led to increased rent payments to his British landlord, which he couldn't afford.
Ciarán says the term "daylight robbery" comes from what they called the window tax. Ireland was over-larded by Britain when the tax was introduced as part of the "Act of Making Good the Deficiency of the Clipped Money" in 1696, designed to impose tax relative to the prosperity of the taxpayer, but without the controversy that then surrounded the idea of income tax. (Sound familiar?) At that time, many Brits opposed income tax, on principle, because they believed the disclosure of personal income represented an unacceptable governmental intrusion into private matters. My, how things change.
The past is not a foreign country for Martin and Nora Walsh, who plowed into agri-tourism when converting their six-acre farm in 1992 as a tribute to an era most have tried to bury from memory. Martin also undertook the project out of what might be considered a disproportionately strong affinity to kinship: His mother's grandmother was the daughter of Dan O'Hara's brother. Now Martin loads us into his red tractor-drawn carriage and chugs up the hill to a view point. From here we can see the Twelve Bens, not an ice-cream display but rather a range of eyebrow-peaked quartzite crags, a set of blue beckoning tors, the dominant features of Connemara, which in turn is the most unreclaimed acreage of nature in Ireland.
But Martin also casts his sharp blue-eyes down past pinfolds of sheep on to the village of Clifden, the western-most jut of land on the main mass of Ireland, and beyond to a hammered-gold spread of ocean. "On a clear day you can see the Statue of Liberty," Martin promises. He also gives us some historical data points about Clifden. Guglielmo Marconi (whose wife was a Jameson, granddaughter of John Jameson, founder of my favorite whiskey) made the first transmission connecting Europe with North America here in 1907 with a 10,000 word memo. (Probably 100 words would have been fine, but an Italian in Ireland can't help but be wordy). And the first non-stop transatlantic flight, a modified World War I Vickers Vimy bomber, crash-landed in a bog here in 1919. Now gulls hang in the air like kites.
But the most interesting view is of the tiny thatched-roof stone cottage a stone's throw down the hill to which we tractor next. Tenant farmer Dan O'Hara lived here with his wife and seven children. Most of his land was given over to potatoes, which grew in the poorest conditions. An acre and a half would sustain a half dozen people for six months. Some of the crop was used to feed a pig. Potatoes, along with buttermilk, ensured the population of Connemara was robust and healthy, though poor.
Things were peachy until the Irish Potato Famine of 1845-1852, in which the country experienced the greatest loss of population in world history. Locally known as Gorta Mór, meaning "the Great Hunger," it triggered over a million deaths and prompted another million or so to ship out. (It's one of the reasons there are over 40 million Americans who report Irish ancestry today, while the population of the whole of Ireland is only about 6 million.) Ciarán blames the famine on Ireland's favorite villain, Oliver Cromwell, who conquered the emerald isles in the middle 1600s (and, among other unpleasant decrees, banned Christmas festivities).
As the British took over the prime real estate in the eastern quarters, he pushed millions of Irish to the "savage, savage lands" of western Ireland. Many were given the choice of being shipped to the Bahamas or moving to the poor soils of Connemara, and since the Bahamas were little-known and evoked Hellish images, most chose to move west. If only they could have seen today's coconut tree- and beach-laden brochures, Gaelic might have been become the lingua franca on the edge of the Caribbean.
When Dan O'Hara lost his home, he took passage on one of the diaspora boats to New York, often called, with good reason, coffin ships. He arrived a broken man. His wife and three children died on the sea journey. He was penniless and destitute when he stepped ashore, so he had to put his remaining children into care. He ended his days selling matches on the mean streets of New York.
Related