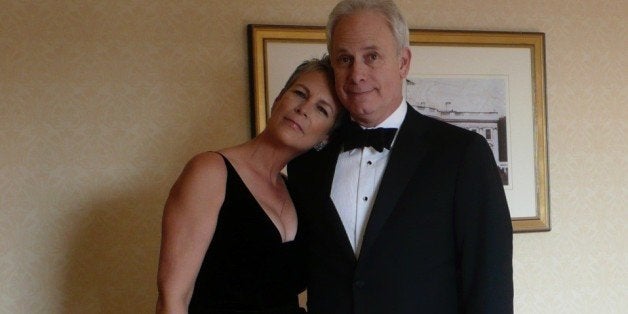 I have worn Oscar de la Renta's signature fragrance, Oscar, my whole adult life. It made its debut in 1977, the same year I became an actress. I remember the powdery, soft, gentle, feminine fragrance that complimented and never detracted. It was my first moment of individual style as a young person. My mother, the late, great Janet Leigh, wore Estee Lauder's, Youth Dew. Oscar was MY signature as well as Mr. de la Renta's.
As I developed as a young woman so did his fragrance. I cannot even begin to count the number of times I would be stopped and asked....." What is your perfume?" Men, women -- young and old -- and the greatest compliment came when, after a visit with me, a female friend would return home to her children and they would exclaim, "Mommy, you smell like Jamie."
There was an eau de toilette and a stronger perfume and a perfume purse spray with a gold plated dispenser in the floral-swirl design that was his logo. When the saleswoman at Saks once told me they were discontinuing the purse spray I called Mr. de la Renta's office to ask how long the perfume would last in the concentrated spray bottle. I then grabbed all they had left. In 2009 I bought a gown of his to wear to the Obama inaugural; black velvet -- classic, so simple and beautiful.
Like so may designers in their careers, Mr. de la Renta lost the licensing to his own name when it was bought by a bigger company. For years I used my stockpiled supply and didn't want to buy any more as I knew it was no longer his till 2011 when I walked into a Oscar de la Renta boutique to look at his beautiful clothes. The saleswomen asked me if I wanted to try the new fragrance, and as I declined I told her of my devotion and brand loyalty. She then explained that he had recently gotten back his name, that he now owned the fragrance and this was a new mix of the same notes -- a slightly different fragrance melody. I agreed to try a small spray of it on a thin cardboard stick and put it in my car.
When I returned to drive home my nose told me that indeed it was a gentle shift but one I wholly welcomed, as I too had mellowed with age and I have now proudly worn the new Oscar, Esprit D'Oscar ever since. It generates the same queries and exclamations from children to their mothers and it is with pride that I wear him and it is with great sadness that I write this.
I will stay forever devoted and will wear him to my grave. Gentle, soft, feminine, chic, elegant. His style. My scent. Words I attribute to us both.