Speaking with the Chief Information Officer of the District School Board of Niagara (DSBN) is like being in the audience of a startup company pitch competition. Dino Miele expresses himself with a youthful enthusiasm that instantly hooks you onto his dream of dramatically improving education. For Miele that means giving every student the opportunities, the support, and the resources to discover their own path in life. It's a bold challenge, and one that educators, governments, and private organizations around the world are working to solve. DSBN is a school district of 88 schools in St. Catherines, Ontario with over 43,000 students, making even internal change a large task.
It's such a great undertaking because no one has figured out how to personalize education for the masses. There is no end to barriers blocking this dream: funding, student engagement, professional development, socio-economic variance, teaching styles, curriculum differences, and so on. Miele thinks that his team is on the right track to crack the case, and have the results to prove it:
If you give students the tools to understand their learning, their behavior changes. Then they start to engage cognitively, and think critically. And that is personalization.
It started with the 2013 Niagara Connect Conference. Miele and the organizers realized that regardless of education level, subject, or background, teachers have a wide range of problems with common threads. This led them to an idea for changing the way the education world would connect to the community around them. In Miele's words: "We said 'can you imagine a place where teachers from different disciplines or different schools and levels break the silos between each other, and where non-profit, profit companies and startups come in to help them break those silos with technology to improve their daily work?' And that's the ihub."
ihub is the DSBN solution to increasing student engagement with technology. It's a research and innovation hub where students, educators, and private organizations all work to progress towards education at an individual level.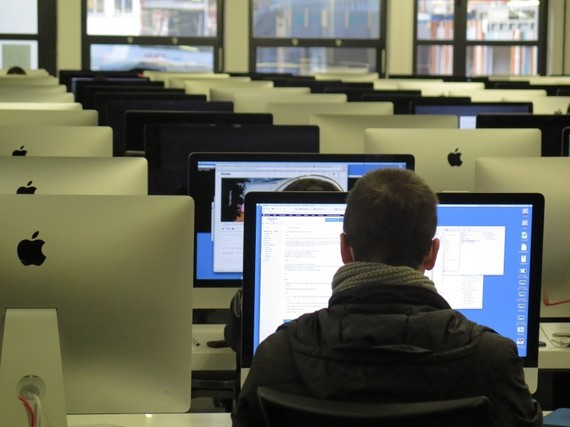 Class, take out your computers
When computers entered the classroom in the late 1980s, they were primarily used for computer science and business classes without regard for other disciplines. From there, computer labs were introduced, with basic education programs in game-based learning environments for math and english. This is called substitution learning, where a computer replaces the teacher for a particular lesson or subject. The technique of learning was still the same, but the means of accessing it had changed. It wasn't until the last 5-10 years before technology began to impact student engagement, and that's a big deal. Teachers are forever struggling to keep their students engaged with learning material, but new applications of technology could be changing that.
Miele describes the "ABC's" of effective student engagement with technology: academically, behaviorally, and cognitively. "If you give students the tools to understand their learning, their behavior changes. Then they start to engage cognitively, and think critically. And that is personalization."
There is of course a fine line between engaging students with technology and distracting them. Classroom teachers are finding it more and more common that students are becoming distracted in the classroom with shorter attention spans and easy access to smartphones. According to Miele, the answer to this balance is in the availability of resources and opportunities for students. DSBN creates a "hybrid environment" for students and staff to get access to technology tools in a controlled environment. They make a variety of tools available (including Apple, Microsoft, and Google) for students to gain exposure to different industry tools and skills.
It's by providing these varied opportunities that students can discover for themselves what interests them, and start diving deeper into their learning. There are notable success stories already, including one student who found an interest in photography and now runs his own studio post-high school. It is evidence of the ihub program having a positive impact on growing the local economy.
The onus is then on the teachers to ensure that students use the tools available to them effectively and assist in achieving learning objectives.
Where's the "On" button?
Teachers come in all shapes and sizes, with varying levels of comfort with technology. When the principal at a school tells their staff that they should be using new technology, some teachers jump right on board. Others avoid it completely. Typically this is due to a fear of changing workflows and processes, or a lack of time to make the switch. Regardless of whether that technology was intended for use by a student or staff, it is the teacher that must learn to use it.
It's not about the technology, it's about transparency.
However, the intended audience for technology in education is typically not the teacher. In almost all cases edtech companies target the student, personalizing the experience to their use. Miele thinks that the focus needs to be not only on the student, but also on their teachers. "We need ongoing professional development to help the teachers scale the technology to where it needs to go. It's not about the technology, it's about transparency -- it has to be invisible."
This is where DSBN gets sneaky. They gamify professional development using classroom devices as incentives. It's a concept called an "earn it" program where teachers must attend professional development workshops to earn devices for their classrooms. Technology champions become mentors to other teachers, increasing tech adoption. It's this "culture of learning" that creates the foundation of DSBN's approach with ihub -- the community.
All hands in
The secret to ihub's early success is the value placed on community, and open collaboration between the many stakeholders in education. By including private organizations, higher education teachers, K-12 teachers and students in the program, it incentivizes all parties to participate. Students gain easy access to private organizations as job opportunities, and Edtech companies gain exposure to test the market and grab early adoption of their platforms. Teachers get to use all of the edtech products for improving their instruction, and district administrators are encouraged by the development of their staff best practices.
It seems like a shooting star story to hear about this wonderful community of education stakeholders all helping each other, but this model of intrapreneurship can be created at any school or district. Miele has some sound advice to administrators looking to make tech a more prominent part of education. "The first step is to listen to your students and teachers. Ask them what their needs are, they can help with the decision making. Your knowledge and expertise can guide them to the best tools that fit their needs." He cautions, however, to understand the problems that districts are looking to solve, rather than adding technology for its own sake.
For Miele and ihub, the next step is to scale to the rest of Ontario and beyond. He dreams of a day where their learnings can be used as actionable resources for districts everywhere. It's an intriguing case study for successful edtech implementation, and time will tell whether it truly is the key to personalized education.
Calling all HuffPost superfans!
Sign up for membership to become a founding member and help shape HuffPost's next chapter