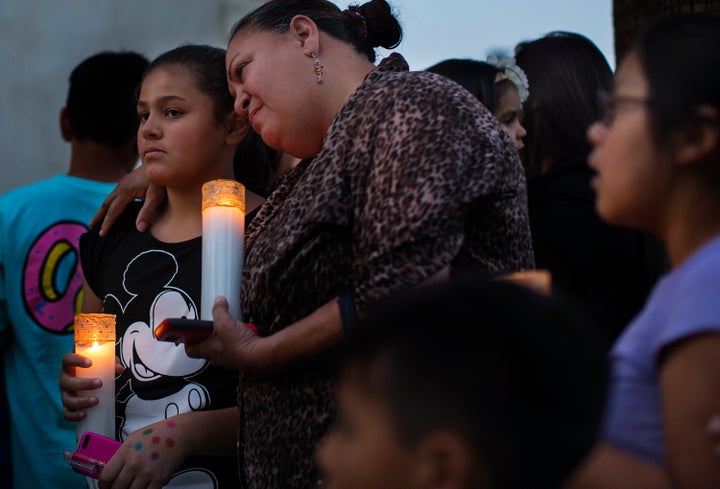 Unfortunately, San Bernardino is back in the news for yet another horrific tragedy, 17 months later. An 8-year-old student is dead, along with his teacher, Karen Smith, and ultimately, her estranged husband, Cedric Anderson. It's baffling to me that when a husband comes into his wife's workplace to kill her and then himself, the media hesitates to characterize it as domestic violence. Is it because it didn't happen at home, behind closed doors, like it should?
Maria Garcia, spokeswoman for school district, expressed regret and wished that Smith would have confided in someone at the school. She accurately stated that "unless we know, we can't help or do anything." Unfortunately, this is a refrain that my colleagues at Futures Without Violence and I are all too familiar hearing. My team leads an initiative called Workplaces Respond to Domestic and Sexual Violence: A National Resource Center. Funded primarily by a Department of Justice grant through the Office on Violence Against Women, we provide assistance to employers in creating workplace policies, protocols, and training to promote a prevention-focused approach to violence impacting the workplace, whether that violence primarily occurs at home or on the job.
St. Joseph's Medical Center is one workplace that sought our assistance after two domestic violence-related tragedies impacted their hospital and workers. Co-workers of the two hospital employees who were killed in domestic violence-related incidents in a span of months wondered if they missed signs that their coworkers were experiencing abuse, and what they could have done to intervene. Futures Without Violence and the Human Resources Department of St. Joseph's, along with community partners House of Ruth Maryland, TurnAround, Inc., and St. Ambrose Housing Aid Center, developed and conducted a comprehensive training for hospital employees on how to recognize and intervene when a co-worker is experiencing domestic violence, and created educational materials and resources – located in bathrooms and other appropriate locations – so that employees experiencing violence can receive referrals to advocates and programs that can provide assistance.
We applaud the efforts of the San Bernardino School District to revisit its safety procedures and policies in the wake of this tragedy at North Park Elementary, but we urge them to look beyond the four corners of the school building. If Karen Smith knew her workplace was a safe place for her to express her concerns for her safety and well-being, perhaps Cedric Anderson would have been prevented from coming on school property. Maybe Smith would have seen a poster in the teacher's lounge and received information about local advocates who could have assisted her with safety planning. And perhaps an 8-year-old boy would be headed to school today. This tragedy unfortunately demonstrates the true cost of the mistaken belief that interpersonal violence is only personal.
Calling all HuffPost superfans!
Sign up for membership to become a founding member and help shape HuffPost's next chapter
BEFORE YOU GO