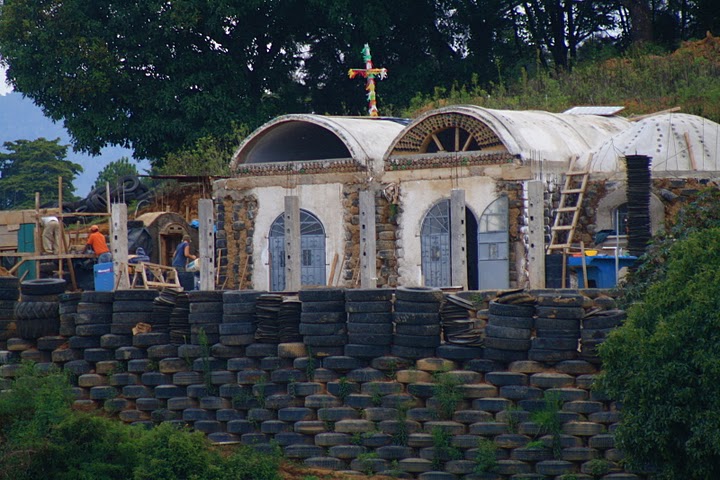 It has been said that one man's trash is another man's treasure. That's exactly what the nonprofit organization Long Way Home is proving with a project to build a school made out of garbage. Located in the Guatemalan city of San Juan Comalapa, where there is no existing trash system, Long Way Home has teamed with locals and North American volunteers to build a school out of re-purposed waste such as car tires and bottles.
San Juan Comalapa is an impoverished community in the highlands of Guatemala, and the school project is intended to extend new educational and work opportunities to its people. Because of the school's innovative design, it enables training in inexpensive, eco-friendly, and energy efficient building techniques.

Long Way Home was started by Matt Paneitz, an American Peace Corps volunteer in Guatemala who decided he wanted to continue working with the people of San Juan Comalapa after completing his assignment in the region. He came back to the United States, sold his belongings, and returned to Guatemala to launch Long Way Home. The purpose of the organization is to support local education and employment. According to one of his American co-workers, Danny Paz, "Matt has been there so long, any tall white guy in town is called 'Mateo'."
At Long Way Home there are a handful of permanent Americans and eight Guatemalans on staff. Due to a lack of funding the staff gets paid very little. But the workforce is supplemented by volunteers who come on an individual basis as part of their travels through Central America. The group also hosts student groups who want to make a difference through "Alternative Spring Breaks."
The school building project, which has been dubbed "A Class Apart," is a finalist in this year's BBC and Newsweek World Challenge. With any luck they will win the contest and be on their way to building more schools, homes, and other structures such as hospitals in Guatemala and beyond.
In the process they might just inspire the rest of us to see beyond garbage dumps and to envision whole new communities built from recycled and re-purposed materials -- ultimately seeing treasure, and opportunities for a better life, where we once saw only trash.

Support HuffPost
The Stakes Have Never Been Higher
Related
Popular in the Community