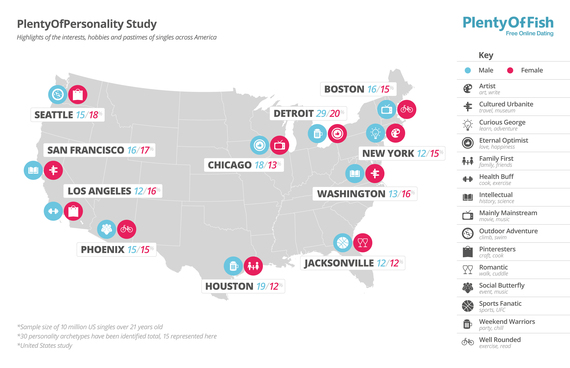 Ever feel like the interests on online dating profiles don't hold much value, other than to help you identify and avoid men who may or may be suspiciously committed to Dungeons & Dragons? As it turns out, interests don't just connect you with your most compatible matches (and pinpoint red flags), they actually hold the key to a bigger piece of the puzzle. Specifically, what personality type you are.
Using an interest-based algorithm developed by our Senior Data Scientist, PlentyOfFish has examined dating profiles of more than 10 million singles over the age of 21 years old to release a new research study - PlentyOfPersonality. The research identified the top 20 personality archetypes of singles in 11 major markets across the United States. The study was further broken down by gender to see how differences and similarities in these personality types might impact dating habits.
The findings were compiled into a report that identifies where you're most likely to find "Weekend Warriors," interested in drinking, partying and fun, and where to find "Cultured Urbanites," with a love of travel, wine and museums, of course.
For example, the report illustrates Northern California and Southern California as having distinctly different personalities - San Francisco's top singles are "Artists" and "Intellectuals," whereas Los Angeles sees more "Weekend Warriors" and "Eternal Optimists."
The personality breakdown for each city differs. In some cities, personality types match up more closely, and in others you're going to want to hope that opposites attract.
Both men and women in Detroit sync up on three of the four top personality types, you will find a lot of "Weekend Warriors," "Eternal Optimists," and "Bar Game Buffs" in town.
Not surprising that dates in Washington, DC are knowledgeable affairs, 13% of both men and women in town are "Intellectuals."
Singles in Jacksonville, FL are going on very positive dates, 19% of single women and 17% of single men in town are "Eternal Optimists"
Boston residents may be having a hard time finding love since most men are "Weekend Warriors" while the women in town are "Cultured Urbanites."
Men in Seattle are most likely to be "Weekend Warriors" and "Outdoor Adventurers" while the top two personalities for women are "Pinteresters" and "Artists."
Singles in Phoenix aren't quite matching up, the top personality type for men is "Weekend Warrior" and that personality type doesn't register in even the top seven for single women
So there you have it. The time has come to be more mindful of the interests we broadcast on our dating profiles in order to paint an accurate version of ourselves, and identify singles with whom we share the most in common.
So while using words like yoga, exercise and lift may land you in the "Health Buff" personality type, simply putting in "I dunno" and "I'll fill this out later" may score you a brand new personality type all your own, "Too Lazy To Date"
Calling all HuffPost superfans!
Sign up for membership to become a founding member and help shape HuffPost's next chapter