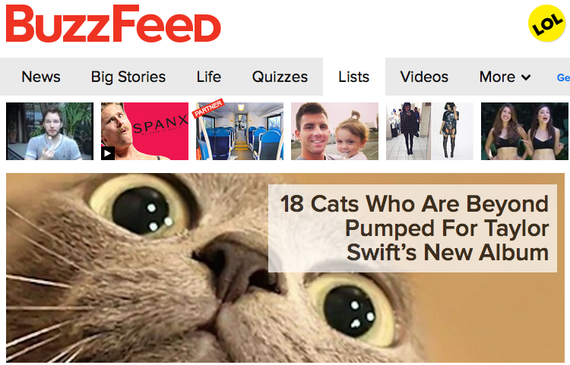 In recent years, short-form content has grown exponentially in popularity. From the hundreds of millions of users who flock to Twitter daily to trade information 140 characters at a time, to the billions of monthly video views on BuzzFeed, the site that launched the listicle craze--is the popularity of such bite-sized "snackable" content linked to the way the human brain functions?
One of my agency's Senior Copywriters, Nicole Lemieux, sat down with developmental molecular biologist Dr. John Medina, author of The New York Times Best Seller Brain Rules and an Affiliate Professor of Bioengineering at the University of Washington School of Medicine, to chat about this phenomenon. Dr. Medina shared how our minds process visuals versus text, what our impulse toward imagery could mean for the future of consumer consumption, and the potential pitfalls of digital distraction. Here are some of his insights.
1. VISUALIZING THE WORDS WE READ
"The brain may simply see text as 'little pictures,'" Dr. Medina explains. "Pieces of information are more likely to be recalled if they are first presented as pictures rather than as verbal propositions, such as text. The brain prefers -- and processes better -- pictures over text, a phenomenon known as PSE, short for Pictorial Superiority Effect."
2. BOTTLENECK ON THE CEREBRAL SUPERHIGHWAY
"Text presents a processing-speed bottleneck," Dr. Medina says, citing researcher Deborah C. Moore, who explored the concept of a content bottleneck in a letter to the scientific journal Nature. "A word is unreadable unless its letters are separately identifiable," according to Moore. "Our reading efficiency is limited by the bottleneck of having to rigorously and independently detect simple features."
3. COMFORT IN BITE-SIZED CONTENT
"Reading large blocks of text is an extremely unpleasant, energy-intensive task for the brain to perform, especially on a website," says Dr. Medina. "Reading takes almost 20 milliseconds per letter to perceive, and the brain has to inspect every letter in every word, often revisiting certain letters in the same word, just to make sure it has apprehended the content correctly.

"Having an instantly recognizable, defined, bite-sized block of text may telegraph to the brain that the painful experience is limited, providing relief."
4. GETTING TO THE HEART OF GOOD CONTENT
"Turns out the human brain loves content laden with emotional overtones, especially if social interactions are involved." Dr. Medina goes on to explain that this content has been given a name: Emotionally Competent Stimuli (ECS). "Attention lags when there are too little ECS in the content stream.

Psychologist Bill McKeachie found that during lectures, attention tends to peter out in 10-minute cycles. If you are giving a presentation, you will need to add an ECS of some kind every 10 minutes or so."
5. THE NEXT BRAIN-FRIENDLY TREND
"One maturing technology that is extremely brain-friendly, and in the right hands, could easily be part of a future blockbuster platform, involves holograms, virtual reality, and any adaptive three-dimensional projections of information. The brain loves moving and three-dimensional objects. It follows that the more moving, three-dimensional you can make your information, the more likely it is to 'stand out' from the crowd, to be paid attention to, to be remembered."
6. DESTRUCTION IN DISTRACTION
"It is entirely possible that digital overconsumers are increasingly prone to distraction, especially high-input digital consumers," says Dr. Medina. "The damage is that they become less good at identifying and filtering out information irrelevant to a given task, losing the cognitive tenacity for sustained concentration. It is not that their brains are permanently rewired. It is just that their brains -- just like our brains -- are surprisingly plastic. Consuming multiple inputs at high rates over a long period appears to change our ability to focus."
#AttentionParadox. This article originally appeared as part of the agency's publication, SITUATION.
Popular in the Community