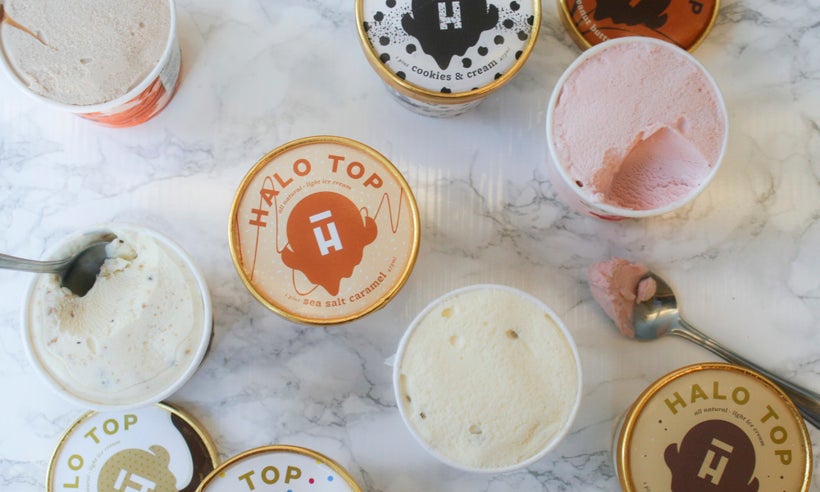 If you love ice cream but aren't so keen on what super-premium traditional ice cream varieties can do to your waistline, there's good news! Today there are many new delicious ways to enjoy a creamy, cold treat without all the sugar, calories, and fat of regular ice cream.
Here are some of my top picks for healthier licks:
Halo Top may be your solution if you want an ice cream alternative that won't derail your diet. I love its creaminess and high protein and fiber counts, along with its minimal amount of added sugar. An entire pint ranges from 240 to 360 calories (120 to 180 calories per cup), depending on the flavor. Compare that to a typical pint of Ben & Jerry's, which packs in more than 1,000 calories. A cup of Halo Top delivers 10 grams of protein, 6 grams fiber and just 5 grams of added sugar. Yummy flavors include vanilla bean, chocolate chip cookie dough, mint chip, and lemon cake - to name just a few. Plus, the brand recently added vegan and dairy-free varieties!
Talenti Sorbetto is another top pick because you get a cool burst of creamy flavor without the fat and calories of traditional ice cream. A half-cup serving has a guilt-free 120 calories and no fat. When I want something sweet and refreshing, their Roman Raspberry and Blood Orange flavors meet my cravings every time.
Skinny Ice Cream Sandwiches
If you're looking for a tasty portion-controlled treat, go for an ice cream sandwich. While some gourmet varieties can set you back 500 calories or more, many supermarket options can be delicious calorie bargains. My favorite ice cream sandwiches include Skinny Cow (with 150 calories) and non-dairy Tofutti Cuties (with 130 calories and 9 grams of sugar).
Frozen yogurt usually has less unhealthy saturated fat, fewer calories and more protein than ice cream, but not all froyos are created equal. Be sure to read the nutrition facts to know what you're getting. Some of my favorites include Yasso Frozen Greek Yogurt Bars (about 80 calories, 5 g protein and no sat fat per bar*) Julie's Organic Frozen Yogurt Bar (90 calories, 2 g protein and 1 g sat fat per bar*) and Outshine Simply Yogurt Bars (90 calories, 5 g protein and 1 g sat fat per bar*).
*Nutritionals may vary slightly depending on flavor.
Also it's fun and easy to whip up healthy, homemade froyo – all you'll need is nonfat or low-fat Greek yogurt and your favorite fresh or frozen fruit. (Honey or agave is optional.) Process the ingredients in a blender until smooth, then freeze for 30 to 45 minutes before serving.
Chocolate-Dipped Frozen Bananas
Chocolate. Bananas. Need I say more? Here's a healthy and refreshingly creamy, satisfying snack that's a cinch to make. Simply freeze a few bananas on a stick, melt a several squares of chocolate (about 4 ounces per banana). I prefer dark chocolate to counter the sweetness of the bananas. Then dip frozen bananas into the melted chocolate and freeze again for at least 30 min. Next, you'll enjoy an amazing sweet treat for less than 180 calories* and wonder why everything in life isn't this good! (*Assuming you keep to one small banana and don't overdo the chocolate dipping).
Calling all HuffPost superfans!
Sign up for membership to become a founding member and help shape HuffPost's next chapter
This post was published on the now-closed HuffPost Contributor platform. Contributors control their own work and posted freely to our site. If you need to flag this entry as abusive,
send us an email
.