is what John Steinbeck said of it; Jacques Cousteau called it the
Galapagos of North America.
Both were captivated by the Sea of Cotes and on a recent cruise through Baja, California, Mexico so was I. Just south of California lies this unrushed and uncrowded inland sea - the Gulf of California, more commonly known as the Sea of Cortes. UNESCO has declared this a World Heritage Site, calling it one of the most biologically diverse marine environments on earth. In fact, these wildlife-rich waters and islands are home to both plants and animals found nowhere else, including giant lizards, sea turtles, boobies, sharks, mantas, sea lions and many species of whales.
In February, I'd traveled to San Jose del Cabo to board the Un-Cruise Safari Voyager and participate in their Baja Whale Bounty Adventure - December through April being prime whale-watching months. It's during this time that Gray whales are in the San Ignacio Lagoon and do their birthing.

A Sense of Place
Small group travel is the heart of Un-Cruise Adventures. Replica turn-of-the-century coastal steamers ply the waters of Alaska, Hawaii, Columbia and Snake Rivers, Washington, British Columbia and my choice -- the Sea of Cortes. Trademark watchwords for this cruise:
At a moment's notice, one must be prepared to deviate from the day's plans, depending on water currents, weather conditions, and sightings of sea mammals. The result is some extraordinary experiences in wild and scenic places that provide true, meaningful travel.
As we leisurely sailed the northwestern region of the Baja California peninsula, I kayaked through mangrove forests and in crystalline blue coves, hiked along dunes and cactus-clad ridges, swam with playful sea lions and, of course, whale watched! I emphasize that word because frequently many of us go on whale-watching sojourns equipped with binoculars and high hopes, only to return after a day of disappointing whale searching -- desperately seeking a large gray mammal to pop its head out of the sea and give us the thrill we've been patiently waiting for... then nada. Well, this time it was different. More on this later.
Treasured Islands
Setting off from San Jose del Cabo, we visited the island of Gordo Banks whose frequent visitors are manta rays, humpback whales and hammerhead sharks. Next stop, Isla San Francisco where I had the chance to snorkel along barnacled rocks and later took a hike through desert and low scrub to photograph the salt flats and the tiny animals living in tidal pools. At Isla Santa Catalina, I took a guided hike into a forest to view the giant Cardon, world's tallest cactus.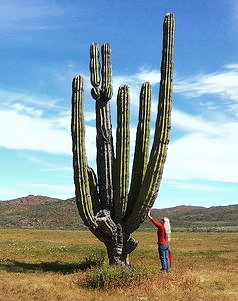 An accommodating burro carried me on high, to the ridges above the sea, and through mountains and canyons - providing an authentic Baja experience.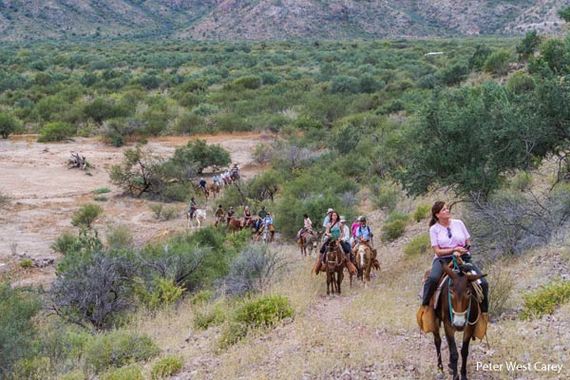 That evening I skiffed over to the beach for a bonfire on shore, the only light the fire itself and the heavens so star-laden it seemed implausible -- a bright, fanciful end to the day. Los Islotes has a lively, colorful and very noisy sea lion colony. As we approached the outcropping of rocks and well before we saw the animals, we heard them - their raucous barking mingling with laughing seagull cries announced that we were in a strange and special spot. I swam with agile sea lion pups and, though we were told they'd be playful, I didn't expect them to be quite so in my face but they were pretty adorable so no concern. Now, had the pups' adult parents decided to enter the fray, that might have been a different story.

A Whale of a Time
Then - the highlight of my cruise - Bahia Magdalena. We docked in Puerto Escondido and headed across the peninsula to hop on pangas (small outboard-powered fishing boats). Somewhat leery at first, my thoughts turned to 50-ton beasts tipping us over and ultimately swimming with whales, I was assured that this has never happened. Fears assuaged, I quickly knew that I was at the right place -- at the very right time. All around me: giant yet gentle whales spouting through blow-holes, cresting and even swimming so close to the panga that I could reach out and pet their smooth, rubbery backs.
Past disappointments at trying to spot these creatures faded away. For once I was truly whale watching! I had a few hours of thrills while surrounded by Blue-footed boobies, Brown pelicans, cormorants and gulls that added to this exceptional experience. The whales leave Bahia Magdalena later in the year to make the 3,000 mile return swim to Alaska; however for me, the choice of either whale watching in frigid waters or in the warm Sea of Cortes is a no-brainer. I'm glad I chose this spot for my never-to-be-forgotten encounter.
Adios
Back in San Jose del Cabo, my Un-Cruise adventure over, I disembarked and bid adios and a heartfelt thanks for the memories to the captain and crew. I've now discarded my long-held idea of cruising as somewhat predictable, sometimes even a bit boring. This time I opted for inspiring, surprising, stimulating. and I'm really glad I did!

If You Go:
Un-Cruise Adventures
Hilton Los Cabos Beach & Golf Resort