Group tours (I hear you groan, but read on) have been a large part of my travel history. I have accompanied many during my years with the Smithsonian. I have learned from the best experts on excellent tours. I have also spent three days in Russia in an "emerging" hospital in 1996, instead of the Catherine Palace, walked the streets of Quito looking for a confused member of our group at midnight and taught a group how to snorkel in Belize -- unfortunately in a breeding ground of sting rays. (Yes I was stung and stepped on live coral running to help a guest, which later required surgery.)
Now in the private sector, I usually travel alone, scoping out the best new and old finds for clients and writing about them. So you might be thinking my highlight for 2013 would not be another group tour comprised of strangers from around the world. Wrong.
The tour I joined as a paying guest with noted author and historian, Alison Weir, was by all measures the most exciting trip I have ever taken. Many geographic destinations may seem more exotic and I have visited almost all, from Easter Island to Antarctica to Borneo to Vladivostok. Many of the hotels I visited this year were over the top luxury and restaurants and the spas were exceptional. But this group tour, to sites I had visited before in the UK, was hands down, the most luxurious, exotic and fantastic I have ever experienced.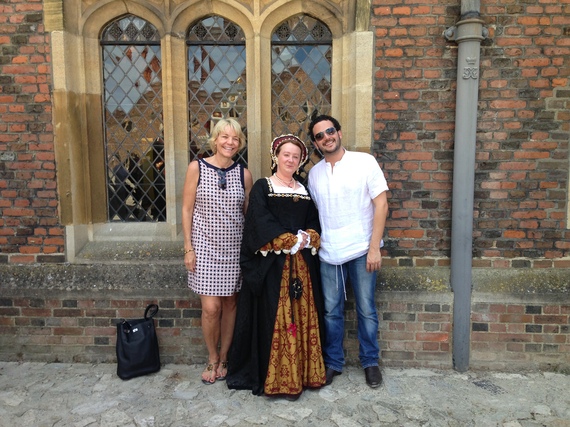 At Hampton Court Palace with Historic Royal Palaces Guide Siobhan Clarke and fellow traveler Sergio De La Rocha

As I look back over 2013 and indeed 25 years in travel, why was this "group" tour the pinnacle of my career? Simple -- it combined my passions, with the best of everything -- not the most luxurious, but the best and there is a difference.
The "Six Wives of Henry VIII" traveled around Tudor sites in the UK in June 2013 and was by every measure extraordinary. I am still awed by the chance to spend time with Alison and her friends, who number the finest authors and historians in the world. Sitting at dinner, in Hever Castle's (Anne Boleyn's childhood home) private dining hall beside Alison and Dr.Starkey as they debate some new finds in Tudor history was a dream. The fantastic authors we met included the effervescent Sarah Gristwood, emerging historian Nicola Tallis, Siobhan Clarke from the Historic Royal Palaces staff, Dr. David Starkey, Elizabeth Norton, Dr. Tracy Borman and Mavis Cheek. The privilege of meeting and dining with so many of the leading historic authors of our day was my ultimate luxurious experience.
The itinerary was carefully chosen and vetted by Alison who matched it to her own passion for sites that offer perspective and new insights. She discovered along with us. Hotels were appropriate to the theme. At Thornbury Castle, we stayed in the same hotel that Henry VIII had visited with his new bride, Anne Boleyn, and one of our group was honored to stay in their bedroom -- which we all visited. Ghosts were not advertised as part of the experience but we all had high hopes which I think were fulfilled, but that is another story.
The undeniable leitmotif of the journey was present day royalty compared to 16th century Tudors. The impending birth of the next heir to the British throne and the new legislation that would have permitted male or female first born to become the third in line for the crown was much discussed. Henry's troubles would have been so different were this true in the 1500s. Prince George, born on the final day of the tour, illustrated Alison's penultimate planning skills and our group joined all of London in celebrating.
But even this was trumped by Dr. David Starkey's spot on comparison of Camilla, Duchess of Cornwall with Anne Boleyn, who he much admires. I feel another BBC miniseries along the lines of Julie and Julia in the making. All that was lacking was a guest appearance by Jonathan Rhys Myers -- sorry Alison, we all know your thoughts on this miniseries -- but he was hot and the soft porn did add historically accurate color to the period -- I think.
All of this was perfect (even without Rhys Myers), but what threw this tour into the stratosphere of amazing trips were my fellow travelers. It was the most diverse I have ever joined, by nationality, age and every other measure. But we were all drawn by a shared passion for history, notably Tudor history and most specifically, awe for the research and writing of Alison Weir. This group now forms some of my closest friends.
In conclusion, in your search for the perfect, ultimate luxury travel experience in 2014 -- look no further than your passions, new or emerging. Make sure every journey you take touches or ignites some passion that is unique to you and you will have found the luxury we all seek.
Related