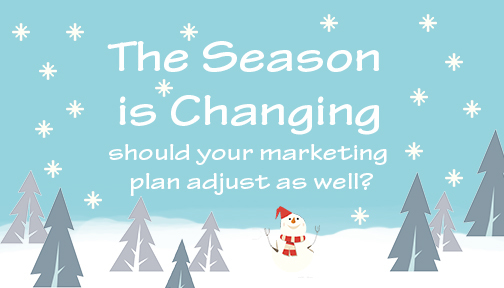 Fall back into great savings! Spring forward into the deal of your life! The weather is cold but the savings are hot! Admit it, you've grown tired of seeing these cheesy subject lines. Year after year, it seems like marketers not only do the same thing, but say the same thing. There's a method behind the madness, though: seasonal marketing works. As fall winds down and winter comes into focus, now is the best time to refocus your marketing approach.
Here are seven tips for grabbing consumers' attention this winter:
Offer a seasonal deal
Even when they know what they want, many consumers wait for the new season to arrive because it means great deals aren't far behind. Validate their expectations and reward their patience with a seasonal deal. Consider offering a deal on a product or service with a direct connection to the holidays or colder weather.
Schedule your content
The end of the year is a wild time. From Thanksgiving to Christmas, there's seemingly an endless barrage of occasions that both you and your customers will be celebrating. If your business engages in social marketing, create a content calendar as soon as possible so you aren't scrambling for ideas at the last minute.
Create a theme
Many small businesses struggle during the holidays because they're outgunned by bigger stores that invest in integrated marketing campaigns. While your small business can't compete with big-box giants like Macy's and Home Depot when it comes to dollars and cents, you can outfox them with a clever marketing theme. Coming up with a fresh theme takes time, to start ideating now and make sure all of your marketing channels align with the approach you choose.
Play it back
If you're struggling to come up with a new theme, don't be afraid to reach into your old bag of tricks. If a previous year's theme proved successful, bring it back this year -- as long as it's still relevant. You probably don't want to run a Y2K theme in 2015, but a "New Year, New You" type of campaign is timeless.
Drive more clicks
'Tis the season of giving, and your customers are on the prowl for great gift ideas. Make their lives easier by bringing the ideas right to them. Create ads on specific products and link them to the appropriate pages on your website. Make sure the ads are SEO friendly and discoverable across every device. A marketing agency like Rebuild Nation can help you secure the best results.
Apply psychology
Different seasons not only affect the emotional state of your customers, but also their purchasing decisions. While summer is a time of optimism and aspiration, winter is often related to depression and greater health risk. Raise awareness and offer tips through social media about ways to avoid potential pitfalls, and if your business offers winter solutions, now is the time to bring them into the light.
Calling all HuffPost superfans!
Sign up for membership to become a founding member and help shape HuffPost's next chapter