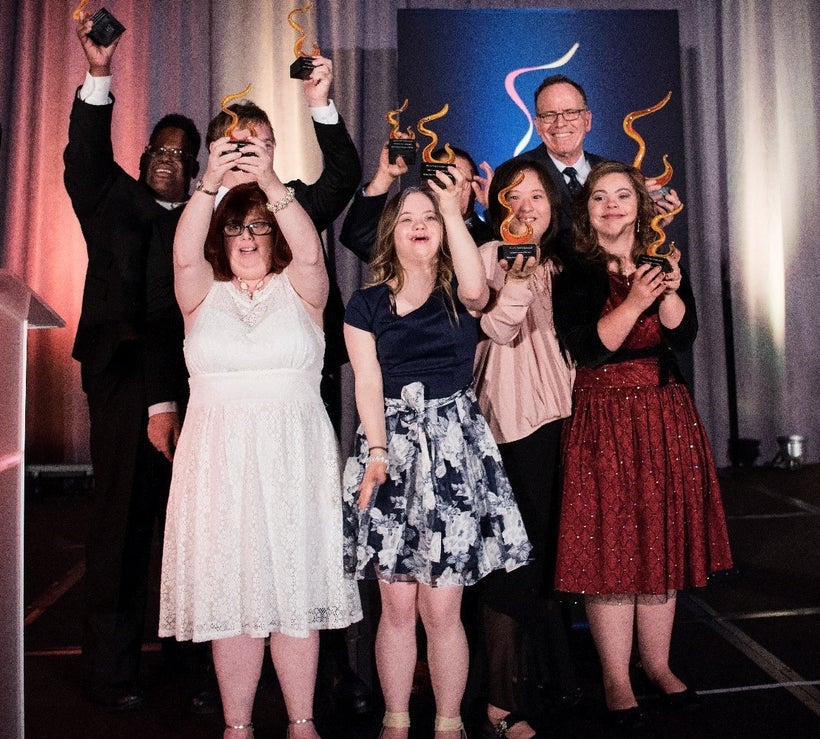 During the holiday season so many are seeking ways to give back and make a real impact. At The Arc we are so appreciative to those who are working to support our mission, not just during November and December - but year round.
With such a diverse network of advocates, we sometimes forget that there are change agents not traditionally in the disability rights movement who are advocating for inclusion. It is the actions of these individuals, organizations, and companies we are especially thankful for, because without their innovation we would not be making such powerful strides toward a truly inclusive society.
This year, I'm grateful for nine such advocates, our 2016 Catalyst Award Winners. This year's winners hail from a wide swath of our society, including Fortune 100 companies, a top university, a literary giant, and the cast of a new hit television show, breaking ground in how society perceives people with disabilities. We appreciate their contributions and hope that by honoring their work, we will inspire and empower others to follow in their footsteps.
This event was made possible by the generous support of our National Media Sponsor, Comcast NBCUniversal, an organization that has been a longtime friend to The Arc and powerful advocate for people with intellectual and developmental disabilities nationally. Like our award winners, Comcast NBCUniversal's unwavering commitment to the civil rights of people with disabilities is an inspiration.
It is too easy to be cynical in today's world, take for granted what we have, or forget injustices that have been endured. Be thankful for your independence - the little things like the ability to tie your shoes. Remember, some companies are more than what they sell, they are family run businesses with true heart. Appreciate your loved ones, that educator going the extra mile, the advocates who are manifesting change, and the good media can do when its power is harnessed for a cause. Lastly, don't allow yourself to be jaded. Like our Catalyst Award winners, you too can make a difference in our world. Small gestures can lead to real progress.
As you sit down with your loved ones during the many holiday celebrations in the weeks to come, remember that organizations like The Arc were started the same way, with families around the table discussing the future and what they can do to shape it. Thank you to all of those advocates who are working to support people with disabilities.
Get to know the award winners that had us laughing and crying during our awards dinner last month:
Author of the Year - Steve Silberman, award winning science writer was honored for his book, Neurotribes. This groundbreaking book challenges the way people think about autism.
Community Advocate of the Year - Patti Saylor and Erica Wheeler are nationally respected advocates for first responder training and criminal justice reform.
Corporate Advocate of the Year – Nike, the world renowned company and iconic brand, was honored for a line of sneakers designed specifically for people with disabilities. (Nike, Tobie Hatfield, and Matthew Walzer were all honored with this award).
Corporate Foundation Philanthropist of the Year – Google.org's 2015 Google Impact Challenge focused on making the world more accessible for the 1 billion people living with disabilities worldwide. In the first of its kind investment, they pledged $20 million in grants to 29 nonprofits using technology to take on a wide range of accessibility challenges.
Educator of the Year - Pablo Juarez, Director of Treatment and Research Institute for Autism Spectrum Disorders (TRIAD) and Behavior Analyst in Pediatrics and Psychiatry at Vanderbilt University, was honored for his work supporting the inclusion of children and adults with autism and I/DD in their communities.
Foundation Philanthropist of the Year – The Ruderman Family Foundation has devoted its work and resources to promote the inclusion of people with disabilities in society. An estimated 98% of the Foundation's $10 million annual allocation is dedicated to disability focused projects and grants.
Regional Business Employer of the Year - Multi-format food, fuel and pharmacy retailer, Giant Eagle, Inc., is one of the largest, privately owned and family-operated companies in the nation. The company was honored for its commitment to providing employment opportunities for people with disabilities across their 423 retail locations.
Self-Advocate of the Year - Connor Long is an internationally known actor and advocate for people with I/DD. As a direct result of his advocacy, thousands of students with I/DD in Colorado will be able to fully participate in the college experience.
Television Show of the Year - Born This Way (A&E and Bunim/Murray Productions), Emmy Award Nominated docu-series, is sharing the lives of seven adults with Down syndrome who work hard to achieve goals and overcome obstacles.
The Arc is the nation's largest and oldest human rights organization for people with intellectual and developmental disabilities (I/DD), serving more than a million individuals and their families. With a network of over 650 chapters across the country The Arc is promoting and protecting the human rights of people with I/DD and actively supporting their full inclusion and participation in the community throughout their lifetimes and without regard to diagnosis.
Calling all HuffPost superfans!
Sign up for membership to become a founding member and help shape HuffPost's next chapter
This post was published on the now-closed HuffPost Contributor platform. Contributors control their own work and posted freely to our site. If you need to flag this entry as abusive,
send us an email
.