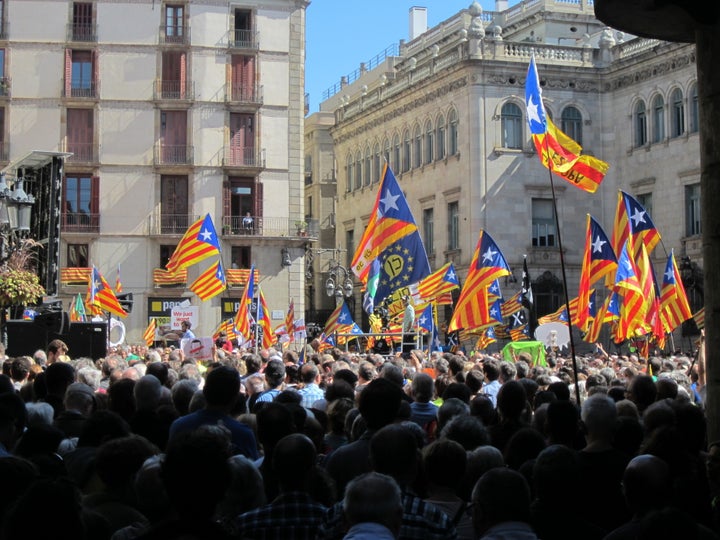 Co-authored by Margaux J. Day
The Catalan government's referendum on independence from Spain is scheduled for Sunday, October 1. Catalans will respond either "yes" or "no" to the question "Do you want Catalonia to become an independent state in the form of a republic?". The Spanish central government opposes the referendum, claiming it violates the Constitution and has gone so far as to order police to shut down polling. Further, the Spanish Constitutional Court has called the upcoming referendum unconstitutional. If the referendum takes place and a majority "yes" vote is reached, the Catalan regional parliament has stated it will make the result binding within 48 hours as a unilateral declaration of independence from Spain. The most recent Catalan referendum was held in 2014, where 2.2 million of 5.4 million eligible voters participated and an estimated 80 percent supported independence. The Spanish government did not consent to the 2014 referendum and dismissed the results, and the Spanish Constitutional Court held that the 2014 referendum was illegal.
On September 25, 2017, Kurdistan held a referendum asking whether it should become an independent state. Iraq opposed the referendum. It has been reported that 72 percent of eligible voters or about 3.3 million people participated in the referendum. Official results of the referendum were released on September 27, with almost 93 percent of voters in favor of independence. Even before the release of the official results the response by regional powers was swift, with Turkey threatening sanctions, Iraq demanding control over the Kurdistan international airports, and Iran suspending flights into Kurdistan.
In a prior op ed, we discussed how the Kurdish referendum was not prohibited by international law and discussed the significance of Iraq's objection to the referendum. In summary, the question of whether a declaration of independence by a sub-state entity was prohibited by international law was directly addressed by the International Court of Justice in its Kosovo Advisory Opinion. In 2008, the Kosovo provisional government unilaterally declared independence. Serbia objected, and at Serbia's request, the UN General Assembly referred the question to the International Court of Justice.
The Court's analysis was in three parts. First, the Court reviewed state practice between the eighteenth and twentieth centuries, which revealed no prohibition on unilateral declarations of independence.
Second, the Court determined that a sub-state entity's declaration of independence might not comply with international law in the narrow circumstance of when a UN Security Council resolution or other lex specialis forbids it. In the case of Catalonia, there is no such resolution or lex specialis.
Moreover, state practice reveals that independence referenda are common. Between 1905 and 1991, 52 sub-state entities held independence-related referenda. Since 1991, 53 independence-related referenda have been held, for a total of 105. Of the 53 referenda since 1991, 26 were without consent of the national state.
All of the states that were formerly members of the Soviet Union held independence referenda without the consent of the Soviet Union, and the Soviet Union initially objected to their subsequent declarations of independence. Similarly, four of the states that were formerly members of Yugoslavia held independence referenda over the objection of Yugoslavia. They are all now independent states. And in the case of Kosovo, to date, 111 states recognize Kosovo as an independent state, over the continuing objection of Serbia.
Notable for understanding Catalonia's referendum is Europe's prior experiences with and acknowledgements of independence referenda. Since 1991, 27 sub-state entities have achieved independence and become states. All member states of the European Union officially recognize 26 of these 27 states; the only exception is Kosovo, which is recognized by all EU member states except Spain, Slovakia, Cyprus, Romania, and Greece.
Moreover, EU member states include seven states that gained independence after 1991. Croatia, the Czech Republic, Estonia, Latvia, Lithuania, the Slovak Republic, and Slovenia were formerly sub-state entities, and Croatia's, Estonia's, Latvia's, Lithuania's, and Slovenia's declarations of independence were objected to by their national states.
In fact, some Western European states have chosen to consent to referenda of sub-state entities, such as France consenting to a 2003 autonomy referendum in Corsica and the upcoming referendum in New Caledonia in 2018. Moreover, the United Kingdom consented to Scotland's 2014 independence referendum and has provided consent to a potential future referendum in Northern Ireland.
Catalonia's initial step of holding an independence referendum is not inconsistent with international law. And in fact, permitting the referendum would be in line with European state practice. Shutting down a people's right to express their view is unlikely to close this matter or lead to a healthy political solution. Rather, the more sustainable approach would be to permit a referendum and then to engage in negotiations and discussions about the consequences of that referendum.
Dr. Paul Williams holds the Rebecca I. Grazier Professorship in Law and International Relations at American University and is the co-founder of the Public International Law & Policy Group (PILPG). He is a leading world expert in peace negotiations, post-conflict constitution drafting, and war crimes prosecution. In the course of his career he has assisted in over two dozen peace negotiations and post conflict constitutions.
Margaux J. Day is Senior Counsel at Public International Law & Policy Group, where she works on matters in Iraq, Sudan, Syria, and Yemen. Ms. Day previously was the Deputy Chief Compliance Officer of Diebold Nixdorf, an Associate at the law firm of Jones Day, and an Adjunct Professor at Case Western Reserve University School of Law. She earned her juris doctorate from Case Western Reserve University School of Law.
Related
Popular in the Community