"We'll never again for the rest of our lives see a total eclipse of the moon on the same night as the closest approach of a bright planet like Mars." -- Astronomer Bob Berman
This is a very special season! The week of Passover for the Jewish community coincides with Holy Week and Easter for the Eastern and Western Christian world. And in the early hours of April 15, there was a full lunar eclipse creating a breathtaking Blood Moon at the same time as the bright planet Mars made its closest approach to Earth in years. As we celebrate the freedom of the ancient Israelites from slavery, and rejoice at the triumph of life over death in the feast of the resurrection, we are awed by a rare and spectacular celestial phenomenon. Now that's a triple play for the ages!
And if all that isn't enough, we can now hope that this endless winter of perpetual snowstorms might actually be over! Did I hear news about a blizzard in the Midwest? It must be a late April Fool's joke. We can't take this anymore! We are ready for Matzo balls and brisket, lamb and asparagus, hot dogs at the baseball park, ice cream cones, dipped chocolate coconut eggs, the Easter Parade on Fifth Avenue, flouncy dresses, straw hats, staying out late in the park, and anything you can imagine that says spring!
Everything has been late this year. The Cherry Blossom Parade just happened in Washington. The forsythia, that early spring harbinger, has finally opened. My dear friend from my Paris days, Frederic Mitterrand, came to visit last week. We laughed remembering the fun we had running his movie theaters in our twenties. We sold the tickets, made the popcorn, and then I raced upstairs to run the projector. Freddy said that it's already summer weather in Paris. Too bad. We all dream of the romance of April in Paris for good reason, since normally it's the first return of blue sky and sunlight in months and everyone's walking on air. The outdoor cafes open, the oyster stands are back; people are in the streets until all hours; and the world is in bloom. First come the brave crocuses, and then the graceful white, yellow, and green daffodils, swaying against the spring winds.
"She turned to the sunlight
And shook her yellow head,
And whispered to her neighbor:
'Winter is dead'" -- A.A. Milne
So let's heartily second Daffodowndilly's announcement of the death of winter. It is time and then some to move on to the pleasures of spring. Gardeners are ecstatic to have their hands plunged back into the dirt. Kids are playing Little League baseball. The Yankees and Red Sox are at it again. As a Yankees fan, I hate to say this, but the last Blood Moon was in 2004 when the Red Sox won their first World Series. All over the world this week, families and friends get together for the holidays, and favorite recipes are pulled out to relish and enjoy together. There were many favorites in my Irish-Italian family of ten children. And every recipe came with a story. That's the way it was where I grew up in Scranton, Pennsylvania. One family favorite that works whether you're celebrating Easter, Passover, or reviewing the stunning Blood Moon with a glass of craft beer is my mother's Million Dollar Fudge. Lucia Child, as my mother calls herself, since she is an excellent cook, always loved sweets, particularly fudge. This simple, quick version is much easier than the one you have to cook to softball stage on the stove. Lucia claims the recipe somehow came from Mamie Eisenhower. But as I said, every recipe has a story. And every meal was full of stories. My Dad was a masterful storyteller. Mom is 91 and happily still with us although not able to make or enjoy food any longer. We are thinking of you, Mom, on this Easter. And I send out best wishes to all of your families on this very special Passover/ Easter/ Blood Moon holiday! Here is something for everyone!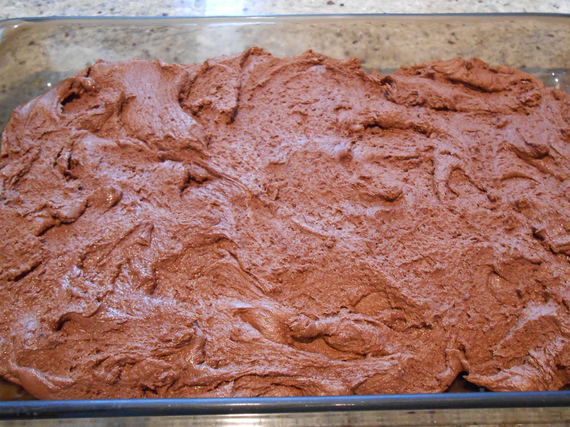 This is the easiest and best fudge recipe ever! Some say it came from Mamie Eisenhower. If so, "thanks, Mamie" says my mom, Lucy Carlesimo.
4 ½ cups sugar
2 tablespoons butter
1 can of evaporated milk
Pinch of salt
1 pint marshmallow cream (2 jars)
2 cups nutmeats
12 oz. semi-sweet chocolate (chocolate bits)
12 oz. German sweet chocolate
Put the semi-sweet chocolate, German sweet chocolate, the marshmallow cream and nutmeats in bowl.
Combine sugar, butter, salt & evaporated milk in a heavy bottomed sauce pan. Bring ingredients to a boil carefully until you have boiling syrup.
Pour boiling syrup over ingredients in bowl; beat until chocolate is all melted and pour in pan.
Let stand a few hours before cutting.
This recipe and many other family favorites are available on DishandDine. Stop by and become part of this grass roots global food community!