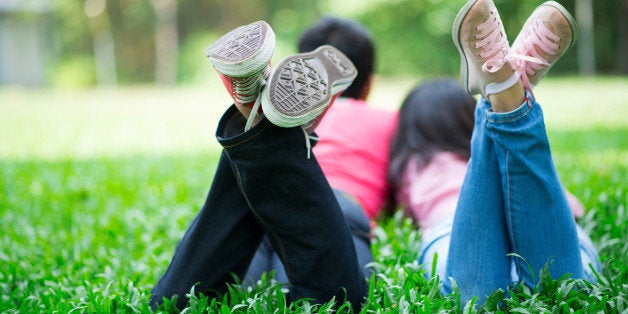 While walking to work today, dressed in a light, leather jacket and pink dress, soaking up rays of sun and basking in the apparent arrival of the much anticipated (and much delayed) spring season, I pondered the impending approach of Sundress Day. For those who may not know, Sundress Day, is the day where it's finally warm enough to remove stockings, woolen coats and bulky sweaters and replace them with skimpy, revealing sundresses -- basically, every man's favorite day of the year. We're not quite there yet, but it's approach got me thinking about the seasons of dating and how, much like everything else, dating is very cyclical and indelibly linked to the changing seasons. Much like our wardrobe, the men we look for each season, change with the temperature. Here's how I see it all breaking down:
The Cuffing Season: (Fall-Winter)
When "Winter Is Coming," women tend to react in one of two ways. The second fall starts to nip the air, some girls shack up with a cold weather beau. In a phenomenom that has come to be known as cuffing season, (otherwise known as the time of year when singles want to be "cuffed down" in a serious relationship to dissipate the boredom of the cold winter months), some women partner up with people who may not be "Mr. Right" but rather "Mr. Right Now." Not a long-term endeavor, these men serve as the ideal way to while away the winter. And that's usually about how long these relationships last.
The Winterization Effect: (Fall-Winter)
Other women experience something I like to call "winterizing." Let's be honest, no one REALLY wants to go out when it's 10 degrees anyway. So rather than join in the race to tie down a man pre-cold onset, these women take the winter as an opportunity to take a breather from the date-race and hibernate in the warm. Picture this: bulky sweaters, spandex for months, hot-toddies and Ben and Jerry's like it's your job, not to mention, no men = no need to shave. Gotta say, it doesn't sound half bad.
Spring Fever: (Late Winter-Spring)
Even the most cynical people have to feel a little dose of optimism when the sun finally pokes its head out of the clouds after a long, cold winter. This year was exceptionally brutal -- it felt like winter was never going to end -- so the rising temperature is extra appreciated. There's something about spring that just feels full of possibility. People tend to go out more when the weather heats up so women emerge in this season, ready to begin testing the waters of dating possibilities. Oh, and clothing is starting to dwindle, (see Sundress Day) so sex is in the air.
Hot Fun in the Summer Sun: (Summer)
Sly and the Family Stone had it right when they sang this song. In a season that's basically an ongoing competition to see who can wear the least amount of clothing outside without getting a public nudity violation, how can anyone think of anything but hot, sweaty fun in the sun? I imagine a lot of breakups happen around this time as people come out to play. I mean they don't call it a summer fling for nothing!
As we hopefully bid a final adieu to winter, I for one am more than ready to shake off my winter blues and begin my search for some fun. So get ready, spring. Here we come!