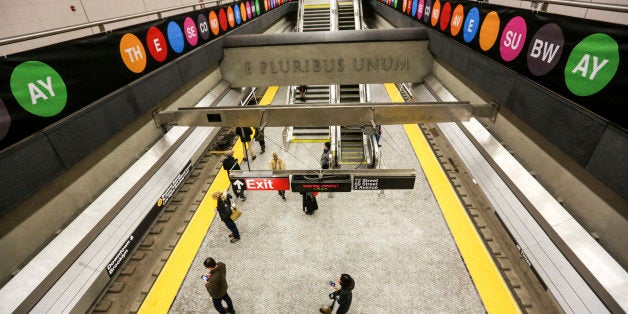 The story of mass transit on the east side of Manhattan is a sad saga of government promises and failures. The old elevated lines on Second and Third Avenues were knocked down, but never replaced by the promised subway line. As the city revived in the 21st century, the Lexington line was the only subway serving the east side and it became dangerously crowded during rush hours. On New Year's Day 2017, the impossible took place and the first phase of a new Second Avenue subway line was finally opened. This PR video tells the story. The MTA website describes the new line's route and features. In this season of doubt about government and the possibilities of acting as a community, we see living proof of our ability to work together and build.
A few months ago the MTA was hedging on meeting the deadline of opening the new line by January 1, and Governor Cuomo made it his personal mission to lead the project to completion. MTA management, unions, and contractors all became aware that this project had special meaning to the Governor, and Cuomo demonstrated what visible, positive public leadership could accomplish.
There is a chance that a consensus is emerging on the importance of rebuilding America's infrastructure. We may be entering a period of intense capital construction to reinvent our decaying infrastructure. If this is to take place, it is critical that we do not simply build for its own sake, but build with a sense of strategy and purpose. America is a more crowded and urban place than it once was. Our water, solid waste, energy, sewage and transportation systems are all in need of investment and construction.
What we build and how we pay for operating and maintaining what we build needs to be the subject of thought, planning and analysis. Yes, existing bridges that are falling down must be rebuilt with a sense of urgency. But we have already learned that just adding lanes to congested highways simply invites more traffic and ultimately more congestion. America must develop its cities and needs to build with enough density to justify mass transit. Our love affair with personal transit will probably never end, but a transportation system that is characterized by daily gridlock makes no sense at all.
Not all cities can afford or need a subway, but light rail, bus services with train-like stations, dedicated bus lanes and computer controlled and synchronized traffic signals can also be built for a lot less money than a subway. As our society ages we need to build town centers that enable urban amenities at neighborhood scale. Even in a city like New York, many people spend most of their time within distinct neighborhoods that are really fairly small towns. People move around by foot, or on cabs, buses and trains; they have food delivered and can visit friends, family, entertainment venues, restaurants and doctors without getting behind the steering wheel of a car.
In addition to transportation, there are many other areas that require investment:
Airports, which can fund their upgrades by passing along capital costs to airlines who in turn will charge passengers.
Water and sewage treatment systems that will need to retire debt by charging businesses and homeowners that use water. Here, we need to be sure that an element of progressivity be added to the financial design. Poor people and those struggling to make mortgage payments cannot be asked to shoulder sudden and deep increases in water and sewage treatment fees.
Smartgrid and microgrid computer control upgrades to our energy system. The cost of these upgrades can be paid by the energy efficiency and the lower cost of generating distributed renewable energy.
Solid waste management: As we move from a system of dumping garbage into a hole in the ground to recycling and reusing waste, it may be possible to convert some waste streams into revenue streams. This may absorb some of the capital costs of upgrading our waste system.
We need to learn that the use of outmoded and decaying infrastructure is less of a bargain than it seems. Resources are wasted, or not put to use. Food waste can be converted to fertilizer. Waste that can't be recycled can be burned to generate electricity. Metals can be recycled for reuse. Old energy systems waste energy and modernization can be partially funded through energy savings. A modern airport can increase the number of flights it can service and increase revenues through increased traffic.
The transition from a throw-away society to a sustainable one provides many opportunities to improve service and reduce cost. But to accelerate that transition and to create sustainable cities we need to stimulate investment and generate new wealth. I believe that in the coming decades the definition of wealth itself, and the nature of consumption will change in the sustainable city. Consumption will be more experiential and involve less ownership of resources and more intermittent use of resources. Sharing autos, bikes, and public spaces will replace owning and maintaining private autos and large private spaces. We may travel more in the future than we do today, but the travel may be in shared or rented vehicles rather than the type you have to own, insure and garage.
These new lifestyles will require new infrastructure. Bike-sharing stations are beginning to be seen on many streets in many cities. To ensure safety, we are also seeing an increase in dedicated bike lanes. Some of those lanes are physically separated from auto traffic and some try to share the road with cars, as a result, bikes are becoming more visible in many places. When electric vehicles become more popular there will be opportunities to build and commercialize charging stations. The opportunities for public-private partnership should not be underestimated. Some of these partnerships are relatively invisible. Throughout New York City we are starting to see the installation of a new communications kiosk called LinkNYC. According to their website:
"LinkNYC is a first-of-its-kind communications network that will replace over 7,500 pay phones across the five boroughs with new structures called Links. Each Link provides superfast, free public Wi-Fi, phone calls, device charging and a tablet for access to city services, maps and directions... LinkNYC is completely free because it's funded through advertising. Its groundbreaking digital OOH advertising network not only provides brands with a rich, context-aware platform to reach New Yorkers and visitors, but will generate more than a half billion dollars in revenue for New York City."
Many of my friends have seen these new kiosks, but had no idea who owned and built them. The Second Avenue Subway, a proposed Brooklyn-Queens light rail connection, new access to the city's airports, free Wi-Fi, dedicated bike lanes, the third water tunnel, increased street green spaces, a million trees and a wide variety of similar investments are part of New York City's effort to move from its industrial roots to its post-industrial future. All these small pieces add up to the gradual creation of a sustainable city - a place where people can live without destroying the planet we rely on. This transition will take time and local leadership, but it is well underway and very exciting to see.
Calling all HuffPost superfans!
Sign up for membership to become a founding member and help shape HuffPost's next chapter