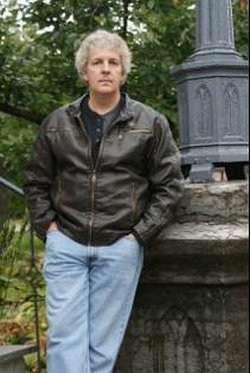 Steve Hamilton has either won or been nominated for virtually every major crime fiction award, including the Edgar, Dagger, Shamus, Anthony, Barry, and Gumshoe, among others. His Alex McKnight series involves ten bestselling and highly acclaimed books. His standalones include Night Work, and The Lock Artist which won the Edgar and Barry Awards for best novel of 2011.
The Second Life of Nick Mason, Steve's first entry in a new series, is a high-octane novel about Nick Mason, an ex-con, trying to break away from his criminal past. Because of an arrangement with a Chicago crime lord, he's been released early from prison. But because of that favor, Nick finds himself forced to commit increasingly more dangerous crimes while being pursued by the detective responsible for putting him behind bars.
Nick Mason is a fascinating character. How would you describe him?
He's a career criminal; that's just who he is. But, he's a real person and has a family. He has everything else you and I do. All he wants is to get back to having a normal life. That was really the first thing I knew about him. Having written ten books about an ex-cop in the Alex McKnight series, and then writing a book about a young criminal in The Lock Artist, I wanted to do something else. I was itching to write about someone who really lived the criminal life, but still retained his humanity. So arose Nick Mason. While on paper, Nick looks like a cold-blooded criminal, he's a real human being and I wanted to see where the story would take me.
Well, it goes to some very unpredictable places.
Yes, the places life goes.
The opening lines of The Second Life of Nick Mason are stunning. They begin, 'Nick Mason's freedom lasted less than a minute. He didn't see it then, but he'd look back on that day and mark those first free steps through the gate, after five years and twenty-eight days inside.' Will you talk about the importance of a novel's opening salvo?
The opening lines are like a tuning fork. They're the first few notes that really set things in motion. I'm a huge jazz fan. I can tell what the music is going to be like when I hear the first few bars. That's really what the first line in a novel is for me. All my favorite writers let me know who they are--I can tell who's writing the story simply from the first sentences. Those first few words set the tone, and tell the reader what's coming.
Some years ago you said you hadn't yet written a standalone novel because 'I don't have that other story burning to get out yet.' The Lock Artist was a huge success as a standalone, and The Second Life of Nick Mason is bound to be a bestseller. How did you know this story burned to get out?
Nick Mason will appear in a series of books, not as a standalone. He's in a whole new world, and I'm excited to stay with Nick. I want to see where he goes, as I did with Alex McKnight. Nick is a character I'd love to get to know better and stay with for years. For me, Nick opened up a new world, different from what I felt with either Alex McKnight or the The Lock Artist, which was a standalone. I'm just dying to see where this series goes. There are so many things Nick Mason can get into. I knew this from the moment I conceived him.
The dedication of The Second Life of Nick Mason is 'To Shane who saw a better life, even when I couldn't.' Tell us about that.
As you know, there was a first act in the publication of this book. I never saw it coming, and of course, never planned for it.
After being with the same publisher for seventeen years and twelve books, and having loved the people I worked with, it got to the point sixty days prior to publication, where there was no publicity plan to make this series what it had the potential to be. I had to make a decision.
Shane Salerno was the only person who made making that choice possible. Shane knew how to handle the situation.
I understand Shane did something highly unusual.
Yes, I mean, how many people would literally buy out the contract, which is exactly what Shane did? He took me on as a client, and within twenty-four hours, sold the book to Putnam. We would have done that quietly, but Publishers Weekly wrote about the situation as one of their top publishing stories of 2015. The response was overwhelming. I heard from thousands of people from all over the world--not just readers, but other authors who'd found themselves in the same boat. There was even a tweet from Stephen King. It became more than a pleasant surprise, it's approaching mythical status.
I understand Lionsgate has acquired the movie rights to The Second Life of Nick Mason. Whom do you see playing Nick Mason?
I honestly have no idea. I see someone who's good and tough, but human and to whom the audience can relate. That's all we need.
What's the most important lesson you've learned about writing?
The most important lesson has been to listen to the important voices in my life. There are people in your life who really add to it and care about you. People like Shane Salerno and those in my writing group back when I was writing the Alex McKnight series and with The Lock Artist. I ran everything by Frank Hayes and Bill Keller, my early readers.
What has surprised you in the writing life?
What's surprised me most is I'm not alone as a writer. At times, it can be such a solitary life, but I've been touched by how many people go through the same frustrations and sense of helplessness I've experienced. The writing process and the life it engenders create a kind of support system for many of us. That comradery has surprised me.
What, if anything, keeps you awake at night?
Aside from real life issues, I think what keeps me awake is knowing I don't have a novel right as yet. I work so hard on a book trying to make it perfect, and I know when it's not. I know when the script still needs work. And sometimes I worry I'll never get the script to that destination of near-perfection.
How do you deal with the nearly universal tendency to procrastinate?
Can I get back to you on that one? [Laughter].
Every human being procrastinates. And everyone has to find a way to trick him or herself into not doing it.
What question are you asked most frequently?
The question I'm asked most frequently is 'When are you going to write another Alex McKnight book?' That's a series to which so many people are attached, particularly people in my home state of Michigan. My answer is he'll always be there. He was my original character and I feel I owe everything to him, and to the readers. I'll always want to go back and find out what he's doing next.

You're hosting a dinner party and can have any five people, living or dead, from any walk of life. Who would they be?
I'd invite Myles Davis, Herbie Hancock, Wayne Shorter, Tony Williams, and Ron Carter, a real-life friend of mine. Those are the five I'd ask to the dinner party. But there would be a catch: they'd have to play for an hour before they could eat. [Laughter].
What would you be talking about?
The amazing lives these guys have lived and are leading. They all came from different walks of life and made some of the most amazing music I've ever heard. I think a crime writer and a jazz musician have a lot in common.
What?
They're artists. They create something. But there's something about a jazz riff and a crime novel--they feel like they come from the same internal place.
They're both improvisational.
Yes, they are. Very much so. It feels like words and sentences come out of the same place as musical notes in jazz.
Give us a hint of what's coming next from Steve Hamilton.
I'm halfway into the next Nick Mason book. Certainly, I'll get back to Alex McKnight at some point soon.
Congratulations on penning The Second Life of Nick Mason, a high-octane, tension-filled novel that's received well-deserved praise from great authors: Stephen King, Lee Child, Harlan Coben, Don Winslow, and Michael Connelly.
Mark Rubinstein's latest novel is The Lovers' Tango, awinner of the Benjamin Franklin Gold Award in popular fiction.
Calling all HuffPost superfans!
Sign up for membership to become a founding member and help shape HuffPost's next chapter